Oil has performed about as well as the U.S. stock market has since the bottom in March of 2009. A rise in oil prices is often followed by renewed interest in renewable energy sources, like natural gas. Not this time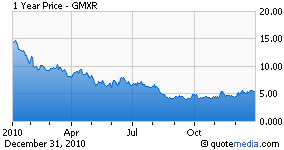 around; natural gas prices are down around 50% over the period previously cited. With new demand from the Middle East and from the southern United States, it would seem that natural gas is the obvious source of energy that should be put to use in this situation. Supply is high and growing, and this has weighed heavily on natural gas prices, but demand should pick up, which will lead to a rise in prices. In the meantime, looking for natural gas stocks I look for value companies with high margins and good competitive positions.

This is where GMX Resources (GMXR) comes in. Trading at a Price-to-Book ratio of 0.7, the market has seriously discounted GMXR. There is a reason: earnings per share is negative. Later, I will dig deeper into the numbers, and show why. Meanwhile, if we look at other measures that don't take into account GMX's massive capital expenditures, there is a 65% discount to the deserved price. This has been picked up on by funds, and there has been a 20% increase in ownership by value funds. This is all combined with very cheap long-term technicals.

Stewardship at GMX is good. Around 65% of executive pay comes in the form of equity compensation in the form of stock. GMX has made huge efforts to cut costs in the last few years. Despite laying off 1/3 of its workforce, production is up 10% year over year. The executive team owns enough stock to definitively align their interests with shareholder's. A long-term incentive plan instituted in 2008 ensures that this will continue.

Assets in the Haynesville and Bossier shale of East Texas are where GMX is centered. This area is characterized by lower drilling costs, but also by lower overall returns than across state lines in Louisiana. According to a study by Morgan Stanley, the Haynesville shale has the lowest cost to produce a 10% return of any natural gas source in the study. This has translated into great (gross) profit margins for GMX Resources, which are some of the best in the industry, roughly equal to industry darling Range Resources (NYSE:RRC).

Earlier, I talked about the reason GMX Resources is trading at a discount to its asset value: earnings. Despite growing revenue and natural gas production, capital expenditures and other asset problems have resulted into a negative bottom line. This has destroyed the share price. The only reason 2008 and 2009 earnings per share numbers were negative were two huge asset impairment write-downs. In 2009, this charge resulted in a failure to maintain internal accounting controls, as judged by GMX's external auditor. Looking forward, management is very bullish. They expect production of natural gas, and with that, revenue, to be up about 75% over the next two years. This, along with capital expenditures flattening out at around $200 million per year, should lead to a return to profitability by the end of 2012. Since earnings per share is the primary metric used to measure profitability, this should result in an exploding share price. In the meantime, revenue and operating cash flow should continue to grow as production does.

A great side note for this industry is consolidation. GMX Resources, as it becomes clearer that it will return to profitability and that it is a great value, could become a takeover target, as discussed here.

Natural gas is ready for a rebound, and this company is set to profit from this macro trend along with its own turnaround.


Disclosure: I am long GMXR.