Disney (NYSE:DIS) has been on a tear over the last five years, soaring from trading under $16.00 per share on March 2, 2009, to almost $90.00 per share as I write. That's more than a five-bagger in about 5 1/2 years. It doesn't get much better than that, especially for a company with a market cap like Disney has.
Much of this is from some key acquisitions like Pixar, Marvel, and most recently - Lucasfilm. Pixar and Marvel have been very successful, with high expectations for the Star Wars franchise that came with Lucasfilm.
This type of growth does generate the inevitable question of whether or not the company can continue to grow at this pace. That is exasperated by the pressure it powerful ESPN franchise had in the most recent quarter, as it was weighed down by higher production costs and sports rights fees, among other things.
There is no doubt any weakness in its ESPN unit will put downward pressure on the share price, as it's one of the key properties of Disney, and it churns out free cash flow in buckets, while being largely immune to advertising challenges other companies and internal units at Disney have had or may have.
For ESPN, it should be strengthened by the introduction of its new SEC network, which has debuted in 60 million homes in August.
Source: Yahoo Finance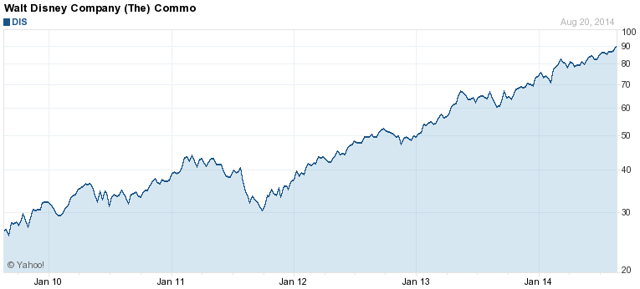 Recent Results
The share price of Disney is now trading at all-time highs after being adjusted for splits. It's been right around the $90.00 per share mark recently, and recently it was the first time in over 15 years it surpassed that level. It had traded higher than $100.00 per share in the past, but that was before a number of splits.
Earlier in the month it reported net income of $2.25 billion for the reporting period ended June 28. That was up from the $1.85 billion in net income generated in the same quarter last year. Revenue jumped to $12.47 billion, a gain of 8%.
Much of the solid performance came from its film studio, where net income was up 22%.
The importance of this in regard to Disney's performance is unpredictable response to films when they are leading the results of the company could set it up for some big swings in share price, especially when it has been on such a tear lately.
Add to that the challenges faced with the growing costs associated with ESPN, and it could drag on the company if the perfect storm hits and they all underperform in the same quarter. When I say perfect storm, I'm not referring to an unusual event, but to something that could very easily happen at any time.
Now for investors with a long-term outlook, this isn't as much of a concern of course, although ESPN having anything disrupt it over the long term would be something to watch closely.
Source: StockCharts.com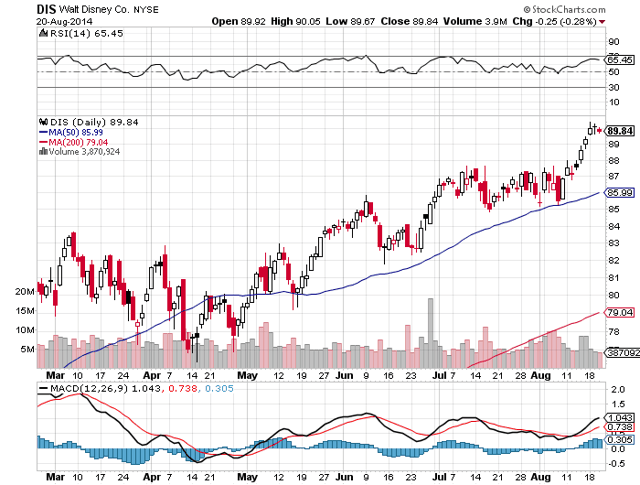 ESPN
When taking into consideration ESPN grew ad revenue by 10% in the latest quarter, the weaker performance does point to an ongoing concern the overall industry faces, which is the increase in sports rights fees needed to offer the live content.
By the way, the live sporting events are the reason advertisers love to place ads against the content, as it has very little in the way of loss of viewers by time-shifting the content. Fans want to watch their sports live, and that is one of the top venues still commanding premium ad prices. That will continue to be the same going forward.
Also of concern is the fact Disney implemented higher affiliate fees, which reinforces how much Disney had to pay for content.
The point is this strong showing underscores the need for Disney to figure out a way to lower costs in the unit. Just like its sports broadcasts attract premium prices, it also costs Disney premium prices from the various leagues to air the events.
In the latest quarter it was a new deal with Major League Baseball and the World Cup. The impact of Major League Baseball was because it is the first year of the new deal with Disney. That means at minimum those costs will continue for the remainder of the contract.
The introduction of the SEC will also result in higher costs, but of course also more revenue. We'll have to wait to see how that all plays out in the next earnings report.
Either way, this could be the beginning of ESPN not being able to generate the earnings it has in the past with ESPN, which would weigh on the cable performance of the company.
Since broadcast in general is going to continue to struggle as it sheds viewers, this is an important piece of Disney's puzzle if it in does face a long-term content cost challenge from the various sports leagues.
It's still going to produce terrific cash flow, it just may not be at the margin it had in the past.
Advertising Revenue
In its latest earnings report the company noted it was cutting down on its reliance on advertising as a source of revenue, primarily because of the continual pressure on traditional advertising platforms.
CEO Bob Iger said:
We've made a conscious decision as a company to essentially not be as reliant on advertising as we were in the past. So it represents probably somewhere in the neighborhood of the low-20% range of our total revenue. That's pretty purposeful because we see a much more competitive environment out there for advertising.
I included the advertising strategy here in order to contrast it with the premium advertising commanded by ESPN.
Disney isn't going to work on shrinking advertising with ESPN, it's talking about the remaining business units it operates. It speaks to the ongoing uncertainty for those businesses that are heavily exposed to the traditional advertising business model.
I think Disney is smart to do this, and shareholders will benefit from it over the long term.
Conclusion
There were several parts of Disney I wanted to look at in this article for investors to consider. First, even though Disney had a blowout quarter, it was primarily from its film unit. Films can be fickle, and performances surprise and change very quickly.
Second, the ESPN unit is facing growing challenges in the cost structure related to sports content, and it'll have to balance how much of that it passes on to customers, and how much it may have to eat, or increase incrementally over time.
Finally, the company is moving away from too much reliance on advertising as a revenue stream, and focusing on other means of producing earnings. Things like its booming consumer products division, which has a number of billion dollar franchises.
Disney is trading at all-time highs based upon just about everything going right for it, minus the slightly weakened ESPN franchise. With films being a major driver of that performance, investors need to be aware that anything that rocks the boat at this time could have a disproportionate effect on the company as investors get nervous over the heights the company is reaching.
Over the long haul though, Disney will remain Disney, and it should continue to reward shareholders for many years to come. Just be aware at times like these the road can get rocky when there are any disappointments. Growth could also get slower if fees related to sports increase astronomically and at a pace the company can't pass on to customers all at once.
Disclosure: The author has no positions in any stocks mentioned, and no plans to initiate any positions within the next 72 hours.
The author wrote this article themselves, and it expresses their own opinions. The author is not receiving compensation for it (other than from Seeking Alpha). The author has no business relationship with any company whose stock is mentioned in this article.