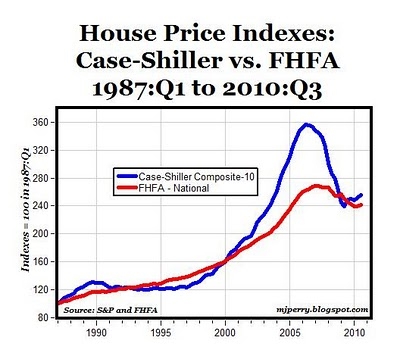 In a post yesterday, I discussed Alan Reynolds' recent editorial in the IBD titled "Do Falling Home Prices Imperil Recovery?, where he points out that house price declines in a "few troubled cities in a few states [based on the Case-Shiller 20-city composite house price index] do not represent the entire nation." This was in response to a
a recent front-page Wall Street Journal article ("Housing Recovery Stalls") that fretted about how "A new bout of declining home prices (based on the October decline in the Case-Shiller house price index) is threatening to hamper the U.S. recovery, just as consumers and the overall economy have been showing signs of healing."
Like the chart in the previous post, the chart above provides further evidence of the significant disconnect between the Case-Shiller Home Price Index (10-city composite above for Boston, Chicago, Denver, Las Vegas, LA, Miami, NYC, San Diego, San Francisco, and Washington D.C.) and the FHFA U.S. House Price Index. As Alan Reynolds pointed out, the FHFA U.S. House Price Index based on 50 states increased by 1.07% in the third quarter of this year vs. the previous quarter, the largest quarterly gain since the 1.30% increase in the fourth quarter of 2006. Based on the FHFA House Price Index, there's no threat to the U.S. economic recovery.