All of the 13F filings are in for the top Hedge Funds and Money Managers around the country. I have looked through all of the funds that I consider to be the top tier value investors in the world and I have come up with my recommendations of which new fund additions are most interesting Value Long ideas.
The funds included in my Elite Value Investors list are as follows: Baupost Group (Seth Klarman), Greenlight Capital (David Einhorn), Appaloosa Management (David Tepper), FPA Capital (Bob Rodriquez), Yacktman Funds (Donald Yacktman), Southeastern Asset Management (Mason Hawkins), Ariel Investments (John Rogers), Omega Advisors (Leon Cooperman), Duquesne Family Fund (Stan Drunkenmeyer), Fairholme Fund (Bruce Berkowitz), Brave Warrior Advisors (Glen Greenburg), Dalal Street LLC (Mohnish Pabrai), Hayman Capital (Kyle Bass), and Glenview Capital Management (Larry Robbins). Although there are other Value investors that have great ideas like GMO Capital (Jeremy Grantham) and Gotham Capital (Joel Greenblatt), they often invest in a large number of securities so pulling out a best idea from them is often more difficult.
Performance Update
Time now to check up on how my selections from my previous two articles have fared. The articles can be found here for February 2014 "Elite Value Investor Picks" and May 2014 "Elite Value Investor Picks." As a recap, in the articles I have selected the top 4 or 5 new small and mid capitalization stocks from a list of what I consider to be the Top Tier of Value Investors based on their 13F filings.
Below is a table of my picks so far this year to date.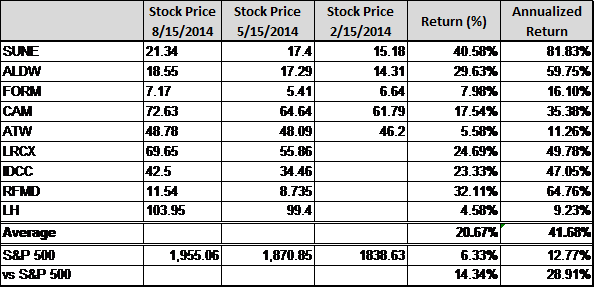 As you can see from the above chart my picks have exceeded the S&P500 by over 14.3% since they were made (annualized 28.91%). This includes both my picks from February 13Fs and from May 13Fs. The annualized return of my picks is 41.68% on average, which is massive return for any investment strategy. At this point I believe this process has been a massive success, but I caution those of you following this not to expect returns similar to this going forward. I expect this return to moderate over time, and as I have previously stated I will track all of my picks for a 1 year time period after which the picks have been made.
August 2014 Picks
So here are the top Value Hedge Fund Ideas from the August 2014 13-F filings:
Navient (NASDAQ:NAVI)
Investor: Omega Advisors (Leon Cooperman)
Navient Corporation was spun off from SLM Corporation (NYSE:SLM) (aka Sallie Mae) on April 30th. The spinoff included the Loan Servicing (Federal & Private Markets) and Asset Recovery & Collection Services portions of SLM Corporations business. The spinoff from SLM has expanded the business opportunity set for Navient, including the ability to acquire new loan portfolios in the Federal Student Loan and Private Student Loan markets. Navient is now free from regulation to explore the loan-servicing marketplace. This allows it to expand past its previous footprint into new markets that it was previously unable to service. This is highlighted by the recent ABS deals that it closed in June to raise significant capital that it will likely use to purchase additional Private Market Education Loans.
Very little analyst coverage of the company (only 2 analysts have issued guidance, both with Buy ratings) has left the shares very cheap trading at a 8.08 x forward P/E ratio. On top of the cheap valuation and exciting business opportunity, the company has recently announced a $400 million dollar share repurchase plan and a dividend that currently yields 3.45%. From all angles Navient looks to be a great investment. I believe the shares are worth closer to $22-$25 per share than the $17 per share that the shares currently trade.
KKR LP (NYSE:KKR)
Investor: Omega Advisors (Leon Cooperman) & Fairholme Fund (Bruce Berkowitz)
Kohlberg Kravis Roberts & Co. L.P or KKR is a Private Equity partnership that is transforming to because the next generation of Middle Market Asset Managers to fill the gap left by the financial crisis. As the big banks have moved to reduce risk in their businesses in the face of Dodd Frank and other post financial crisis pressures, a group of large Private Equity Partnerships and Asset Managers have been filling the void. This new group of Asset Managers has been talked about in the Financial News as the new breed of Asset Managers are The Carlyle Group (NASDAQ:CG), Blackstone (NYSE:BX), Oaktree Capital Group(NYSE:OAK), KKR , Fortress Investment Group (NYSE:FIG), Och-Ziff (NYSE:OZM), and Apollo Global (NYSE:APO). KKR is the third largest of the group by Assets Under Management (AUM) with $98 billion of which $79.7 Billion were Fee Paying AUM (FPAUM) as of last earnings report. KKR profits in one of three fronts, Fees, Carry, and Investment Gains. Fees are paid on the FPAUM for their management of those assets. This is usually 1-2% depending on the kind of fund and type of asset. Carry made when a fund's (usually private equity) assets appreciate above a certain hurdle rate. and KKR gets to take a cut of that profit. Investment Gains are paid when KKR directly invests in their own funds and then they get to participate just like an average institution or high net worth client.
KKR is one of, if not, the top fundraisers in the Private Equity space and has consistently shown they can raise massive rounds of capital for their new funds. They are beginning to diversify their business away from traditional Private Equity into Public Markets include Leverage Credit, Alternative Credit, and Hedge Funds. They are also beginning to deal more in Capital Markets throw direct lending to the middle market, which is traditional what companies like Goldman Sachs, Lehman Brothers, and Morgan Stanley used to do prior to the Financial Crisis. The opportunity set for KKR has been wildly expanded post the financial crisis, and I believe this is under appreciated by many investors. I believe shares of KKR are worth $38 by my most recent DCF analysis, which gives any investor plenty of upside, not to mention they have averaged a dividend distribution of $0.43/share/quarter over the last two years or 7.4% dividend yield on the current stock price.
Sonic Automotive (NYSE:SAH)
Investor: Glenview Capital Management (Larry Robbins)
Sonic Automotive is an automotive retailer and servicer with a diverse revenue footprint in both new (56% of revs) and used cars (25% of revs). The company will likely see some tailwinds from the fact that consumers have put off buying new cars during the recession and there is significant demand that has built up. New car purchases were very low 5 years ago which translates into a lower supply of used cars now than used car supplies would naturally be. This low supply of used cars also benefits Sonic as they are able to charge higher prices for quality used cars in a supply constrained environment. Sonic has a significant footprint of standalone Pre-Owned (used) cars locations and they continue to expand that footprint as one of their Strategic Goals highlighted in there most recent investor presentation.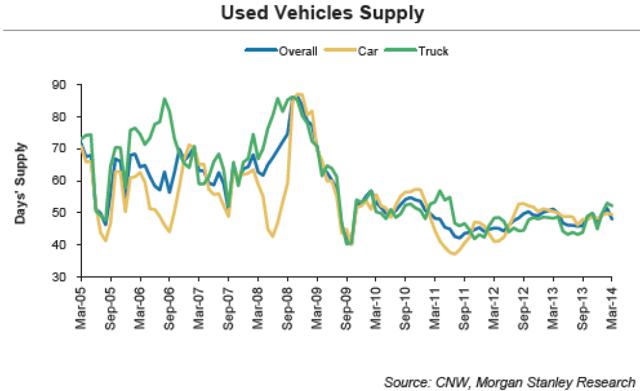 Source: Companies Q2 2014 Investor Presentation
Sonic has also begun to adopt what they call the "One Sonic - One Experience" or OSOE approach to selling cars. This approach is trying to get past the more traditional model of dealing with multiple different sales people within a dealership if you want to buy a new car, used car, or lease a car. Sonic is trying to get closer to the customer and alleviate the general stress that one often feels when dealing with a traditional dealership.
Sonic seems like a strong investment as they have significant tailwinds, a transformational strategic plan, and the valuation is very reasonable. The company trades at a Forward P/E of 11.35, PEG of 1.19, and a P/B of 1.99.
Ryland Group (NYSE:RYL)
Investor: Appaloosa Management (David Tepper)
Ryland Group is a homebuilder with a national footprint. They have developments in many of the major homebuilding markets including, Illinois, Texas, California, Florida, and the Carolinas. They break down their business into four geographic areas, North, Southeast, Texas, and the West. Below is a table of active projects by region. As you can see they have the most exposure in the North and Southeast regions of the country with limited exposure to the West.

Source: Company Investor Presentation
Geographically the west has been the most volatile market when it comes to sales prices and volumes, while the Northeast and Midwest are much more stable. This should support Ryland's overall business going forward. Outside of its geographic footprint they also have seen a recent rebound in their lots numbers, which dipped significantly in 2009 through 2012 in a effort to survive the housing downturn. Although that means that they bought a significant amount of their lots at higher prices than some other homebuilders, it is good to see them starting to rebuild their long term community pipeline. Ryland by comparison with it's peers is probably not the best from a construction quality standpoint, but the stock of the company is very cheap. It trades at a forward P/E of 10.24, and a PEG of 0.79. If the housing market continues to rebound into 2015 Ryland will likely benefit and could be a potentially strong investment at these levels.
Matador Resources Company (NYSE:MTDR)
Investor: Hayman Capital (Kyle Bass)
Matador Resources Company is a growing Oil & Gas Exploration and Production company with operations in Eagle Ford Shale (East Texas), Permian Shale (West Texas), Haynesville Shale (Louisiana), and Mead Peak Shale (Wyoming & Utah). A majority of their current production comes from the Eagle Ford Shale (10,994 BOE out of 15,424 BOE total). From those that don't follow the US E&P industry, the Eagle Ford Shale is commonly thought to be the best Shale Basin in the US for multiple reasons. It usually yields a high % of Oil at very appealing production curves which makes the economics of the basin very positive. Location wise it is very close to major refining capacity, so it tends to fetch the highest price at the Oil Well because the transport costs are minimal to bring it to a refinery.
Matador has a pretty ambitious capital drilling program, which they have paid for through two previous follow on equity sales since the IPO in February of 2012. From the looks of their balance sheet they still have a significant amount of debt capacity that they can exploit in order to fund their Capex program which is pretty significant.

Source: Investor Presentation
With the size of the Capital Drilling program, I expect to see significant production volume increases over the next two years. The company operates in two of the most favourable basins (Eagle Ford and Permian) and has a great technical understanding of those basins economics. Matador reminds me a lot of Rosetta Resources (NASDAQ:ROSE) as they operate in similar basins. Matador could definitely grow into a similar size as Rosetta over the next three years, as Rosetta was producing around 20,000 BOE/day in 2010 and now produces around 70,000 BOE/day, which Matador produces around 15,000 BoE/day as of today.
Summary Table

Disclosure: The author is long KKR, NAVI.
The author wrote this article themselves, and it expresses their own opinions. The author is not receiving compensation for it (other than from Seeking Alpha). The author has no business relationship with any company whose stock is mentioned in this article.