By Dean Popplewell
It's no surprise to see the capital market relatively subdued ahead of the two keynote speakers at Jackson Hole Economic Symposium later today. Fed Chair Ms. Yellen speaks at 10am EST, while ECB's Draghi - who's unlikely to be "out" dovished by his colleague - is scheduled to appear at 2:30pm EST.
The market expects to hear reassurance from Ms. Yellen that interest rates will stay "low" for some time, despite Fed minutes delivered mid-week showing that US policy makers had discussed an earlier hike. The market is expecting a "dovish" overture from Yellen, if however, there is any indication that the more "hawkish" members on her team are beginning to influence her then investors should expect a massive uptick in "volatility". Fed "hawkish" dissenter Plosser spoke after the US market close yesterday, expressing concern that US monetary policy is not reacting to changing data. He gave warning that the Fed would have to move faster, and also noted that wage inflation is too "lagging an indicator" to determine monetary policy. Any "hawkish" hint and the US curve will shift quickly, as Treasuries back up aggressively (US 10-years +2.40%), while US equities should come under some intense selling pressure just as indices print new record highs.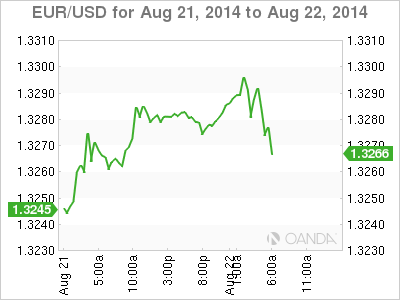 Draghi cannot afford but be cool
The EUR has been under intense pressure for a number of months (€1.3280) as investors expect the ECB to consider fresh easing measures while the Fed moves towards a tighter monetary policy. With the real threat of deflation, euro region is already experiencing alarmingly low inflation; investors will want to be looking for any hints of new policies from the ECB's president. The eurozone's best-case scenario for today's speech will be a "no" change to ECB stance. Draghi will have to tread very lightly in his speech, he cannot afford to stand in the way of the recent depreciation of the EUR.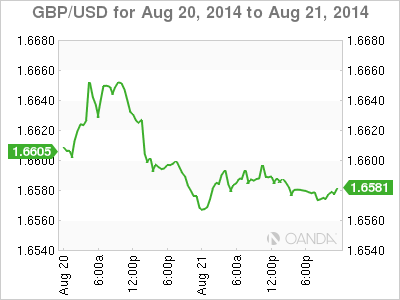 "Mighty" buck needs a second wind
The recent dollar rally against the majors has been aggressive, more silent, but certainly on a determined run. It's not a surprise to see that it has checked its stride ahead of the Jackson Hole speeches, stalling before the 61.8% Fibo of the move from July last year at DXY: 82.51. In outright terms, that is the EUR/USD equivalent of €1.3222. This whole move has coincided with a Fixed Income rally - which may imply that caution is probably warranted. However, FI has been rallying all year. Today's speeches are entitled "Reevaluating Labor Market Dynamics" and it will take all of Draghi's orator skills to weave a dollar story into this topic. The president will be required to go off-line a tad to say anything currency related. The single unit has run into some heavy speculative selling at the €1.3300 psychological handle and is protected initially on the downside by more option barriers located one cent lower at €1.3200.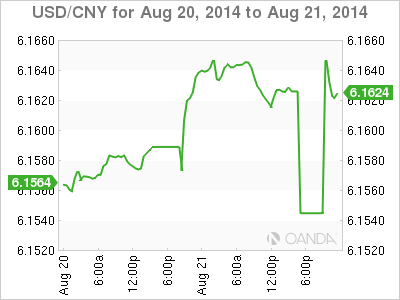 China stimulus call
The Asian bourse rally seems to have run out of steam, particularly the Shanghai Composite, especially after the surprise slowdown in China's flash manufacturing PMI yesterday.
Growth in China's vast factory sector slowed to a three-month low (50.3 versus 51.5) this month as output and new orders moderated despite the recent burst of government stimulus. The lukewarm reading came as China's economic growth appears to be faltering again, with recent indicators ranging from lending to output and investment all pointing to weakness. More analysts are now calling for additional incentives and stronger scrutiny of growth targets.
This week's PMI miss would suggest that there is possibly room for "two" interest rate cuts by the PBoC in H2. However, the knock on effect from further policy easing could include "cuts in mortgage down payment requirement and rates." On the flip side, further economic weakness could lead to softer property sales and starts - maybe a new norm for 2015 resulting in Chinese GDP growth slowing to below the psychological +7% handle.