T2 Biosystems, Inc. (NASDAQ:TTOO) - Buy Recommendation - PT $21.50.
The SEC-enforced 25 day quiet period on underwriter analyses of T2 Biosystems, Inc. that began with the firm's August 6 IPO will come to an end on August 31. The conclusion of the quiet period will allow the IPO underwriters to release reports on the in vitro diagnostics firm, likely leading to a temporary rise in TTOO share prices.
Early Market Performance
TTOO's IPO priced at $11 per share, well short of its expected price range of $15-$17 per share, and posted a substantial 30.2% first-day return. The stock has since continued to gain ground, arcing upwards to close at $20.43 per share on August 21.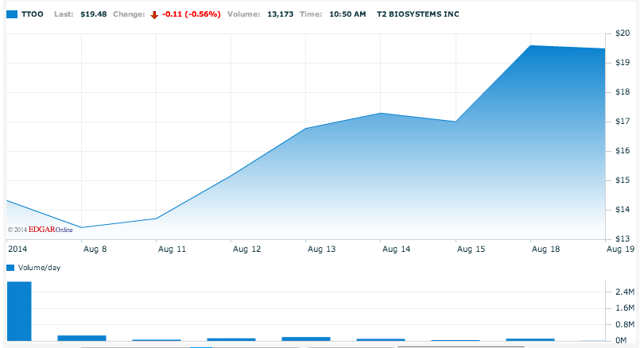 Click to enlarge
(Nasdaq.com)
TTOO's IPO underwriters, including Goldman Sachs; Morgan Stanley; Janney Montgomery Scott LLC; and Leerink Partners LLC, will attempt to maintain the stock's strong recent performance through the publishing of positive reports beginning with the expiration of the quiet period.
Underwriters, Quiet Period Expirations, and Buying Opportunities: Academic Studies
According to The Journal of Finance (VOL. LVIII, NO. 1; 2003), share prices generally start to increase before the quiet period has expired, as investors foresee the IPO underwriters' forthcoming positive analyses and purchase shares ahead of time to take advantage.
Lead author Dan Bradley, PhD, CFA, affiliated with the University of South Florida, and his colleagues state that analysts initiate coverage immediately for 76% of firms upon the conclusion of the quiet period, almost always with a rating of 'Buy' or 'Strong Buy.' For the two days preceding and the two days following the date of initiation, firms enjoy abnormal positive returns of 4.1%. When more than one analyst initiates coverage, returns have been found to increase even further-to 6.4%.
Carter, Piwowar, and Strader (2001) support Dr. Bradley's findings, stating that the mean analyst rating at the expiration of the quiet period is a "Buy," and that higher ratings correlate to higher returns. Lach and Highfield (2009) observe that analyst initiations have not been as positively biased since the Global Settlement and the NASD and NYSE rules, but Highfield, Lach and White (2008)find that the five-day cumulative adjusted returns remain statistically significant at approximately 2%.
Bradley et al also find a significant correlation between the quantity and visibility of IPO underwriters and increasing share prices near the expiration of the quiet period.
Our own research, conducted on a sample of 2014 IPOs, finds above-market returns of 2.3% within an 8 day (-5, +2) period (day 0 being expiration). These data are statistically significant at the 90% level. When we exclude IPOs for banks and REITs, returns increase further and remain within the 90% significance level. We also find that a greater number of underwriters can lead to diminished volatility of returns in the quiet period. We observed no significant linear relationship between market capitalization and returns or volatility of returns in the same period. We also observed no significant linear relationship between the percentage of the company floated at the time of IPO and returns or volatility of returns.
In all cases, investors' early share purchases can lead to an atmosphere of rising demand, causing an increase in share prices before the expiration of the quiet period and generating a short-term buying opportunity.
Business: An In Vitro Diagnostics Firm
TTOO is an in vitro diagnostics firm in the process of developing novel diagnostic methods through its T2 Magnetic Resonance platform (T2MR). T2MR quickly finds abnormalities through various types of patient samples, and can detect cellular targets in minute quantities as low as a single colony forming unit per milliliter. TTOO current focus is on diagnostics targeting sepsis and hemostasis.
The pivotal clinical trial for TTOO's T2Dx instrument and T2Candida panel for the detection of sepsis-causing Candida fungal pathogens has been completed. In its S-1 filing with the SEC, TTOO noted that its communications with the FDA have led it to believe that it will receive approval to market the products. TTOO has submitted a de novo petition for marketing authorization and plans to commercially launch the products in early 2015.
T2Candida could allow physicians to begin treating patients far more quickly than current blood culture diagnostics, and could potentially improve patient outcomes by a significant margin; speed in treatment delivery is a critical factor in Candida patient outcomes.
TTOO is also in the process of developing its T2Bacteria and T2HemoStat diagnostics, which are intended to detect bacterial sepsis infections and hemostasis. Neither product has yet reached clinical trials; TTOO plans to initiate trials for T2HemoStat in the first half of 2016 and for T2Bacteria in the second half of 2015.
See our previous article on TTOO for further details.
Competition
TTOO's products will likely face competition from current diagnostic products, especially traditional blood culture-based diagnostics. Some such diagnostics are marketed by competitors with greater marketing and financial resources than TTOO.
Potential competitors include bioMerieux, Inc. (BIM), Cepheid (NASDAQ:CPHD), Siemens AG, Becton Dickinson & Co. (NYSE:BDX), and Bruker Corporation (NASDAQ:BRKR).
Solid Management, Despite Possibly Excessive Compensation
John McDonough has served as President and CEO and as a director of TTOO since November 2007. He previously worked in various positions with Cytyc Corporation, including President of Cytyc Development Corporation.
Mr. McDonough received a B.S./B.A. from Stonehill College in Massachusetts.
Mr. McDonough received compensation of $729,000.00 in 2013, which we believe to be excessive for a company currently losing millions for its shareholders.
Conclusion: With Room To Grow, TTOO A Buy
TTOO's low-balled IPO pricing has given the stock room to grow over the past two weeks, and we suspect that TTOO's momentum will continue.
The IPO featured potent underwriting for such a small deal, no doubt as a result of Goldman's significant stake in the company, and we believe that Goldman's involvement will continue to drive the stock upward.
Though there is no guarantee that T2Candida will be a commercial success, investors are justified in their excitement about the firm's potential, as the significant decrease in waiting time to treat Candida cases offered by T2Candida could be a lifesaver for many patients.
If the diagnostic catches on, it could prove to be a huge revenue generator for TTOO.
Investors should consider buying into TTOO as the quiet period expiration approaches in order to take advantage of the strong opportunity to get a piece of an exciting stock.
We encourage readers wishing to join the discussion on IPO quiet period expirations to click +FOLLOW above the title of this article - and those wishing for the latest updates to click +Get real time alerts.
Disclosure: The author is long TTOO.
The author wrote this article themselves, and it expresses their own opinions. The author is not receiving compensation for it (other than from Seeking Alpha). The author has no business relationship with any company whose stock is mentioned in this article.