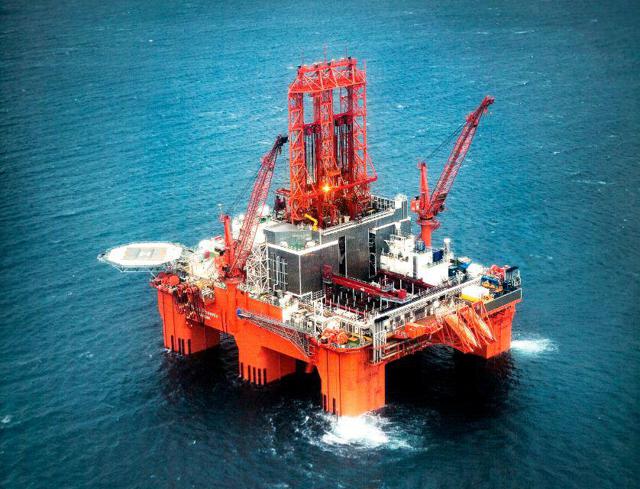 Source: Seadrill website.
In 2005, the billionaire John Fredriksen founded Seadrill Ltd.
Seadrill Limited provides offshore drilling services for energy companies worldwide. The company operates in three segments: Floaters, Jack-up Rigs, and Tender Rigs:
The company owns and operates a fleet of 69 offshore drilling units As of Q2 2014 (including 20 under construction), which consist of:
Drillships. (15)
Semi-submersibles. (19)
Jack-ups. (32)
Tender rigs. (2)
Semi-tender rigs. (1)
Note: This article is based on my precedent article published on May 30, 2014. I have changed the various tables to look more useful, and I have indicated the relation between SDRL and its different subsidiaries for each rig. Also, you will be able to click on the rig name and get the whole rig specification. I added also the location for each rig.
The fleet status reflects the changes that occurred since May and notably, the two fresh contracts West Jupiter and West Saturn. With these redesigned tables, you will be able to evaluate the SDRL future revenue and EBITDA. Furthermore, I added the new relation between Seadrill and Fintech called SeaMex (JV 50/50.)
Update: Seadrill Limited associated companies as of August 2014:
Seadrill Partners, LLC (NYSE:SDLP): SDRL owns 39,635,400 shares or 53.2% (Majority holder.) Which represents a gross value of $1.303 billion as of May 27, 2014.
North Atlantic Drilling (NYSE:NADL): SDRL owns 169,663,723 shares or 70.36% (Majority holder.) Which represents a gross value of $1.652 billion as of May 27, 2014.
Archer Ltd. (ARCHER.OL) Listed on Oslo stock-exchange: SDRL owns 231,053,239 shares or about 39.9% of the company. On February 21, 2014, Archer announced an impairment charge of $430 million, which impaired subsequently SDRL fourth-quarter revenues. SDRL stake in the company represents $367 million as of August 17, 2014.
Sevan Drilling ASA (SEVDR.OL) listed on the Oslo stock-exchange: SDRL owns 50.11% of the total company representing a gross value of $146 million as of August, 2014.
SapuraKencana Petroleum BHD (SAKP.MK) listed on the Malaysian stock-exchange: SDRL owns 490 million shares of the company representing about 8.2%, which is a gross value of $788.6 million as of August 17, 2014.
(New element indicated): SeaMex Ltd. A 50/50 Joint Venture for the five Jackups in the Gulf of Mexico with an investment fund called the Fintech Advisory Inc. (six years contract with PEMEX.)
Associated Co.
SDLP
NADL
Archer Ltd.
Sevan Drilling AS
Shares outstanding Million
74.54
241.14
579.16
594.62
5,992.16
-

Shares owned by SDRL

Million

39.64
169.66
231.05
298
490
Fintech Advisory Inc.
% owned
53.18
70.36
39.9
50.11
8.2
50
Stock value in $ (August 18, 2014)
32.88
9.74
1.59
0.489
1.316
-
Gross value $ Billion
1.303
1.652
0.367
0.146
0.645
-
Total gross owned by SDRL, in these five companies is around $4.113 billion as of August 17, 2014. SeaMex is excluded.
SDRL is scheduled to release its next second-quarter results on August 27, 2014.
Update: Complete fleet analysis as of August, 2014.
I added two important elements since my first article.
The particular relation between NADL, SDLP and SeaMex per rig and the % of ownership.
The world location where the rig is operating.
Since my preceding article, few important events occurred:
Contract West Jupiter
Contract West Saturn
The West Tellus is now idle.
Contract NADL/Rosneft
Mexican government opening more deep sea area for drilling.
SDRL has a total of 15 UDW drillships, but only 8 are actually in service or about to be contracted; and 7 are still under-construction either at Samsung (5) or DSME (2). The seven new UDW drillships under-construction are all ultra-deepwater drillships UDW with a drilling depth of 40,000 feet and water depth of 12, 000' called 6th generation. Many ships are shared with Seadrill's associated companies listed above.
1 - Ultra-Deepwater Drillships.
* The West Tellus is presently idle and green for a new assignment.
Recently, the West Saturn got a two-year contract with Exxon (NYSE:XOM) in West Africa.
2 - Semi-Submersibles.
SDRL has a total of 19 semi-submersibles but only 17 are actually used/rented and 3 are still under-construction either at Costco (1) or Jurong (1) or Hyunday (1).
#
Semi-Sub.
Shared with another assoc. company

Type/Year

Built

Day Rate K $

Contract

End

Location
1
West Alpha
X

NADL

70.36%

4th-HE

1986

535

547

7/16

8/16-7/17

Option

Norway

Russia

2
West Venture
X

NADL

70.36%

5th-HE

2000

441
7/15
Norway
3
West Phoenix
X

NADL

70.36%

6th-HE

2008

464
10/15
UK
4
West Hercules
X

NADL

70.36%

6th-HE

2008

497

497

1/17

1/17-1/18 Option

Faroe Island
5
West Sirius

X

SDLP 53.18%

6th-BE

2008

535

7/19

USA
6
West Taurus

6th-BE

2008

656.66
2/15
Brazil
7
West Eminence

6th-HE

2009

624.46
7/15
Brazil
8
West Aquarius

X

SDLP 53.18%

6th-HE

2009

540

615

10/15

10/15-4/17

Canada
9
Sevan Driller

X

Sevan 50.11%

6th-BE

2009

419.82
5/16
Brazil
10
West Orion

6th-BE

2010

624.46
7/16
Brazil
11
West Pegasus

6th-HE

2011

Market rate

8/14-8/16

Mexico

Pemex

12
West Capricorn

X

SDLP 53.18%

6th-BE

2011

495.65

9/17

9/17-8/19 Option

USA
13
West Eclipse

6th-BE

2011

450

455

455

1/15

1/15-1/16 Option

1/16-1/17 Option

Angola
14
West Leo

X

SDLP 53.18%

6th-HE

2012

605
6/18
Africa
15
Sevan Brasil

X

Sevan 50.11%

6th-BE

2012

398.56
7/18
Brazil
16
Sevan Louisiana

X

Sevan 50.11%

6th-BE

2013

505

1/17
USA
17
Sevan Developer

X

Sevan 50.11%

6th-HE

3Q2014

Available

-
-
18
West Mira

6th-HE

1Q2015

590
6/15-6/20
Husky
19
West Rigel
X

NADL

70.36%

6th-HE

2Q2015

Available
-
-
3 - Jack-ups.
SDRL has a total of 32 jackups but only 22 are actually used/rented, one in transit, one available and 8 are still under-construction in Dalian.
#
Jack-up
Shared with another assoc. company

Type/Year

Built

Day Rate

K$

Contract

End

Location
1
West Epsilon
X

NADL

70.36%
Heavy-duty-HE
286
12/16
Norway
2
West Elara
X

NADL

70.36%
Heavy-duty-HE
360
3/17
Norway
3
West Linus
X

NADL

70.36%
Heavy-duty-HE

375

375

5/19

5/19-5/21 Option

Norway
4
West Defender
X SeaMex 50%
BE

155.5

6/20

Mexico
5
West Resolute
BE

140

140

10/15

10/15-10/16 Option

Kuwait-Saudi Arabia
6
West Prospero
BE
155.77
5/16
Malaysia
7
West Courageous
X SeaMex 50%
BE

155.5

5/21

Mexico
8
West Triton
BE

145

145

8/15

8/15-8/16 option

Saudi Arabia/Kuwait
9
West Vigilant
BE
167
11/14
Malaysia
10
West Intrepid
X SeaMex 50%
BE
155.5

1/21

Mexico
11
West Ariel
BE

220

8/15

Congo
12
West Cressida
BE
Available
-
Thailand
13
West Freedom
BE

225

12/16

Trinidad & Tobago

Venezuela

14
West Callisto
BE
150

11/15

11/16 Option

Saudi Arabia
15
West Leda
BE
165
3/15
Malaysia
16
West Mischief
BE

175

195

12/14

12/14-4/15

Congo
17
AOD I
BE

180

205

5/16

5/16-5/17 Option

Saudi Arabia
18
AOD II

BE

2013

180

205

6/16

6/16-6/17 Option

Saudi Arabia
19
AOD III

BE

2013

180

205

10/16

10/16-10/17 Option

Saudi Arabia
20
West Tucana

BE

2013

167

Mob.

220

10/14

10/14-11/14

11/14-11/16

Vietnam

Angola

21
West Telesto

BE

2013

156.98

Mob.

265

10/14

10/14-11/14

11/14-3/15

Vietnam

Transit

Australia

22
West Castor

BE

2013

155
5/16
Brunei
23
West Oberon
X SeaMex 50%

BE

2013

171.5
5/20
Mexico
24

Ex-Prospector 3

X SeaMex 50%

BE

1Q2014

In transit
6 years contact
Mexico
25
West Titan

BE

1Q2015

Available
-
-
26
West Proteus

BE

2Q2015

Available
-
-
27
West Rhea

BE

3Q2015

Available
-
-
28
West Tethys

BE

4Q2015

Available
-
-
29
West Hyperion

BE

4Q2015

Available
-
-
30
West Umbriel

BE

1Q2016

Available
-
-
31
West Dione

BE

2Q2016

Available
-
-
32
West Mimas

BE

3Q2016

Available
-
-
4. Tender Rigs and semi-tender rig.
SDRL also owns two Barges and one semi-tender. There is no tender rig in construction now.
#
Tender Rig
Shared with another assoc. company

Type/Year

Built

Day Rate

K $

Contract

End

Location
1
T15

X

SDLP 53.18%

2013
122.72
7/18
Thailand
2
T16

X

SDLP 53.18%

2013
121.27
8/18
Thailand
3
West Vencedor

X

SDLP 53.18%

2010
213.93
3/15
Angola
Commentary:
Seadrill Limited is a top-tier offshore driller that owns one of the most modern and state-of-the-art rig fleets worldwide. This update is still largely confirming the predominance of SDRL among its peers.
The long-term fundamentals are very positive for SDRL and its modern fleet, as we can see above. However, there is a near-term outlook for the floaters and jackups market that continues to be challenging and will impact negatively the revenues and day-rates for the rest of 2014 and part of 2015. There is now a consensus regarding a recovery early in 2016. This effect is not as serious as some analysts are predicting because of the backlog level and contract coverage treated below.
I believe this slowdown is temporary in essence, and a part of an economic healthy cycle that cannot be avoided. The company continues to show a very strong outlook through its impressive backlog, which is around $19 billion at the moment. This solid backlog and the high contract coverage for the next three years are shielding the company against any continued downturn or at least until 2016 when the trend is due to reverse positively.
Impressive contract coverage for 2014, 2015 and 2016:
| | | | |
| --- | --- | --- | --- |
| Year | 2014 | 2015 | 2016 |
| Contract coverage | 98% | 72% | 47% |
Update: This coverage includes the two new contracts West Jupiter and West Saturn.
However, few problems still remain, recently the West Cressida has been Idled, and I hope it will find a contract very soon. In the Jackups we still have a contract problem for the West Vigilant (11/14) and the West Ariel (8/15). The next second-quarter results and conference call will probably bring some clarification about these particular rigs.
It is a well-known situation that has been over-used by analysts, and I will not extend more on this subject. It is important to look at the fleet generation and understand what is going on.
SDRL owns an ultra-modern fleet comprised of rigs classified as 5th, 6th and 7th generation or high specification rigs and Harsh environment too in some cases.
The situation is not very critical for these generation levels, and many offshore companies specialized in the UDW sector, like Ocean Rig UDW (NASDAQ:ORIG) or Pacific Drilling (NYSE:PACD) said that the UDW market was fairly balanced until 2016. The day-rates are not going down and are staying at a very healthy level. Michael Acuff, SVP sales at PACD, said on the conference call on August 7th, 2014:
And though the results show a less favorable market than our previous forecast back in December, we continue to expect demand for ultra-deepwater rigs to stay roughly in balance with supply through 2016 with a forecast of 192 ultra-deepwater rig years of supply in the global fleet by year end 2016 versus an expected demand for 193 rig years.

First, taking a look at the supply, we're forecasting additional 53 ultra-deepwater newbuilds to be delivered by the end of 2016. Of these additional 53 rigs, 23 currently remain in uncontracted. However, 2016 forecasted supply will likely be less than predicted as contractors continue experiencing newbuild delivery delays from shipyards sometimes exceeding three months and we expect this trend to continue for the foreseeable future.

Additionally, there have not been any recent ultra-deepwater newbuild announcements in the market. So effectively, any additional orders at this point are scheduled for delivery in the 2017 timeframe.
The question is more sensitive when it comes to the rigs of the 2nd, 3rd and 4th generation considered as low specification rigs, which are now in oversupply situation, and fighting for a lower level of contracts. Diamond Offshore (NYSE:DO) is the more exposed to that situation and the widening bifurcation of the day-rates between the low and high specification rigs. On the other hand, Seadrill Ltd. is well-equipped to profit from this situation.
For the jackup market and deepwater market, the Gulf of Mexico market especially, may bring some new contracts for SDRL after the recent decision from the Mexican government to open up its deepwater oil fields. SDRL and PEMEX are already partners.
The recent contract between NADL and Rosneft will have probably some repercussion as well.
At last, SDRL is now serving over 10% in dividend which is safe and may even increase in the near future.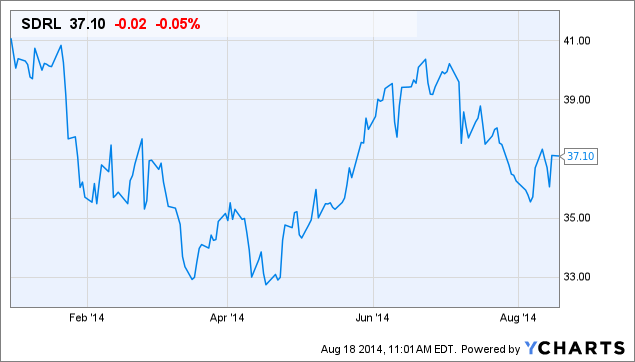 SDRL data by YCharts
Update: I have been invested with SDRL since 2009 and I continue to rate this company as BUY/accumulate without any hesitation.
Disclosure: The author is long SDRL. The author wrote this article themselves, and it expresses their own opinions. The author is not receiving compensation for it (other than from Seeking Alpha). The author has no business relationship with any company whose stock is mentioned in this article.