Target (NYSE:TGT) reported another disappointing quarter due to underperformance at Canadian stores and losses incurred from the security breach of store-branded cards that occurred late last year. The silver lining here is that e-commerce sales grew 30% from last year, which is twice the current industry rate of 14%.
Earnings Details
Earnings for Q2 2014 fell 20% from the same period last year to $0.78/share, but were in-line with (downward) revised company projections. Revenues for Q2 2014 grew only 1.7% from the same period last year to $17.4 billion. Meanwhile, costs increased 3.6% to $12.2 billion as the company engaged in more marketing and relied more heavily on discounts. Hence, gross margins (((Sales-Cost of Sales)/Sales)*100) are down to 30.1% from 31.4% in the same period last year.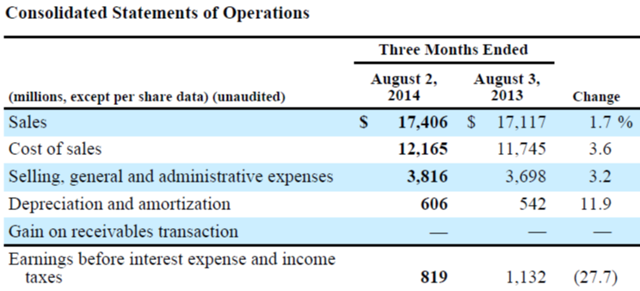 Click to enlarge
Source: Target Q2 2014 Earnings Report
There were also some one-time charges related to the security breach in credit card info, interest expenses, and asset impairment. These are detailed below.

Click to enlarge
All together, these charges are expected to reduce earnings by $0.48/share for the fiscal year.
No Quick Fix in Canada
Just a year and a half ago, Target carried out an ambitious plan to open 124 new stores in Canada over just a few months time. The plan was marred by poor execution and Canadian shoppers complained that the Canadian experience at Target was not the same as the American one. Now, it is working on turning around an operational disaster. For Q2 2014, Target reports a 63% increase in sales in Canada, but most of this was from opening of new stores. In fact, comparable sales were down 11.4%. Gross margins were also down to 18.4% from 31.6% in the same period last year.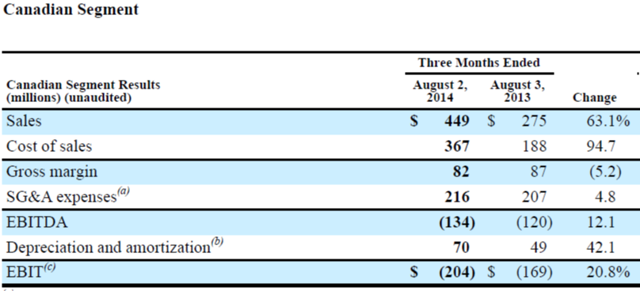 Click to enlarge
Canada is an important market to fix and once it is fixed, Canada may inject some much needed growth into Target. I am confident that the company can turn around the situation once it addresses the clear issues that Canadian shoppers have pointed out. It is also important to keep in mind that the total number of stores in Canada only amount to 7% of total Target stores (i.e., only 130 out of a total of 1920 stores). And, revenues from Canada only amount to 2.6% of total revenues (i.e., $449 million out of $17.4 billion in total revenues).
Getting Its Mojo Back
Target was successfully run by Robert Ulrich from 1987 to 2009 and during that time, it thrived as a chic but still relatively inexpensive place to shop at. Bob Ulrich encouraged innovation amongst executives by giving them creative leeway on key strategic decisions like product selection and promotions. An active effort was also made to spot and embrace trends early-on in order to stand out from competitors. During Ulrich's tenure, Target's stock price increased 1350% and number of stores opened increased nearly threefold.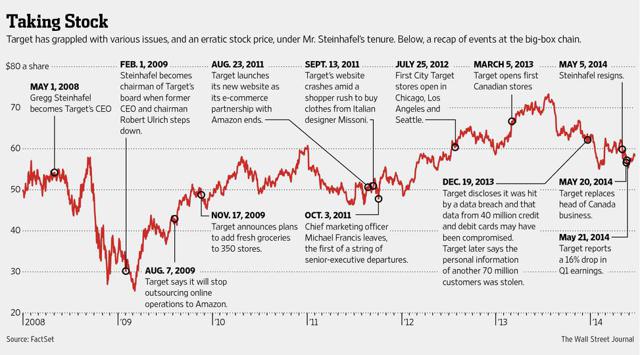 Click to enlarge
Source: WSJ
Gregg Steinhafel succeeded Ulrich as his hand-picked successor, but failed to replicate the same type of creative energy that was the reason for Target's success. Instead, Steinhafel implicated a tedious system of bureaucracy that stifled innovation. It was rumored that many executives complained directly to the board about their new CEO, and after operational difficulties in Canada and the credit card security breach, Steinhafel was replaced by Brian Cornell, the first outsider to lead Target. He has previous experience in turnarounds and in strengthening e-commerce at PepsiCo (NYSE:PEP), Wal-Mart (NYSE:WMT), and Safeway (NYSE:SWY).
Target.com Is A Shining Star
Target reported that "digital sales, including flexible fulfillment, grew more than 30% last quarter". E-commerce is growing at 14% in the U.S., which means that Target.com's growth rate is twice that of the industry average. This is especially noteworthy since the credit card security breach that happened late last year is still relatively fresh in consumers' minds. Target does not release sales numbers for digital sales, but it is estimated by analysts to be at about 2% of total revenues, i.e. $350 million. This is only half of Wal-Mart's estimated 4% digital sales of total revenues.
Flexible fulfillment is the ability of inventory in stores and warehouses to be available both in-store and online (including to customers that want to pick-up in-store). This program is only about a year old at Target, but already accounts for about 10% of all digital sales. In addition, Target launched a subscription service recently for items that are regularly needed. The extent of this service has been expanded from 200 to 1500 items and the savings from participating (for free) in this subscription service were increased to 10% as well as free shipping.
Target has also brought in external talent from Google (NASDAQ:GOOG) (NASDAQ:GOOGL), Match, and Bain Capital to strengthen its competitiveness in e-commerce. Clearly, the company understands the importance of strong growth in e-commerce as a potential means to offset a slow-down in in-store sales. Currently, e-commerce accounts for only 8% of all retail sales, but is projected to grow to 11% of all retail sales in 2018. In addition, m-commerce or mobile commerce currently accounts for about 10% of all e-commerce sales and that figure will also grow substantially in the future. Target is taking big strides in supporting m-commerce and was named the 'Mobile Retailer of the Year' last year for: 1) its efforts in social media via the Facebook (NASDAQ:FB) app Cartwheel 2) making it easier for in-store shoppers to communicate with the retailer by hosting free WiFi in its retail stores, and 3) engaging with developers to improve Target apps and websites.
Conclusions
Target has a long road ahead of it to put its operational problems in Canada and its data security breach behind it and to once again become a popular retailer. While these operational problems may take some time to fix, they will not adversely impact the company's long-term fundamentals. But, strong leadership and embracing innovative fashion trends to develop Target's characteristic "chic but cheap" retail experience are important in securing its future. It remains to be seen whether Brian Cornell, Target's new CEO, can replicate the retail successes of its previous CEO, Robert Ulrich. The recent earnings report also suggests that the company's e-commerce strategy is working well as digital sales grew 30% from last year. Continuing to build strong e-commerce and m-commerce platforms will be crucial in staying ahead of competitors like Amazon.com (NASDAQ:AMZN) and Wal-Mart and for Target's own growth. Target's stock is down 3.5% so far this year and is sitting between its 52 week range of $54.66-$67.25. With new leadership in place and improving trends in e-commerce, I believe the company will do well in the long-term once it fixes short-term operational problems.
Disclosure: The author has no positions in any stocks mentioned, and no plans to initiate any positions within the next 72 hours.
The author wrote this article themselves, and it expresses their own opinions. The author is not receiving compensation for it (other than from Seeking Alpha). The author has no business relationship with any company whose stock is mentioned in this article.