In their fashion, bank stocks performed remarkably well in 2010, outperforming all the major indexes. The KBW Bank Index (BKX) ended at 52.21, +22.2% higher and handily outperforming the NASDAQ (+16.9%), S&P500 (+12.8%), and DJIA (11.0%). The BKX fell -3.63% and -50.0% in 2009 and 2008, respectively.
That bank stocks outperformed isn't surprising. Having fallen farther, bank stocks had more catching up to do. But fundamentals clearly improved. Banks recapitalized. Credit cost fell, and earnings grew. The yield curve was consecutively steep, flatter, then steep again at year-end. But for the President's unfortunate "fat cat" rhetoric in late 2009, the SEC's regulatory attack on Goldman Sachs in April, and the Congress' mid-year "reform" of the financial industry, no doubt financial stocks would have done even better. While the major indexes sport 2-year highs and have recovered to pre-Lehman levels, the BKX stands -9.91% below its best 2010 level (57.95 on April 23rd) and -36.8% below its pre-Lehman levels.
Valuations remain far below historical averages. The BKX trades at 1.51x tangible book value and 14.4x expected 2011 earnings, compared to 20-year average median multiples of 3.08x tangible book and 15.9x earnings.
In 2011, can bank stocks outperform again? Credit and balance sheet repair will continue, earnings will rise, but investors should anticipate that increased bank dividends will emerge as the new theme likely to push valuations higher. One firm already has. On November 16th, Comerica doubled its dividend to $0.10. And the stock has since appreciated 15.0%. And on November 17th, the Federal Reserve Board of Governors asked those firms that participated in May 2009's stress test (aka the Supervisory Capital Assessment Program or SCAP) to file capital plans by January 7, 2011, in order that regulators can decide on dividend increase requests in time for 2nd quarter 2011. It's widely expected that the Fed will approve several. And just as investors viewed the SCAP stress test as a clean bill of health for the 9 of 19 banks that passed, investors will likely greet dividend increase approvals as another.
Of the 24 BKX banks, which are most likely to raise their dividends? We summarize our analysis in the accompanying chart. First, only those firms that have repaid TARP monies can expect approval, which excludes 6 of the 24. Second, we assume that dividend payout ratios will be kept below 20%, excluding another 7 firms. And third, we expect that firms must be able to satisfy Basle III's Tier 1 common ratio requirement of at least 7%.
click to enlarge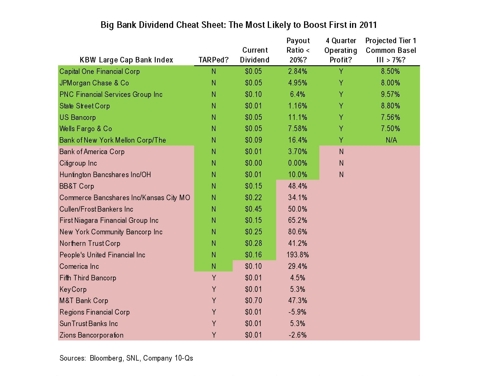 There are seven firms that satisfy all these criteria; in our opinion, regulators are likely to approve dividend increases for all seven, perhaps by as much as 100% as did CMA. But of these, CapitalOne (NYSE:COF), JPMorgan (NYSE:JPM), PNC Financial (NYSE:PNC), and State Street (NYSE:STT) appear likely to have capital enough to increase dividends again in subsequent quarters.
Will bank stocks outperform in 2011? We believe that they will and are investing accordingly.
Disclosure: I am long COF, JPM, PNC, STT, USB, WFC, BAC, C, HBAN, CMA.