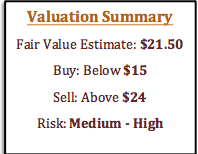 SunPower Corp. (SPWRA) works as a manufacturer, distributor, and marketer of solar power technologies. The company creates solar panel and inverters in their Components section that is sold for residential and commercial use. The company also operates a Systems section that develops and installs systems for utility use. The company was incorporated in 1985 and is headquartered in San Jose. The company, in 2008, sold off its Cypress Systems that produced thin film PV cells.
Thesis
2010 continued the significant growth of the solar market throughout the country with new markets in China and the USA advancing their demand for solar panels. Yet, among all these risks, a handful of companies have established themselves as market leaders through their ability to either produce highly efficient panels and/or produce panels very inexpensively. The industry has become a commodities industry with those that can produce the most efficient, least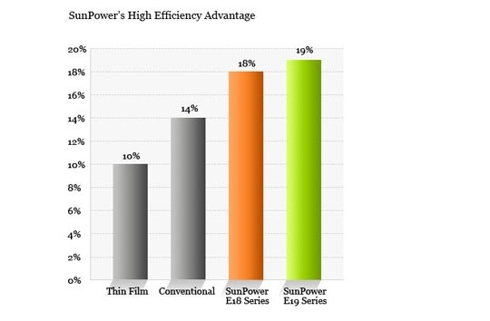 expensive panels being the leaders.
SunPower Corp., based in Silicon Valley, has established itself in this competitive industry through its profound solar efficiency. The company is the leader in efficiency for solar panels on the major market, but they have struggled as of late because SunPower has lost out to a number of companies that have been able to much more cheaply produce solar panels. Yet, the company still has significant growth potential with the rest of the solar industry, and even as SunPower is not the market leader, it still has built a small economic moat by building the most efficient silicon-powered solar cells.
The company has had issues as of late because of negative free cash flow, inconsistent ability to produce free cash flow, and an inconsistent pipeline. The outlook, however, for the solar sector has gotten better in 2010 and moving into the future. California and China have become new markets that will help to battle the loss of feed-in tariffs and loss of demand in Europe. If the company can begin to maintain consistent free cash flow and a consistent pipeline of demand, they should be able to move into a market leader with the technology to produce PV cells with 20%+ efficiency while the market average is only 14-15%.
The company is able to produce solar cells with efficiency at 20%+. The majority of cells only have an efficiency at 15%. This is the edge that makes SunPower attractive to me. While some companies and projects will obviously want a cheaper panel, the efficiency to price of SunPower is attractive. In just the last five months, SunPower has taken on a number of new projects: three power plants in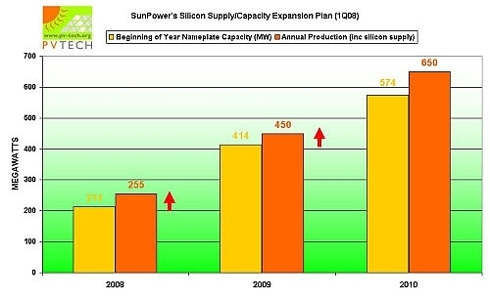 Italy are being powered by the new Seregenti line, a PV power park in Italy, power plant projects Delaware, and completed a solar power plant in Shelby, NC for Duke Energy (NYSE:DUK). The SunPower line is very vibrant and continues to grow. The company, additionally, has launched the Serengeti line, which is a less expensive and less efficient panel that will allow for them to appeal to a wider range of companies and governments.
Solar, overall, is growing each year. The 2010 industry is supposed to reach 12.9 GW of energy produced, which will be an 80% growth in GW of energy from 2009. Those numbers are supposed to continue even higher into 2011 and beyond. Forecasts range from the high 13 GW to 15 GW. That growth will continue to add to the capabilities of SunPower and other companies. In 2008, the demand was just 6 GW and was just 1.7 GW in 2006.
For the near future, SunPower should see a continue increase in share price. The current quarter will show significant growth for the company, and Q4 is estimated to have nearly $1 billion in revenue. That revenue should continue to grow into 2011. This will have a drastically positive affect on the company. The company operates a P/E ratio well above the industry average at 39, but the company will be able to improve their earnings dramatically to match that P/E ratio as its earnings improve. The problem, however, is that the company will most likely suffer some in price in the near future after a 39% run up. A fallback should be expected, but the long term potential is very promising.
The name of the game for SunPower now is consistency. The company just started in 2005, and they were on their way up when the recession struck. Coming out of the recession, expectations should start to improve. Competition does remain high, and now the company must focus on free cash flow, reducing costs, and maintaining their pipeline in order to battle that competition. The coming quarters will be key to SunPower's ability to develop into a true market leader. Their financials, at this time, are nowhere near the levels one would want to see, but that should soon change.
Valuation
Our fair value estimate for SunPower is $21.50 per share based on a discounted cash-flow analysis. The company has seen great growth in its operating income in the past five years at over 1400% for predicted 2010 operating income levels, and there is really no worry that the industry cannot continue to grow as demand continues to grow. Given the development of new markets, the company's ability to offer a cheap product and most efficient product and continued growth of capacity of MW the company can produce per year, the company is continuing to offer growth in its income. My estimated available cash flow starts at $290 million for this year, which is very cautious. Cash flow should be significant after a large increase in liabilities.
The stock is a Buy below $15, and it is a Sell above $24.
Risk
Risk is medium high with SunPower Corp. The company, in the last five years, has been able to definitely develop itself as a leader, but it is in a commodities industry. Competition is high. Operating income has not shown necessary consistency needed to be highly successful, so that will need to occur. The company also has heavy risks because of an issue with the euro decline and cuts to feed-in tariffs. An upturn in the global economy would do wonders for solar energy.
Disclosure: I am long SPWRA.