When Apple stock (NASDAQ:AAPL) began its relentless descent from $700 to less than $400, conspiracy theories abounded, but at least in retrospect, margin compression was quite a reasonable explanation. See the close correlation between stock price and profit margin in this chart from YCharts.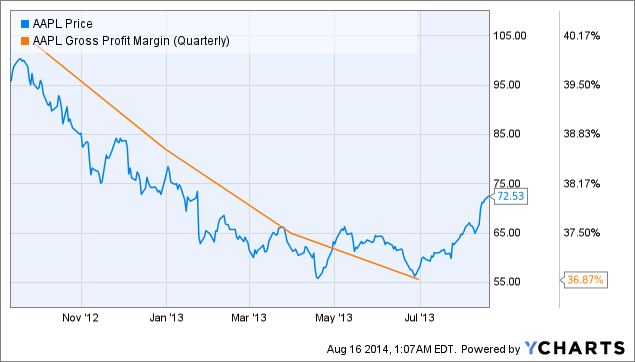 So much news to assimilate and so much going on within a company the size of Apple makes it hard to determine in real-time if a seemingly irrational movement in stock price might be due to something you're missing, investor sentiment, or deliberate price manipulation.
Micro-caps are different. There is sometimes little news between quarterly earnings reports, and fewer moving parts within the company. There is thus less camouflage for price manipulation. One micro-cap I own exhibited interesting price movement recently.
This is the Great American Group (NYSEARCA:GAMR). Until combining with the larger B. Riley &Co., GAMR was a mere $5M market cap appraiser and liquidator of assets. I thought owning this stock would be a good hedge against a real economic downturn. But since I'm not expecting that anytime soon, I bought just a few shares to have it on my radar. I don't use stop-losses, so it was of no personal concern to me when GAMR stock price got whiplashed about the time of three events: the 2014 Q2 earnings release, which was lackluster but upbeat, the merger announcement, and a reverse stock split. Here is GAMR price on a reverse split-adjusted basis. It looks like a square root sign.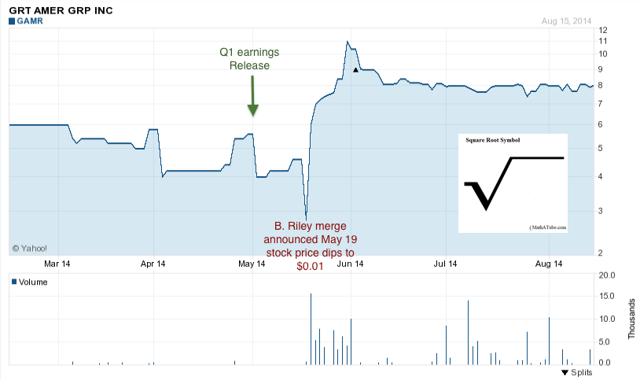 Daily prices before the 1:20 reverse split as reported on finance.yahoo.com (and cross-checked on finance.google.com) are in the following table.
----date----------open------high-------low-----close-------volume---adj. close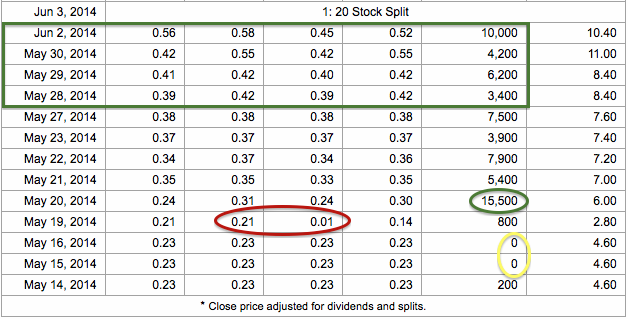 Earnings were released on May 14. For the next two days, there was no trading (yellow circle), and price did not move. On May 19, the agreement to combine with B. Riley was announced - the stock traded between $0.21 and $0.01 (red circle), but closed at $0.14. During the following day, on a volume of 15,500 shares (green circle), which was 1% of the total float of 1.5M, the stock traded up to $0.31. Over the following 2 weeks, and before the reverse split, GAMR priced at more than $0.50 (green rectangle). There was no other news that could have whiplashed the stock like that. That a sale of so few shares - 800 on the 19th - could create such price volatility is due to the extremely small $5M market cap of GAMR before the merger. 15,500 shares bought at an artificially reduce price may seem trivial, but the same % of Apple's float would be 62M shares, or $620M.
Regardless of mechanism, there are lessons to learn from this kind of stock price action:
Never place stop-losses on illiquid micro-cap stocks.
Be nimble enough to buy more of stocks you own on the dips.
OR:
Don't buy microcaps unless you are okay with volatility and possible large losses.
The point of this report is not to get the attention of the SEC - I suspect someone who knows GAMR very well may have been showing an adolescent son or daughter how to play the market with a few thousand bucks. The point is that if individual investors learn how to react to irrational price movements and beat traders at their own game, the market will be more efficient and safer.
I own, and have discussed on SA, two other micro-caps, the prices of which are behaving very irrationally right now: Air T (NASDAQ:AIRT) and Exiqon A/S (OTC:EXQNF). AIRT has few, and EXQ has no shares sold short. Neither has whiplashed yet like GAMR did, but I may revisit these stocks again on SA in the future. You have to be nimble and have a bit of financial courage to buy a sudden or deep dip in price, but those who did that with Gilead and some other biotechs, which were falling knives earlier this year, are being rewarded.
Disclosure: The author is long GAMR, AIRT, EXQNF. The author wrote this article themselves, and it expresses their own opinions. The author is not receiving compensation for it (other than from Seeking Alpha). The author has no business relationship with any company whose stock is mentioned in this article.
Editor's Note: This article covers one or more stocks trading at less than $1 per share and/or with less than a $100 million market cap. Please be aware of the risks associated with these stocks.