Investors can perhaps set their clock by Altria Group (NYSE:MO). The tobacco giant has just announced yet another dividend increase, as Seeking Alpha has covered here. Here are a few quick highlights from the announcement:
The new annual dividend of $2.08/share gives Altria a current yield close to 4.90%.
The new dividend once again separates Altria from the pack as the next highest yielding domestic big tobacco stock is Reynolds American (NYSE:RAI) at 4.30%. Lorillard (NYSE:LO) yields below 4% due to the run-up in price after the merger news.
The ex-dividend date to lock in this fresh dividend is 09/11/2014.
This article was written in 2013 when Altria announced its dividend increase for that year. With the latest increase in mind, let us evaluate the stock again using the same metrics. Let us get into the details.
Current Yield: As written above, the new yield is very close to the 5% mark that Altria is well known for. However, this is much lower than the yield point after last year's increase and this is obviously due to the gains the overall market has seen. Still, Altria's yield is the highest when you consider the five big tobacco names. But please keep in mind that some stocks like Philip Morris (NYSE:PM) are due for their own dividend increase in the next few months.
Payout Ratio: Perhaps no other non-REIT company has such a well known dividend payout policy as Altria. Although the company intends to pay about 80% of its earnings back to shareholders, the current payout ratio based on diluted EPS is almost 96%. But this should not alarm investors as:
Buybacks are still in effect, which will reduce the outstanding shares and boost EPS.
Tobacco companies are well known for their cost-cutting measures.
2014 and 2015 EPS are expected to be $2.57 and $2.74 respectively. That gives the stock a forward payout ratio of 80% and 75%.
Five Year Dividend Growth Rate: The 5 year dividend growth rate now stands at 8.88%, as the dividend per share has gone from 34 cents to 52 cents. The last 4 increases have been between 7.3% and 9%, which reeks of consistency.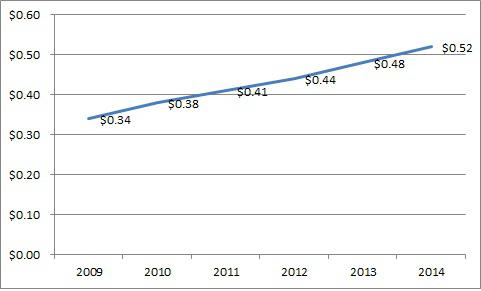 (Source: Data from Yahoo Finance)
Buybacks: Altria also uses share buybacks to enhance shareholder returns. The company recently announced a $1 billion repurchase program that should run till 2015. This comes on the back of the buyback program the company announced in 2013.
The impact of these buybacks is pretty clear; the outstanding shares have been on a steady decline as shown below.

Click to enlarge
(Source: YCharts.com)
Extrapolation: The table below assumes an annual 8% increase in the dividend per share. Given Altria's near half-century dividend growth streak, this is not beyond belief. It is easy to see the magic of compounding, reliability, and patience as the yield on cost will more than double in a decade.
Before you shoo that away, please keep in mind that long term investors are better off sticking with steadily increasing payments than buying stocks with lofty current yields that might not be sustainable.

(Source: Current price and dividend data from Yahoo Finance)
Conclusion: Despite the ever increasing concerns about tobacco companies, stocks like Altria still have plenty to offer for investors. With a low beta of 0.44, high yield, and reliable dividend growth it is hard to look away from Altria and we will continue to be happy shareholders of this company for the foreseeable future.
With the market making daily highs, Altria remains one of the stocks where investors can reliably park their money and get market beating returns over the long term. Do not try to time such stocks but rather give yourself as much time as possible owning it.
Disclosure: The author is long MO, LO.
The author wrote this article themselves, and it expresses their own opinions. The author is not receiving compensation for it (other than from Seeking Alpha). The author has no business relationship with any company whose stock is mentioned in this article.