As a value investor who is not new to controversial stories (e.g. HGG, GME, HPQ, DELL, XRX, BBY, etc.) I have established a position not once but twice in Staples. In 2012-13, I did well buying low and selling into the Office Depot / Office Max Merger (NYSE:ODP) push up. This time around I don't think I'll be as lucky, and through this article I highlight how Staples (NASDAQ:SPLS) is potentially a value trap. As a result of this analysis I have reduced my position for a second time this year, and is currently a very small component of my portfolio.
Staples reported earnings on August 20th and disappointed yet again. Headlines showed a revenue beat at -1.8% (the lowest in over 12 quarters), and the stock went up pre-market. Early excitement, as the market proceeded to sell off on the 20th and 21st. As a holder, I agree with the market's conclusion.
This is the 3rd quarter in a row where operating profit drops by over 30% year-on-year. Furthermore, operating margins are declining at a higher than historical rate. Over the last three years, operating margins have been 6.5%, 6.3% and 5.4%.

In 2012-2013, margins have usually been lower by about 0.5% year-on-year (absolute difference). In the last three quarters, this has accelerated. In 2Q14, it has reached a low of 2.2% vs 3.5% last year. See below:

So let's now make some assumptions:
1) The 1.4% decline continues in Q3 and Q4 and we apply this to operating margin
2) Despite a sales decline in the last 11 out of 12 quarters, assume sales remain constant in Q3 and Q4. (In other words management continues its insane path of sacrificing margin for sales).
3) 33% tax rate (median of last 12 quarters, excluding outliers). This is applied to Operating Profit minus Interest for 1Q and 2Q14 as well.
4) Interest expense is constant at 2Q14 amount and diluted share amount of 2Q14 (647m shares) is used.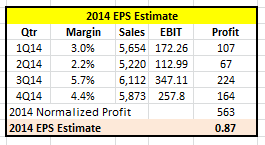 Then I estimate EPS for the year at 87 cents. Multiply by a P/E of 11 which is what the market has been valuing SPLS for the past few months on expectations of $1, then you get $9.57 or about 13% downside from $10.96. However those new numbers, if they are realized, will shock the market and will result in a much greater down move. Some may say this would be another great opportunity but with no end in sight, it could be a severe value trap. I am sure opportunity will arise but I don't believe it is now. It will be after a mini stabilization that will undoubtedly be hand in hand with an insanely low valuation.
Another ballpark way to look at it would be to reduce Q3 and Q4 operating profit by 30% (less than the last 3 quarters of -31%, -40% and -40%), take out interest, apply a 33% tax and divide by last dil share figure of 647m and you get 80 cents.
While not as extensive as a DCF, my experience is that if the ballpark figures don't make sense then stay away.
So let's say that all the above is way too pessimistic. Surely things will get better. I got my 600m in FCF on the way and a nice 4%+ dividend. Well... we'll have to wait and see. Free cash flow was negative in 2Q14 while $67m was spent on an acquisition... FCF to date is $224m so there is quite a distance to the $600m to cover. Dividends cost the company over $300m, so for now they look ok. So what is Staples management doing to avert what looks like my potentially bad but likely scenario above?
They are:
1) Paying themselves bonuses despite not meeting their targets. "Top executives at Staples Inc. SPLS -3.09% didn't make their performance targets last year but got paid a special bonus anyway for effort." From the Wall Street Journal:
2) Producing promotions that intend to boost sales regardless of margin.
Example A:
To get a contract from NY state agencies, Staples agreed to sell popular stuff at 1 cent a piece!!!
Staples was named New York's official office-supplies vendor in May 2013. Besides state agencies, those able to order under the contract include city halls, schools, police departments and many charities.
From the Wall Street Journal:
"The one-cent bargains ranged from a 12-pack of chalk with a list price of $1.01 to an $1,100 paper shredder, and included products such as a high-capacity computer flash drive and a 72-pack of C batteries."
"A Brooklyn charity benefiting disabled people ordered 240,000 boxes of facial tissue and 48,000 rolls of paper towels..."

Tonawanda school district paid $254.69 for penny goods with a list-price value of $596,000...
Did this happen only in NY....? I am surprised not even one analyst asked management about this.
Example B:
"110% Price Guarantee" which means that if you find it cheaper elsewhere they will match the price and discount it by 10%. Plus if you find it cheaper over the next 2 weeks following the purchase then they will refund you the difference.
Source: Staples' website
Example C:
From conference call: "We offer free delivery, we offer next day delivery, we have NO MINIMUM order size, and we have 5% back in awards for customers who spend over $1,000 a year."
As if their margins aren't small enough...
3) Spending "tens of millions of dollars" (exact words of management) on Make More Happen campaign. Celebrity Katy Perry doesn't come cheap...
4) Even when they are not promoting they are still at a disadvantage. From conference call: "when you look at our list pricing on like Staples.com we are on average about 10-15% higher than our probably most aggressive price competitor Amazon."
So what do I see here? I see a company that is constantly deteriorating, is facing severe competition, is desperately trying to make sales regardless of profits and is run by a self serving management who couldn't care less if they meet their targets.
Having done this analysis I decided to share it with you, in case you have been looking at SPLS. My advice is to wait. Simply because there doesn't appear to be the catalyst that will help the value investor. On the contrary, the company appears to be deteriorating further. An activist investor is needed to get on board and shake things up. This is a possibility as the stock is relatively cheap and could have potential if better managed. I have zero confidence in the current team. They have failed miserably.
Personally, my position was started at around $11 and has been reduced twice. I continue to hold on to a small position that may be exited in the near future. Value investing is the best way to go, however, if the story is not recovering or doesn't show any signs of recovering then you could be in trouble.
Disclosure: The author is long SPLS.
The author wrote this article themselves, and it expresses their own opinions. The author is not receiving compensation for it (other than from Seeking Alpha). The author has no business relationship with any company whose stock is mentioned in this article.