Disney (NYSE:DIS) competes with other media conglomerates like News Corp (NASDAQ:NWS), Time Warner (NYSE:TWX), CBS (NYSE:CBS) and Viacom (NYSE:VIA.B) in a variety of businesses. These businesses include cable networks, broadcasting networks, movie studio and consumer products.
Our price estimate for Disney is $39.72, roughly 6% ahead of market price.
So where does a $70+ billion market cap company like Disney spend its cash? And how do its business lines stack up against one another in generating Disney's total value?
Estimated Spend per Product Line for Fiscal 2010 ($ Billions)
The majority of Disney's annual spending is allocated towards its media networks. These include, among others, ESPN, the Disney Channel, and ABC. Here, the cost is primarily associated with programming and production. Costs directed towards Disney's parks & resorts comes in a close second, with spend on Disney studios in a distant third.
The chart above illustrates the relative cost spent exclusively on ESPN vs. Disney's overall product lines. Roughly a quarter of the media networks spend is attributable to ESPN. This large share of Disney's media networks spend is justifiable given ESPN's relative contribution to the company's value (as illustrated below). Dissecting Disney's spend on ESPN further, the chart above shows that a substantial portion of this amount is solely dedicated to NFL production licensing.
Below we assess the value contribution of these business lines, in light of their share of Disney's expenditures.
Contribution to Disney's Total Stock Value ($ Billions)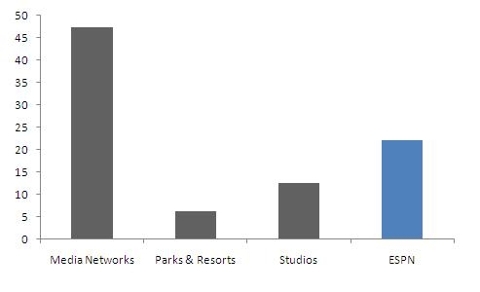 Estimated Business Value by Trefis
It is interesting to note that Disney's second highest spend area, parks & resorts, contributes relatively minor value to the company's total stock value. Due to high capital spending, expected to increase further over the coming years, the cash profits from this division are very low. Does it make sense for Disney to continue to direct a significant portion of its spending to its parks & resorts business? Rather than being a pure profit generator, this business helps Disney to engage its customer base, developing brand loyalty and enhancing its brand name.
While media networks constitutes nearly $50 billion (est.) to Disney's total value, we can see that about 50% of this is contributed by its ESPN network. ESPN generates about half of Disney's media networks value, justifying the roughly one quarter of the division's costs dedicated to ESPN.
Disclosure: No positions