Recently, SA contributor David Van Knapp wrote an article that looked some different perspectives on "Quality" companies and the various ways the investment industry defines quality in a corporation. It is an excellent read, and I wanted to augment it with another perspective on quality that I sometimes use when choosing stocks.
If you read a lot of investor relations websites or press releases, you may notice that most companies include a "blurb" that is a basically a short sales pitch for potential investors in the company. Here's one for Aflac (NYSE:AFL):
ABOUT AFLAC

When a policyholder gets sick or hurt, Aflac pays cash benefits fast. For nearly six decades, Aflac insurance policies have given policyholders the opportunity to focus on recovery, not financial stress. In the United States, Aflac is the leading provider of voluntary insurance at the worksite. In Japan, Aflac is the number one life insurance company in terms of individual policies in force. Aflac individual and group insurance products help provide protection to more than 50 million people worldwide. For eight consecutive years, Aflac has been recognized by Ethisphere magazine as one of the World's Most Ethical Companies. In 2014, FORTUNE magazine recognized Aflac as one of the 100 Best Companies to Work For in America for the 16th consecutive year. Also, in 2014, FORTUNE magazine included Aflac on its list of Most Admired Companies for the 13th time, ranking the company number one in the life and health insurance category. Aflac Incorporated is a FORTUNE 500 company listed on the New York Stock Exchange under the symbol AFL. To find out more about Aflac, visit aflac.com or espanol.aflac.com.
This description contains three different honors Aflac has received: one of the World's Most Ethical Companies; one of the 100 Best Companies to Work For in America, and one of the Most Admired Companies. Using this and other corporate pitches and press releases, I settled on seven different publicly available award categories (listed below), and tallied which publicly traded U.S. corporations had received the most awards. The list included:
The four categories with "100" in their title have, predictably, 100 companies on their lists, although not all 100 are always public. GD50 and WMA both have 50 companies. The WME list does not have a set number of constituents. Below are the 60 companies that received 10 or more honors in the last five years. To read the table, the columns represent the different awards/years, the rows are the companies, and the number is that company's rank. So, Intel's row has a "98" in the F100 '10 column, which means Intel (NASDAQ:INTC) was ranked number 98 on the 100 Best Companies to Work for in 2010. A blank means the company did not make that particular list in a given year. The WME list is unranked - an X indicates inclusion on the list, and blank indicates non-inclusion.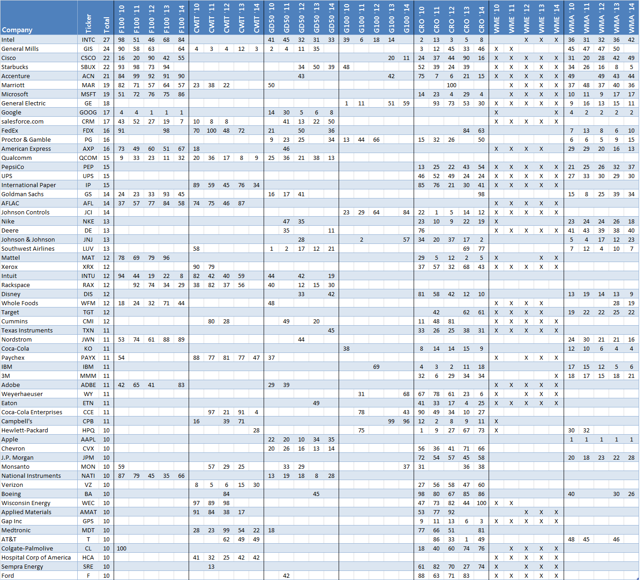 Click to enlarge
Although the ranks are included in the table, I just tallied the awards without regard to ranking. The top five are Intel with 27, General Mills (NYSE:GIS) with 24, Cisco (NASDAQ:CSCO) and Starbucks (NASDAQ:SBUX) with 22 each, and Accenture (NYSE:ACN) with 21. For the three categories that relate to being the best place to work, Qualcomm (NASDAQ:QCOM) received 15 honors. For the other four that relate to sustainability, ethics, citizenship and admiration, General Electric (NYSE:GE) was the leader with 18.
Does this mean anything?
Ultimately, that's for the reader to decide, but I think this list matches up pretty well with what I consider quality companies. The three notable exceptions that jumped out at me are Salesforce.com (NYSE:CRM), Goldman Sachs (NYSE:GS), and JPMorgan (NYSE:JPM); and the latter two depend a lot on how you distribute the blame for the financial crisis, which I don't want to get into here. One may debate the merits or methodology of any particular list or honor, and I'm not prepared to defend any of them here. But if a company's inclusion on this or that list is not a perfect signal of quality (spoiler alert: it's not), this does not mean said list conveys no information about quality. It's easy, and I think very wrong, to look at a list and say "Salesforce.com? What a joke". If this compilation went 57 for 60, that's far from useless. The same logic holds for any of the lists it was based on.
Alex Edmans has shown that companies on the "100 Best Companies to Work For" list outperformed the broader market by 3.5% per year from 1984-2009, and are more likely to both beat earnings expectations and rise after earnings announcements. (A footnote in the same article actually noted the companies on the "Most Admired" list underperform, but I had already put the table together before I saw it). Both the Corporate Knights and the Ethisphere Institute also claim their lists outperform, although I don't know if those claims have been independently verified.
I am not suggesting anyone blindly buy companies solely because they are on a list. You might want to check how liberally Salesforce.com is handing out shares to senior management before you decide you would like to pay for them. Moreover, even a great company can be a lousy investment at the wrong price.
Other Thoughts & Notes
- If anyone is wondering why Aflac is not listed as one of the most admired companies in the table when their press blurb says they are, it's because the most admired companies feature has two parts. There's a list of the top 50, which Aflac did not make, and then there are many lists of industry leaders, one of which Aflac is on. I just used the top 50 for this table.
- One huge limitation that nearly all these awards share is that companies usually have to apply for them, and some may simply choose not to. Unfortunately, I don't have a solution for that.
- Quality to me is something that can change over the long run, but should not vary dramatically from one year to the next. This is one reason I went back five years and selected repeat honorees. Most of the awards are reasonably consistent from year to year, so that is reassuring.
- I excluded foreign companies from this analysis. Some of the honors like the CRO 100 are only for domestic companies, and others like the Fortune Best Companies to Work For do not specifically exclude foreign companies, but in practice, list mostly US companies. Two foreign companies that would have made the list are Denmark's Novo Nordisk (NYSE:NVO) (F100 and G100 all five years) and Australia's Westpac Banking (NYSE:WBK) (G100 and WME all five years).
Conclusion
Quality in a potential investment is important to me, and though a lot of it is based in financial outcomes, I do feel there is a less tangible aspect to it as well. While definitely not perfect, this is the easiest way I've found to objectively assess it.
Disclosure: The author is long INTC, GIS, CSCO, ACN, MSFT, GE, PG, QCOM, PEP, IP, GS, AFL, JCI, DE, JNJ, MAT, TGT, KO, IBM, MMM, CVX, VZ, GPS, MDT.
The author wrote this article themselves, and it expresses their own opinions. The author is not receiving compensation for it (other than from Seeking Alpha). The author has no business relationship with any company whose stock is mentioned in this article.