These days it seems every investor has a prediction for what 2011 will bring. In that sense, I am no different. What worries me more, as a self-proclaimed contrarian, is that my outlook is broadly shared by the consensus. Normally, I feel much more comfortable when the crowd is running opposite of me.
Nonetheless, I bring you my outlook. I see the next year bringing stock market gains in the range of five to ten percent. You may say that seems rather paltry. On the surface, a gain of single digits would be. I am looking at where we are coming from. The S&P 500 closed the year with a 12% gain, which was on the back of 2009's stellar performance off the lows. Any gain of high single digits to low double digits would be gladly accepted by this investor.
With that said, the market looks very ripe for a pullback. The major averages have melted up since the end of August with little more than a 4% slide along the way. I would not be surprised if the averages finished up their strong performances in the first month or two of 2011 and then had a modest retreat. I would view any such retreat as a welcome buying opportunity in preparation for another strong finish year-end.
There are several stocks that I picked late in 2010 that I see continuing to beat the averages in 2011. There are also a couple of new picks for the new year. Here they are in no particular order of how I view their performance.
Late 2010 picks to keep for 2011
Kroger (NYSE:KR) - I first wrote favorably on KR on December 5, 2010; Is It Time To Stock Up On Kroger. At that time, Kroger was trading at $21.11. It is up almost 6% since then, closing Friday at $22.36. I still feel like Kroger has plenty of room to run. The stock was hammered in November on worries that the company would not be able to expand their margins. The economic recovery will continue, albeit slower than many of us would like. Kroger and other grocery retailers should be able to pass on price increases in 2011. This will be good for the stock. The stock trades at a forward P/E of 11.6, a slight discount to its peers. Kroger has revitalized many of its stores and should continue to this year. My price target on Kroger is $27.00, a 20% increase in the the price.
click to enlarge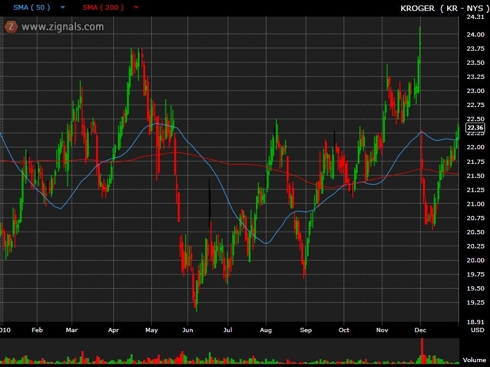 Click to enlarge
Xerox (NYSE:XRX) - Xerox was once a stodgy copier and printer company. It isn't anymore. Xerox is a high-tech growth engine. The company now derives half of its business from high margin services. These services include imaging, document management, issuing traffic violations, calling on doctor's offices for pharmaceutical companies, and many other services. I wrote favorably about the company on November 23, 2010; Xerox, This Isn't Your Dad's Old Copier (Company). The stock was trading roughly where it is today at $11.52.
Xerox is a growth company. CEO, Ursula Burns, is currently transforming the company. She oversaw the purchase of Affiliated Computer Services, giving Xerox its service business. The company has just started cross-selling services and equipment which should add value to the bottom line. In addition, when Xerox sells a piece of equipment it is usually with a service contract. These service contracts are lucrative to the company because of their high profit margins. Xerox has a forward P/E of 10.5. It pays a dividend of 17 cents for a yield of 1.4%. The company is likely to raise its dividend in 2011 as well as buy back stock. I think Xerox could double in the next two years.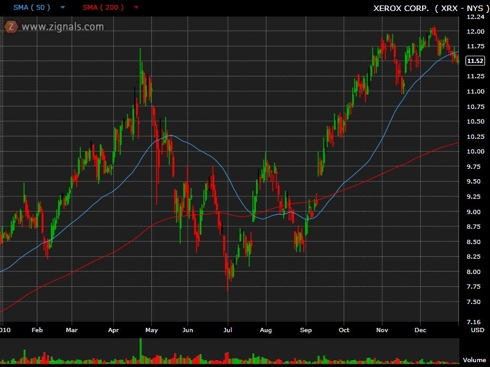 Click to enlarge
BorgWarner (NYSE:BWA) - I first wrote favorably about BorgWarner on November 21, 2010; Buy General Motors? Buy BorgWarner. The stock was trading at $59.88 at that time. Today, BorgWarner trades at $72.36 for a more than 20% gain in a little over a month. There is room for this BorgWarner's stock to appreciate, however ease yourself into this position if you are buying. The stock has had a massive run lately and could easily pull back a few percent. The story is still intact.
BorgWarner is the leading manufacturer of energy efficient engine components. They are the first company the car makers turn to when improving fuel efficiency. As you know, governments around the world are tightening emissions standards. This is good for BorgWarner. As the United States follows the rest of the developed world and continues tightening standards BorgWarner is set to benefit. The street is catching on to this story, tread cautiously as you buy.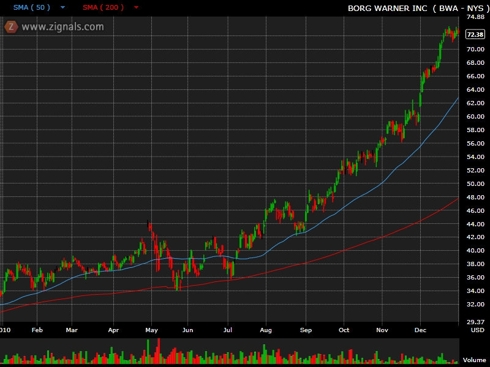 Click to enlarge
A couple of new picks for 2011
Illinois Tool Works (NYSE:ITW) - Illinois Tool Works makes everything from seat belt fasteners to countertops. Believe me, they make everything in between too. The company holds over 19,000 active patents. ITW should perform well in the coming year as the economic recovery takes hold and becomes self-sustaining. The company has exposure to the construction market but not much to the beleaguered housing market. This exposure to construction has helped keep a lid on the stock price over the past year. The stock is up less than 10% this year, underperforming the major averages. The street will catch on to this company before long, though. Barron's recently published an article on the stock; It's a Snap! The Profits of Invention. Illinois Tool Works trades at a forward P/E of about 14.5, less than its long term average of 16. The company improved its earnings by 57% this year. ITW has $1.6 billion in cash on its balance sheet and free cash of $1.2 billion. I would buckle up and buy this stock for 2011.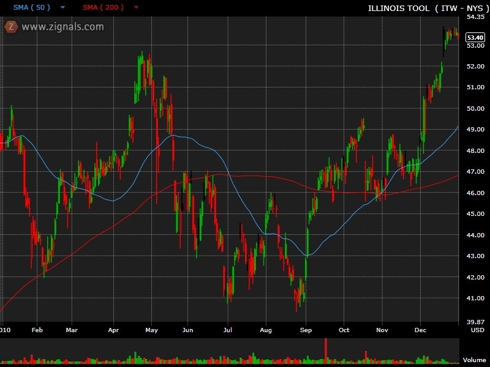 Click to enlarge
LabCorp (NYSE:LH) - LabCorp was featured by Motley Fool recently as a top recommendation. The stock trades at $87.92. It has a forward P/E of 14.88. This isn't bad for a company that is essentially part of a duopoly in providing lab testing for patients and employers in the United States. As the population ages, more lab testing will be necessary. Very few of us, if any, haven't had some type of lab testing done in recent years. The company focuses on standard patient lab tests, drug tests, and higher margin esoteric testing. The biggest risk to the stock is pricing pressure from the government. This isn't as likely with lab testing as it is with pharmaceuticals as the focus moves from treatment of disease to prevention. Lab tests are an inevitable in life, LabCorp should be an inevitable in a portfolio.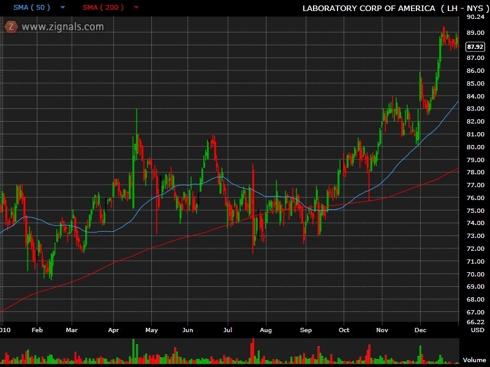 Click to enlarge
The bottom line is, I think 2011 will be good for stocks. Bonds pay next to nothing and I see them as risky right now. Be cautious, I would wait for pull backs to start diving in to these names or many others. Most stocks trade well above their 50 and 200 day moving averages. Many stocks are very overbought right now. Develop a list of names you like. Do further research on the names I like above to see if they are right for you. Wait for a pull back, then strike. Happy New Year.