On balance, there are a number of reasons for expecting this rally back to the highs to continue for a short while longer, notably certain better economic signs coming out of the good old US of A.
Macro: Better US Outlook, But Europe Worrying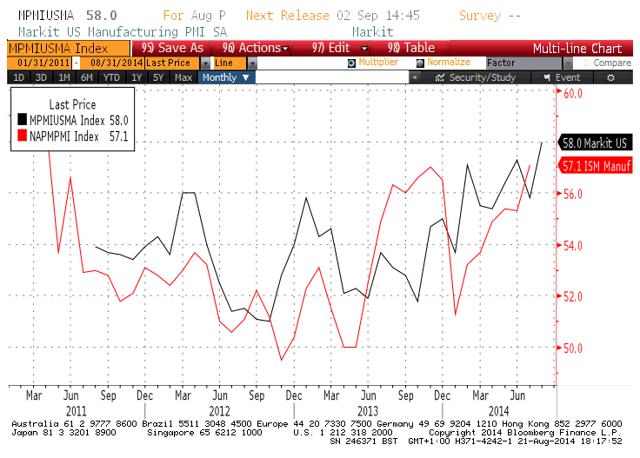 1. Markit Manufacturing PMI Points to Stronger US Recovery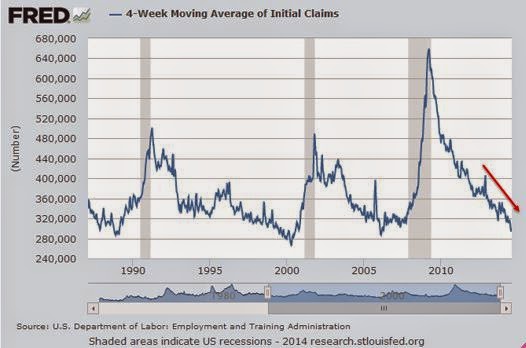 2. US Initial Jobless Claims Back to Cycle Lows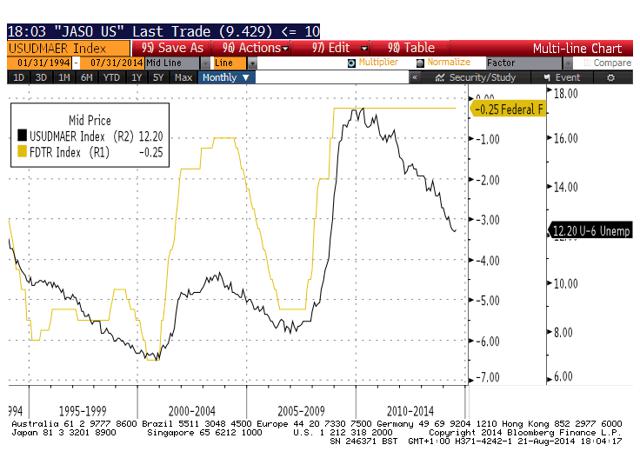 3. Why the Fed Can Stay on Hold Longer: High 12.2% Under-Employment Rate
However, turning to Europe this is most certainly not the case. With Euro zone politicians seemingly unable to effect the necessary structural reforms required to unleash any sort of growth (France is a prime case in point), we await further help from the European Central Bank.
Don't forget the ECB's Targeted Long-Term Refinancing Operation begins in September, in an effort to inject more money into the ailing Euro monetary system.
In the meantime, German 10-year bond yields have sunk under 1%, good news for the German bond ETFs BUNL and GGOV.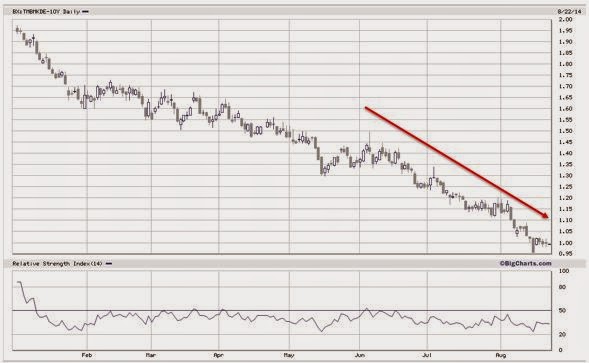 4. German 10-year Bond Yield < 1% Highlights Deflation Risk: ECB to Help?
Stock Markets: Tech, Financials Hit New High, Europe Rebounds
Leading the charge in the US are a number of higher-beta sectors, most notably Technology (NYSEARCA:XLV) and Financials (NYSEARCA:XLF), with Defensive sectors (e.g. XLU, XLP) in general lagging somewhat.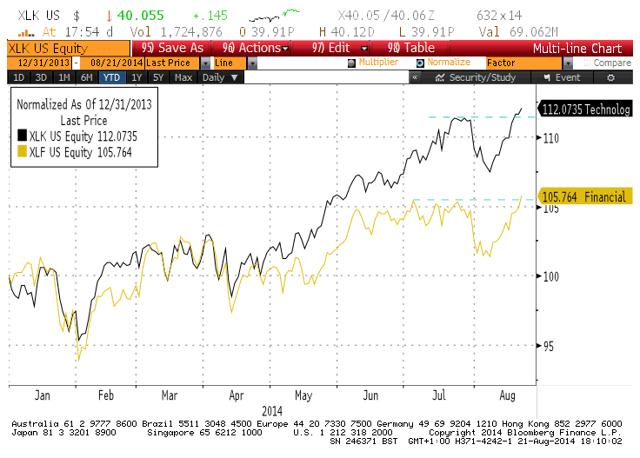 5. US Technology, Financials Sectors Break Out to New Highs
Germany presents an interesting value opportunity today, given its far more attractive valuation (under 12x 2015e P/E vs the S&P 500's 15x) and better income prospects (dividend yield of 3%, and 3.7% for the Euro STOXX 50 index).
While the iShares Germany ETF EWG is the classic ETF to play German equities, I prefer the New Germany closed-end fund GF, which is now trading at a near-9% discount to Net Asset Value.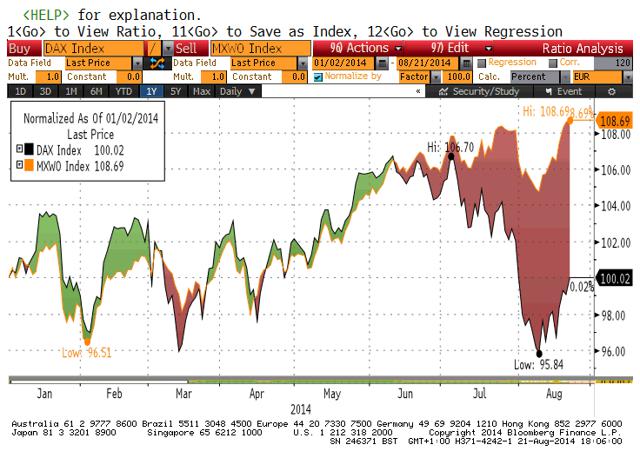 6. German Stocks Lagged Word By Over 8%; Now Catch-Up Time
Commodities: Has Crude Oil Found A Bottom At Last?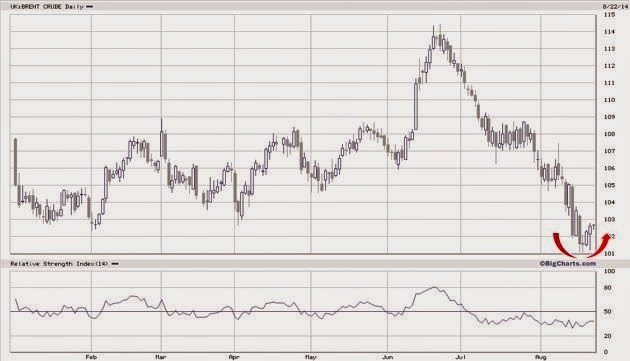 7. Brent Crude Oil Finally Bouncing Off $102/barrel
I still favour oil-based plays including MLPs (e.g. the MLPX ETF), Oil Services (e.g. XES, OIH or IEZ ETFs) and even Oil Exploration & Production stocks (e.g. FRAK or XOP ETFs), all of which are starting to bounce along with crude prices.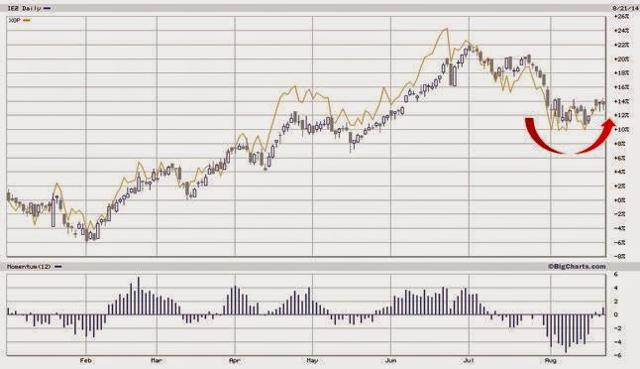 8. Oil Services, Exploration/Production Start To Recover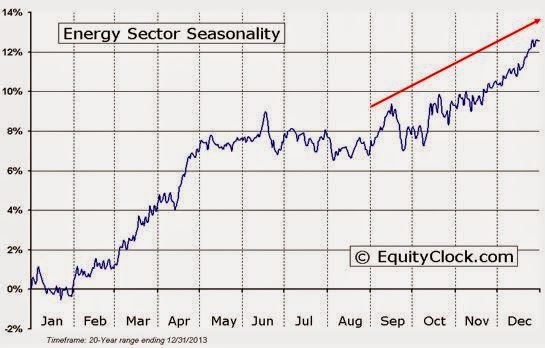 9. Nearly the Season for the Energy Sector To Perform!
Risks: Watch For Mid-Term VIX to Return to <13
With the Mid-Term VIX index (VXZ ETF) has already declined back to 13.5, I would see clear signs of complacency back in the stock market once this volatility index breaks back below 13.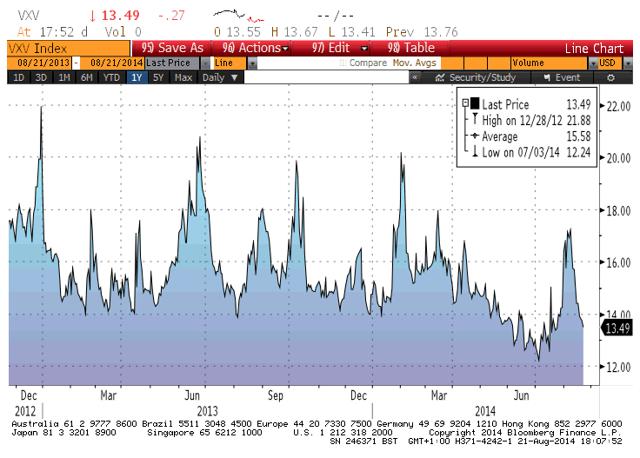 10. Mid-Term VIX Volatility Index Under 13 Will Flag Renewed Risk to Stocks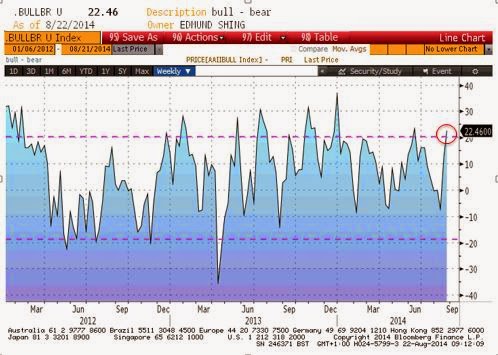 11. Warning: US Retail Sentiment Back to Bullish High (Contrarian Signal)
Investment Summary
US Economic Recovery Seems to be Improving
But High Under-Employment Means the Fed Can Wait…
Risk-On Recovery Driving US Tech Financials To New Highs
European Stocks Still Primed To Recover, But Hinges on the ECB
Opportunity to Return to Oil Stocks As Brent Crude Bottoms
Watch for the Mid-Term VIX to Dip Under 13; then risk/return may change
Edmund
Disclosure: The author is long GF.
The author wrote this article themselves, and it expresses their own opinions. The author is not receiving compensation for it. The author has no business relationship with any company whose stock is mentioned in this article.