For any investor to state that Apple (NASDAQ:AAPL) is overvalued and not worth the investment at this level needs to go back and take another look. If you still think that AAPL is not a wise investment, take another look and at some point it will hit you.The path I believe that Apple will end up taking is to split the stock as it heads towards $500 and at that point, split it by 10 or 15. If the split were to happen, I believe it can double from that point in a much quicker time because many investors see the price and believe that it is expensive.
Just last week, I was explaining to one of the individuals in which I assist with their portfolio that Apple should be added to her portfolio. She asked, "What is the price at currently?" I stated that it was around $300. Her reaction, "Wow, that is expensive." The thing of it is, she has never done any research in regards to AAPL and just because the price of the stock is high, does not indicate that the stock is overvalued. Just taking the price of a stock has no relevancy to the actual value, and obviously I explained this to her. Now, she is a very intelligent individual and she has her PhD, but I believe that many investors have this misconception of a "high priced" stock and depending on the company, market, and situation, a stock split can be very beneficial to shareholders and thus the company.
- The article gives a nice, brief summary of why a company would do a stock split and several positives about doing a split.
The fact that Apple has a forward P/E of less than 20 based on 2011 full year earnings is astonishing. For MSFT, it may make sense, but Apple consistently outperforms and as large as they are, they are also growing significantly as well. First, a quick way to determine their value is to look at the analysts' estimates and also take a look at their upside surprise in recent years.
Earnings Est

Current Qtr.
Dec 10

Next Qtr.
Mar 11

Current Year
Sep 11

Next Year
Sep 12

Avg. Estimate

5.29

4.29

19.19

22.51

No. of Analysts

47.00

45.00

52.00

38.00

Low Estimate

4.93

3.67

13.83

18.99

High Estimate

5.72

4.96

21.32

27.11

Year Ago EPS

3.67

3.33

15.15

19.19
What is amazing is that Apple has beaten estimates for 31 straight quarters. Again, that is remarkable and in most cases of those quarters, they have easily beat estimates. The last 31 quarters is dating all the way back to April 16, 2003. Do you really think anything is going to change all of sudden? While it may be possible, it is extremely doubtful.
Going back to the last four 1st quarter earnings, Apple has beaten estimates by an average of about 40%. Since the average estimate for Apple right now is $5.29 for 2011 quarter one, and if they beat by 40%, that would equate to an EPS of $7.40. It is expected that 2011 full year earnings will come in at about $19, which gives Apple a forward P/E of about 17. While history has overwhelmingly shown that Apple consistently beats estimates, there should be no reason to think that $19 EPS is not underestimating AAPL even more. Over the last several quarters, starting from Q1 2010 to Q4 2010, the average estimates were $2.09, $2.45, $3.12, and $4.08 respectively. Based on those estimates, the full year for 2010 would have only amounted to an EPS of $11.74. Apple ended up having an EPS of $15.15 and that equates to about a 30% difference. Even if Apple comes in 20% above 2011 full year average estimates, that would equate to an EPS of almost $23. That would then make the forward P/E, based on the stock price of $325, only 14. Using the $23 example, if the stock price were to go to $500 ($50), that is still only a forward P/E of about 22. It is easy to see why they are undervalued and have had the gain that they have had in their stock price, but it is also obvious to see that there is much more room to go up and I believe a split would help catapult it to $100 ($1000).
Since 2003, Apple's revenue has increased significantly:
2003 to 2004 – revenue increased 33.4%
2004 to 2005 – revenue increased 68%
2005 to 2006 – revenue increased 38.6%
2006 to 2007 – revenue increased 27.2%
2007 to 2008 – revenue increased 52.5%
2008 to 2009 – revenue increased 14.4%
2009 to 2010 – revenue increased 52%
(In millions, except share amounts which are reflected in thousands and per share amounts)

Three fiscal years ended September 24, 2005

2005

2004

2003

Net sales

$

13,931

$

8,279

$

6,207
2005 10-K (.pdf)
2010 10-K (.pdf)
Since 2003, Apple's sales have increased over 10X, and their growth has not slowed and there are no signs that it should. The average percentage increase in net sales since 2003 is 40.87%. From this point, it would be a great investment if they grew at their 2009 level of 14.4%, but again, history, present, and future indicators of what the company will achieve shows that it should easily exceed that growth. They only had one year since 2003 where their growth was under 25%.
Apple continues to expand, and they will continue to revolutionize how we do things and what people will buy. They will continue to grow massively in China. Their iPhone sales are nowhere near their maturity and are still in the growth phase. The iPads are just in their infancy. Although Apple computers have been around for a long time, they have nowhere near the market share they could. I do not know many people that own a Mac, but the individuals that do would never switch. So that is a market that will benefit them as well going forward. Here is an article that was recently written by John Galt on December 21, 2010 that I thought that was insightful and to the point.
Back to my initial point though. Due to AAPL still being very undervalued, even with the rise in the stock price, a split of the stock in the near future is what can help push this even further because of their momentum, growth, popularity, and current valuation. This would help AAPL not look expensive and truer to what it is, very cheap. Oh yeah, Apple also has a ton of cash, billions and billions of dollars. I also think that after a split, a dividend is a decent possibility as well.
Chipotle Mexican Grill:
It is difficult for me to make the same argument for Chipotle Mexican Grill (NYSE:CMG), but I believe that they have just started. Where I live currently is not the largest place, but the metropolitan area has, I believe, a population of a little over 1 million. We have a lot of restaurants and on every other corner there is a fast food or pizza place. Right now, there is only 1 Chipotle within the region that I know of. It is a little upsetting because their food is delicious. I would possibly eat at Chipotle every day if there were more near me. Many individuals feel the same way and that is one of the main reasons they have been so successful, because it is better than the other fast food restaurants.
That brings me to my point; although they have a P/E above 40 and the price has risen significantly, their growth has barely begun. Chipotle Mexican Grill is currently only in The United States and Canada. They have just over 1,000 operations. Compare that to McDonald's (NYSE:MCD), which easily has over 30,000 operations worldwide. No, I do not expect them to catch McDonald's, but there are 30 McDonald's to every 1 Chipotle worldwide. Chipotle has not hit Asia yet, but they plan to and obviously if they are successful, that is enormous growth in a heavily populated area.
CMG's sales have increased over 50% from 2007 to 2009. For 2010, they should see a total increase of about 20% compared to 2009, based on what their sales have been thus far and estimates for the 4th quarter. They also have over $200 million in cash and cash equivalents. They should grow another 20% over the next couple of years with the opportunity for it to be even higher. Once they get international growth, there is no reason not to believe that growth can rise even more.
Profile - here.
I also thought this article in regards to CMG was good as well, and made a direct comparison to another restaurant (although not fast food). It was from thestreet.com, and was written by Michael Baron on December 27, 2010. It gives a nice analysis of the company. So I suggest reading this as well.
I believe a split will serve them well in the near future and while the upside from this point may take a little longer than AAPL, it is still a quality long term investment as they grow and make an impact in the market and worldwide. I think it would be beneficial for them to split more quickly, getting 10 shares for 1 and gain upside from here to $50, compared to where I think AAPL should wait until it gets above $400 and then split getting 10 shares for 1 to help push it towards $100.
Stock Split Examples:
There are a couple of stocks that come to mind that have recently done a split, BIDU, ABV, and BRK.B.
ABV just split this week so there is no telling how it is going to trade. They are currently at a 52 week high, so this may be able to help their momentum. I have not done a lot of research on the company, but they are obviously doing fairly well, they pay a dividend, and their growth seems as it should be - about 10% going into next year. While I do not like them nearly as much as AAPL or CMG, it is worth watching and seeing where the stock goes.
click to enlarge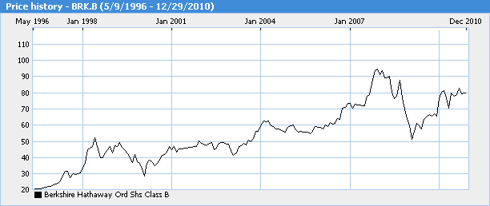 BRK-B is another example, but it is more of a "safe" and stable stock. The split took effect on January 21, 2010 and traded up to about $72 on that day. Prior to the split, it was trading in the $65-$70 range, but it was still recovering from the March 2009 lows. Minus 2009, it has been a slow, steady gainer, averaging about 10% yearly return since 1996. So since the split, it has been at about $80 and reached a high of around $84. Exactly one week before the split, it was trading at about $65. So in less than 1 year, an investor in the stock would have had a gain of 15% to 25%. For a stock like BRK-B to have a nice rise like that after a split shows the effectiveness of even a safe and steady stock.
The most prominent one I can think of lately is Baidu. May 12, 2010 is when their 10:1 split took effect. BIDU has been a fast riser and in less than 5 years it has gone up 25x, and got all the way up in the $700's before the split happened. So it had very good momentum and management I believe helped propel it even further by doing the split. Considering their P/E is about 80 based on the current price, and from a little prior to the split and up to the split there has been a gain of about 50% to 75%, even more if invested in early 2010 or prior.
Could the momentum have carried the stock from the $700 level? Maybe, but the split definitely made it look affordable even with carrying such a high P/E. It is easy to see that BIDU, CMG, and AAPL have all had great rides. BIDU has gone up the most in the quickest amount of time and BIDU is not currently undervalued. AAPL, on the other hand, not only has the continued growth like BIDU, but is extremely undervalued with much more room to run for a long time - and AAPL has not come close to their potential.
Another quick example could be comparing AAPL to GOOG. That is another stock that has risen significantly, but their growth is not as significant as AAPL nor have they had the revolutionary products such as AAPL. But they are also currently undervalued as well and could probably benefit from a stock split.
I just have to re-iterate that Apple has beat estimates for 31 straight quarters, their growth does not seem to be slowing down and there is no reason it should as they still have much more market share to gain in most of their areas of business. Also, another plus is that Verizon (NYSE:VZ) should be carrying the iPhone shortly as well. So, if you think AAPL is overvalued, keep looking and you will find the correct answer. As I was finishing this article, another got published. Reasoning why AAPL may fall, in his first reason, the author makes my point as to why a split will do well in the future because of the lack of knowledge of what a price of stock means. Many of the reasons are incorrect, and some are actually good reasons to own the stock, without the little twists added.
I really think that many investors are underestimating CMG as they are still fairly new and many people love the restaurant, but the other reason to own is based on potential - it is also a great company and not just a great place to eat. Overall, these are both excellent long term investments, and a split will do them both well.
Disclosure: I have no positions in any stocks mentioned, but may initiate a long position in AAPL over the next 72 hours.