REITs have performed phenomenally well, up 16.5% YTD. This handily beats the S&P at only 7.2%: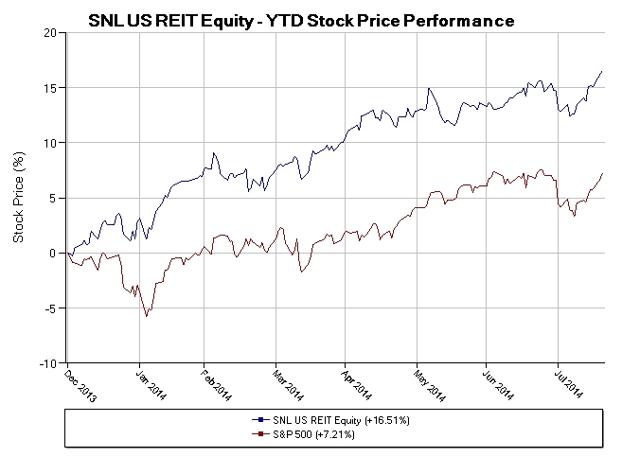 Click to enlarge
Does this sharp price increase mean REITs are overvalued? This article series will take a look.
REIT Valuation
First, let us be clear that when an asset class, such as REITs, is deemed overvalued, that does not mean all the stocks within it are overvalued as well. Thus, avoiding an overvalued asset class is not really a viable solution as there may still be opportunities at a more granular level. The same logic applies to the REIT subsectors. In this article series, I will be making blanket opinion statements about the valuation of various REIT sectors. Please note that there are many exceptions among individual stocks. Let us begin with a look at REIT public market valuations relative to their NAVs.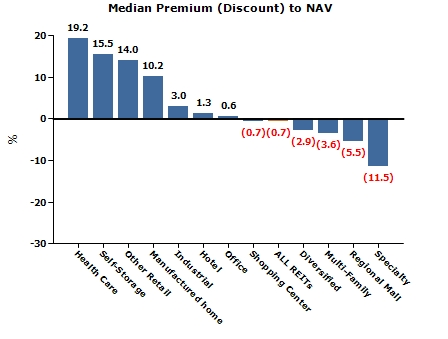 Data from SNL Financial
While REITs as a whole actually trade slightly below their NAVs, certain sectors trade well above. By this measure, healthcare is the biggest offender and the focus of part 1.
Healthcare REITs
To some extent, I disagree with the healthcare REITs' premium to NAV as I believe the NAV estimate is based on vestigial cap rates that no longer make sense. A clear example is Omega Healthcare (NYSE:OHI).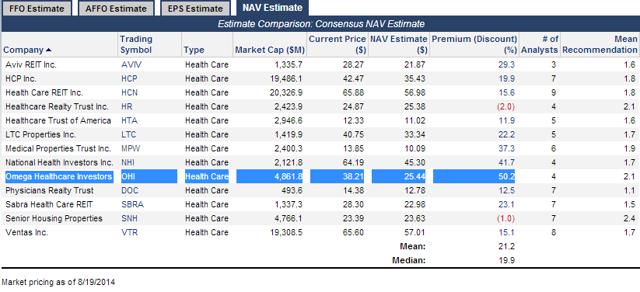 Click to enlargeData from SNL Financial
An NAV of $25.44 places OHI's cap rate based on 2Q14 earnings somewhere between 9% and 9.5%. A few years ago this may have made sense, but with the recent cap rate compression, skilled nursing facilities or SNFs no longer trade at this level. Further, the durability of these assets along with the long term contractual revenue from the tenants of these assets suggests the risk is substantially lower than a 9%-9.5% cap rate would justify. Based on today's cap rates, OHI's NAV is likely much higher than $25.44.
If NAV isn't a good measure of healthcare REIT valuations, what is? Well, we look at P/FFO as a means of valuation.
YTD Healthcare REITs are up 17.53%, slightly outperforming REITs as a whole.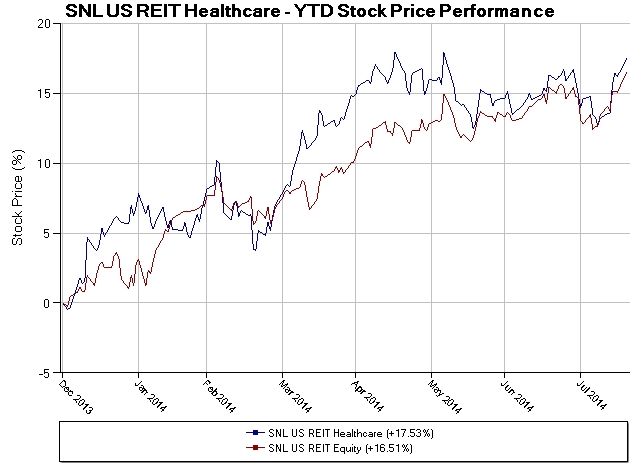 The price movement meaningfully outpaced FFO growth such that P/LTM FFO increased.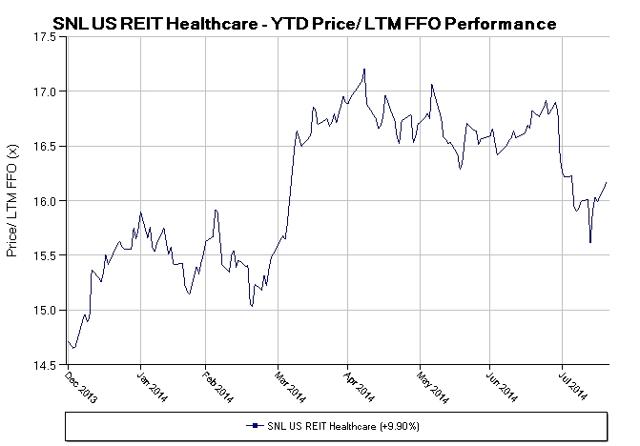 Click to enlarge
As it stands, healthcare REITs trade at 16.2X LTM FFO or 15.0X forward 12 month FFO as estimated by FactSet consensus. This multiple is within the normal trading range over the past 10 years.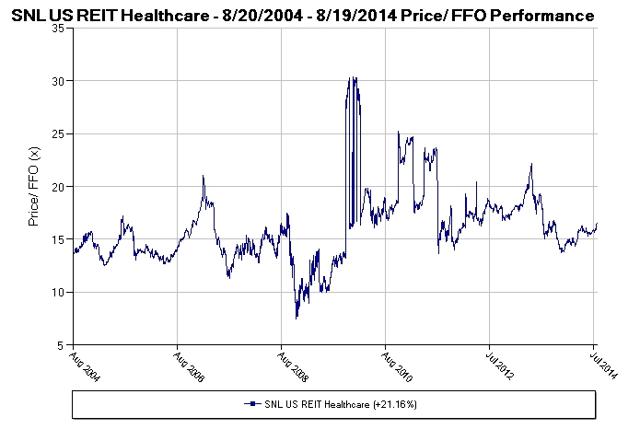 Click to enlarge
(Note that the spikiness is from annualization of quarterly figures rather than volatility of earnings.)
Based on P/FFO as well as NAV adjusted for modern cap rates, healthcare REITs appear to be fully but not overvalued.
Fundamental valuation adjustments
While multiples in themselves can be useful tools for ballparking valuation, a wise investor should also adjust for fundamental outlook.
In periods where future FFO/share growth is strong, a higher multiple is justified as compared to when FFO/share growth has a weaker outlook. Thus, we can estimate based on healthcare's current outlook whether its multiple should be above or below trend.
We see demographic trends as neutral in this respect as they have been positive for a while and remain positive going into the future. An aging US population should serves as a long-term demand growth generator, but similar demand growth existed over much of this ten year period so we cannot adjust the proper multiple for this reason. Instead, we must make our adjustments based on what has changed for healthcare's outlook.
Supply
There are 2 aspects of supply that are worth looking at.
The supply of healthcare properties themselves
The supply of financing for said healthcare properties
Healthcare property supply is perpetually in flux with demand. As demand for healthcare has increased over the years, supply has increased alongside. Occasionally, developers have gotten overzealous and spiked supply beyond healthy levels, but generally speaking, property level occupancy and profitability have been reasonably stable. As evidence, let us look at some of the major property types.
Senior Housing occupancy dipped during the recession, but has largely recovered.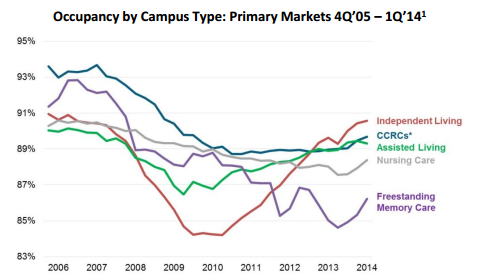 Data from NIC-MAP 4Q2013 webcast
MOBs have maintained a vacancy rate between 9% and 11%: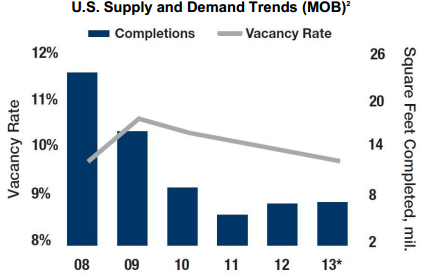 Data from Marcus and Millichap Research Services, Costar Group Inc.
Skilled Nursing facilities have been the most reliable with nearly unchanged occupancy since 2001.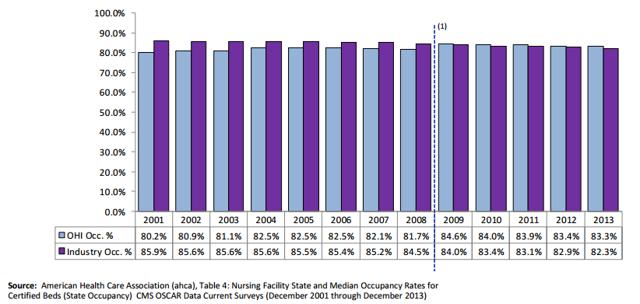 Click to enlarge
Going forward, property level supply seems largely in check with potential concern in senior housing. As it is cyclical with respect to the economy and particularly the stock market, developers may see the S&P's record highs as a green light. If something were to disrupt the wealth of aging Americans, demand may not keep up. That being said, the supply demand balance is still within normal ranges.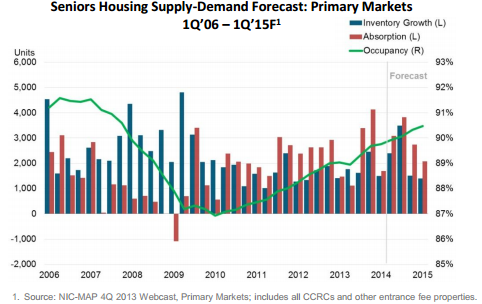 Overall, we view supply of healthcare properties as neutral with respect to its history. The supply of financing, however, has changed significantly.
Financing
In the past, financing of healthcare properties was largely performed by the operators themselves with possible assistance from bank loans. A vast majority of healthcare properties were owned by the operators. This proved to be a vast untapped market for REITs who had a whole new asset class to acquire through sale leasebacks. The operators were given a new means to raise non-debt, unencumbered capital. As one of few means of obtaining such financing, the REITs were given handsome returns.
The supply of REIT dollars has changed. In addition to many REIT IPOs and secondary offerings which have drastically increased their aggregate market cap, non-traded REITs have entered the playing field.
Suddenly, sources of non-debt, unencumbered financing are easy for the healthcare operators to find and they no longer need to pay such a premium for it. Consequently, the return on investment for healthcare REITs has dropped materially.
As it stands today, the healthcare REITs still have very large acquisition pipelines, but they just aren't as accretive as they used to be. Thus, we see the FFO/share growth rate for healthcare REITs slowing substantially. As a result, we believe they should trade at a multiple slightly below the median of their historical range.
As they are currently trading at a slight premium, this sector seems moderately overvalued. There are, however, still some opportunities.
Opportunistic Healthcare REITs
Forward year estimated FFO valuations of individual REITs in the sector range from 11.74X to 15.78X.
| | | | |
| --- | --- | --- | --- |
| Company (ticker) | Closing price 8/20/14 $ | 2015 est. FFO* | P/2015 FFO est. |
| ARC Healthcare Trust (NASDAQ:HCT) | $10.94 | n/a** | n/a |
| AVIV REIT (NYSE:AVIV) | $28.49 | $2.09 | 13.63X |
| HCP Inc. (NYSE:HCP) | $42.53 | $3.14 | 13.54X |
| Health Care REIT (NYSE:HCN) | $66.36 | $4.34 | 15.29X |
| Healthcare Realty (NYSE:HR) | $24.93 | $1.56 | 15.72X |
| Healthcare Trust (NYSE:HTA) | $12.47 | $0.79 | 15.78X |
| LTC Properties (NYSE:LTC) | $40.96 | $2.80 | 14.63X |
| Medical Properties (NYSE:MPW) | $13.95 | $1.17 | 11.92X |
| National Health Investors (NYSE:NHI) | $64.25 | $4.45 | 14.44X |
| Omega Healthcare | $38.68 | $2.87 | 13.48X |
| Physician's Realty (NYSE:DOC) | $14.59 | $1.08 | 13.50X |
| Sabra Healthcare (NASDAQ:SBRA) | $28.29 | $2.40 | 11.74X |
| Senior Housing Properties (NYSE:SNH) | $23.64 | $1.84 | 12.85X |
| Universal Health (NYSE:UHT) | $44.45 | n/a | n/a |
| Ventas (NYSE:VTR) | $65.90 | $4.66 | 14.14X |
*FactSet consensus estimate as provided by SNL Financial
**HCT is being acquired by Ventas, so its 2015 FFO is not individually estimated
While many of these could be considered overvalued considering their risk and growth prospects, some remain cheap. In particular, I believe MPW and VTR are the better opportunities in the sector.
Medical Properties Trust
One of the primary issues afflicting healthcare REITs is the substantially compressed cap rates from too many REIT dollars chasing too few properties. MPW gets around this issue by having a pipeline in Europe where the non-traded REITs are less active. It is still making investments in the 8%-10% return range while other REITs are down in the 6%-8% range.
Despite its superior growth opportunity, MPW trades at nearly the lowest valuation at only 11.92X 2015 estimated FFO.
Ventas
Ventas, Like MPW, has a means of circumventing the problem of stifled growth from compressed cap rates.
While Ventas has not been able to obtain higher cap rates than its peers, it obtains superior profitability on the low cap rates through an extremely low cost of capital. Thus, even on the disappointing yields of modern healthcare acquisitions, VTR still has a viable spread.
Over the years, VTR has carefully curated its balance sheet to afford access the very cheapest of debt. Further, it has taken full advantage of the low interest rate environment by locking in these rates for the long term. While not as cheap as MPW, Ventas' 14.14X 2015 FFO multiple could still be considered cheap given its high quality and performance history.
Conclusion
Prices of REITs in general have come up substantially in 2014 and healthcare REIT valuations have increased even more. Given the slowed growth rate and above average multiple, we believe the sector as a whole is moderately overvalued. However, certain securities, MPW and VTR, remain opportunistic and provide investors with a way to maintain exposure without falling victim to steep valuations. As a bonus, the MPW/VTR combo yields great diversification as MPW's hospitals are the one asset type that VTR lacks.
Disclosure: 2nd market capital and its affiliated accounts are long MPW, DOC, OHI and SBRA. I am personally long MPW. This article is for informational purposes only. It is not a recommendation to buy or sell any security and is strictly the opinion of the writer.
Disclosure: The author is long MPW.
The author wrote this article themselves, and it expresses their own opinions. The author is not receiving compensation for it (other than from Seeking Alpha). The author has no business relationship with any company whose stock is mentioned in this article.