Offshore Drillers have continued to be hammered by analysts as of late. In particular is Houston, Texas based Diamond Offshore Drilling (NYSE:DO). The Diamond Offshore fleet will consist of 44 rigs post upgrade program after the recent sale of cold-stacked JU Ocean Spartan.
In addition to a new CEO, the refresh of the management team continues with the appointment of new marketing and contract head, Mr. Ronald Woll. The addition of this Senior Vice President to the Diamond Offshore team is making waves already with the recently consummated multi-rig deal with Apache Corp announced in the most recent Rig Fleet Status report.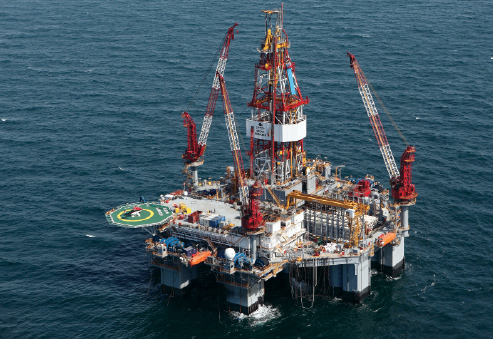 Tactical Win:
Analysts will likely look past this deal and continue to beat the drum in regards to the age of Diamond's fleet but the deal structure is, in my opinion, a tactical victory. Essentially what was done in this deal was the exchange of goodwill for revenue. Diamond Offshore agreed to retroactively accept a lower day-rate on the Ocean Onyx, which has been waiting on location in the USGOM since early July. I am not privy to the details that speak to why the Ocean Onyx has been waiting on location instead of drilling for Apache, but nine times out of ten it is due to circumstances outside of a drilling contractor's control. What is clear is that Diamond Offshore, contractually, did not have to accept this lower rate. The fruits of that goodwill however will be realized immediately by a new contract in Australia with Apache for the Ocean Monarch. The contract initially is for one year at a higher than previous day-rate of $425kpd. This contract, based on conversion provisions will, in my opinion, end up as $223MUSD in revenue for Diamond Offshore Drilling based on an 18-month conversion. This does not exactly fit neatly within the doomsday scenario painted by sell-side analysts.
In addition to this new contract, additional revenue will be realized by new contracts and short-term extensions from the following rigs:
1. Ocean Yorktown
2. Ocean Guardian
3. Ocean Princess
4. Ocean General
5. Ocean Quest
6. Ocean Lexington
7. Ocean Star
Retirements:
Gregory Lewis of Credit Suisse, in a recent report, projects that Diamond Offshore will retire 5 rigs thru 2015. Diamond Offshore, in a recent conference call, also alluded to the possibility of asset retirements in the future. In my opinion, rig retirements will come from Diamond's Aker H-3 or its Korkut New Era rigs. These rigs include the General, Nomad, Princess and Winner. The Ocean Nomad is contracted until Q3'15 with Dana Petroleum and will likely not be affected by the current slowdown. My projection is that at a maximum, Diamond Offshore will retire 3 rigs between now and 2015. This impact is not as huge as some would have you believe. My basis for that statement is if you were to buy Diamond Offshore's 10 newest rigs on the open market, you would make that purchase at right around $6 Billion USD. Based on Diamond Offshore's market cap of $6 Billion USD, one would then get the other 34 rigs for free. All too often investors forget what the ultimate purpose of investing in a stock is, return of capital.
Earnings Projection:
Analysts are projecting $.79 in Q3'14 earnings for Diamond Offshore Drilling. Gregory Lewis of Credit Suisse is lower with his number at $.65 for the quarter. I am currently projecting $.91 on $714 MUSD of drilling revenue. This estimate of drilling revenue excludes reimbursable expenses and is finalized based on the most recent Rig Fleet Status report. This upcoming beat will likely continue the pattern of beats by Diamond Offshore Drilling and allow this company to continue to distribute excess capital to its believers. Not mentioned in this article is the possibly of distressed rig purchases or share repurchases, both of which I expect are on the table and would not surprise me if one or both plans are executed.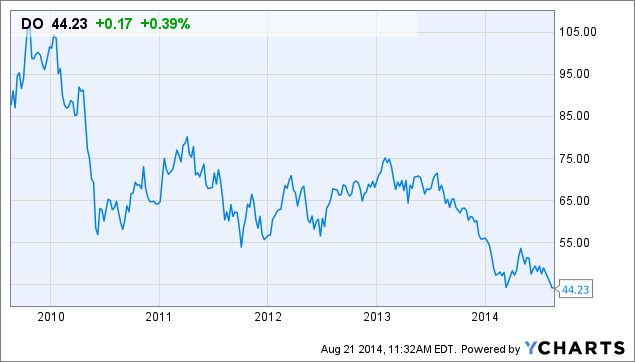 Disclosure: The author is long DO.
The author wrote this article themselves, and it expresses their own opinions. The author is not receiving compensation for it (other than from Seeking Alpha). The author has no business relationship with any company whose stock is mentioned in this article.