Not too long ago, Citigroup (NYSE:C) announced its settlement with the Department of Justice as part of its second quarter earnings release and ultimately went along with flushing away $10 billion to settle allegations that it mislead investors with respect to mortgage-backed securities and collateralized debt obligations.
The settlement was remarkable not only because it allowed Citigroup to finally resolve a legacy issue, but also because the Department of Justice adopted an increasingly aggressive stance with respect to Wall Street banks.
Politicians, Wall Street commentators as well as the general public were dissatisfied with the soft-handed approach by regulators for a long time with respect to their dealings with the Wall Street establishment.
The Department of Justice has quite aggressively pushed the Wall Street banks into a corner this time around and they were given practically two simple choices: Pay up or face a lawsuit that will eventually cost you more and put you in the spot light once again -- a strategy public relations experts would want to avoid at all costs.
Citigroup's settlement with the Department of Justice also was a precedent for a settlement with Bank of America (NYSE:BAC).
Bank of America required to shell out serious dollars
Since Bank of America purchased both Merrill Lynch as well as Countrywide during the financial crisis, the bank had a relatively large mortgage origination share. Consequently, Bank of America was facing the largest settlement with the DOJ.
I have previously ascertained, that Bank of America was unlikely to succeed in negotiating for a low settlement amount and that it was likely to have to pay an amount in the region of $17 billion -- at the upper end of the negotiation spectrum. Specifically, I wrote in my article entitled "Bank of America: A $17 Billion Bombshell In The Making?":
How big is the settlement going to be?

Well, that's the big question. If Bank of America settles (the bank still has a chance to do so), investors should expect a figure closer to $17 billion. If Bank of America refuses to settle and both parties go toe-to-toe in the courts, Bank of America might even be forced to pay a much higher amount than $17 billion. So, the choice for Bank of America really is: settle for around $17 billion with the hardballing associate attorney general, or escalate it and potentially lose billions more. Though a nasty pill to swallow, the first option looks much better, plus it will save the bank millions more in litigation expenses and a lot of public theater.
Remember: Just a month ago, Bank of America offered to put only $13 billion on the table in order to end the mortgage probe by authorities, only to be scoffed at by the Department of Justice.
Settlement good for shareholders
Yesterday, Bank of America finally announced an end to its negotiation marathon and decided to shell out $16.65 billion to settle allegations of improper business practices and be done with it.
This settlement should help in closing a nasty litigation chapter in Bank of America's history as mortgage-related settlements should now have come to an end -- and with it high litigation expenses that previously left a devastating mark on Bank of America's financial results.
Bank of America also issued a press release highlighting the settlement details:
CHARLOTTE, N.C.--(BUSINESS WIRE)--Aug. 21, 2014-- Bank of America announced today that it has reached a comprehensive settlement with the U.S. Department of Justice (DoJ), certain federal agencies and six states. The settlement includes releases on the securitization, origination, sale and other specified conduct relating to residential mortgage-backed securities (NASDAQ:RMBS) and collateralized debt obligations (CDOs), and an origination release on residential mortgage loans sold to Government Sponsored Enterprises (GSEs) and private-label (PLS) RMBS trusts, or guaranteed by the Federal Housing Authority (FHA).

The claims relate primarily to conduct that occurred at Countrywide and Merrill Lynch prior to Bank of America's acquisition of those entities. Bank of America will pay a total of $9.65 billion in cash and provide approximately $7.0 billion worth of consumer relief. The cash portion consists of a $5.02 billion civil monetary penalty and $4.63 billion in compensatory remediation payments.

"We believe this settlement, which resolves significant remaining mortgage-related exposures, is in the best interests of our shareholders, and allows us to continue to focus on the future," said Chief Executive Officer Brian Moynihan.

The settlement is expected to reduce third-quarter 2014 pretax earnings by $5.3 billion, or approximately $0.43 per share after tax. The EPS impact reflects the varying tax treatment of the components of the settlement.
Chart situation
After Bank of America announced its DOJ settlement, shares shot up in an apparent sign of investor relief and closed 4% higher at $16.16 in yesterday's regular trading session.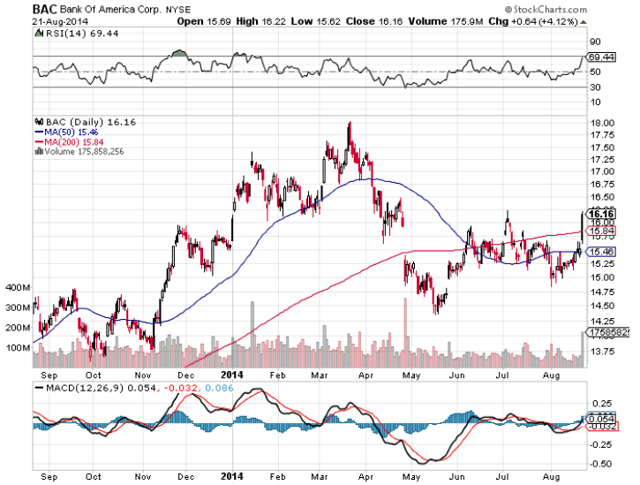 (Source: StockCharts.com)
Conclusion
I was right in expecting a very high settlement price. I was wrong in judging the perceived market reaction. I have previously assumed, quite justifiably, that investors would largely be put off by a settlement with a high price tag and suggested, that investors used a short-term sell off to purchase the banking giant amid its ridiculously low valuation and pessimism displayed by investors.
In any case, the settlement is a good thing for Bank of America as well as its shareholders who can now look forward to growth and building a stronger financial enterprise.
Now that Bank of America has lifted a heavy burden off its shoulders, I wouldn't be surprised if short-term momentum pushed the shares toward $20. Strong Buy.
Disclosure: The author is long BAC.
The author wrote this article themselves, and it expresses their own opinions. The author is not receiving compensation for it (other than from Seeking Alpha). The author has no business relationship with any company whose stock is mentioned in this article.