I reiterate my bullish rating on Frontier Communications (NYSE:FTR); the company has been successfully moderating its revenue decline and delivering healthy results in the recent past. FTR's ongoing investments in broadband network expansion and enhancement have been consistently strengthening its broadband subscriber base. Moreover, the company's strategic initiatives have been positively affecting its ARPC. Also, going forward, the acquisition of AT&T's (NYSE:T) Connecticut assets will portend well for its subscriber base and top-line growth. Furthermore, FTR has a strong cash flow base and offers a high dividend yield of 7%, which makes it a good investment for dividend investors.
Delivering Healthy Results
With its ongoing efforts to improve network quality, FTR has been delivering healthy results to maintain its competitive position among ILEC stocks in the U.S. telecom sector. Over the past few quarters, with its consistent efforts to improve its network quality and service offerings, the company has been moderating its total revenue decline. In 2Q14, FTR reported a total revenue decline of only 0.6% quarter-over-quarter, lower than the total revenue decline of 2.2% in 1Q14. Also, the company's increased focus on marketing of bundle offers, which helped the company increase its ARPC by 1% quarter-over-quarter in the quarter. Due to the company's network service expansion and enhancement, I believe FTR is poised to grow its revenue base in coming quarters.
Broadband services remain an important component of the company's product portfolio. Through its consistent investments in network enhancement, the company is upgrading speed and quality offered by its network. The company has been consistently improving its broadband service quality and subscriber base. In 1H2014, the company's broadband market share increased in 82% of its total markets, as it shifted 54% of its households to 20Mbps, 75% to 12Mbps and 83% to 6Mbps. With improved broadband services, FTR marked the 6th consecutive quarter of broadband subscriber additions. Furthermore, in 2Q14, the company enjoyed net broadband subscriber additions of 27,700, outperforming its peers CenturyLink's (NYSE:CTL) and Windstream's (NASDAQ:WIN) broadband subscriber additions, as shown in the chart below.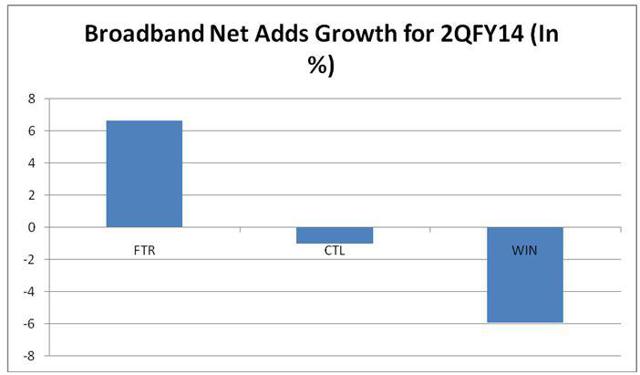 Source: Companies Quarterly Earnings Report
Going forward, in its attempt to further strengthen its broadband segment, the company plans to drive more broadband customer traffic through consistent up-gradation in its network speed. FTR will be launching 50Mbps and 100Mbps services in September across 16 states in the U.S. Also, the company will be expanding its existing gig services. I believe the growth initiatives to upgrade and expand its broadband network will keep on growing the company's broadband subscriber base in coming quarters.
Furthermore, the company's Connecticut assets acquisition deal with T is expected to be completed in 4Q14. The deal involves the acquisition of T's local operations, including fiber optic, U-Verse video and satellite TV operations. Through the transaction, FTR will not only get 900,000 voice and 180,000 video connections, but will also get 415,000 broadband connections of T in the region. I believe the acquisition of T's connections will portend well for FTR's subscriber base growth, which will also positively affect its top and bottom-line numbers. Based on its strong long-term growth potentials, analysts are expecting a high next five-year growth rate of 13.07% for FTR. The following table shows analysts' next five-year growth expectations for FTR, CTL and WIN.
| | |
| --- | --- |
| Companies | Earnings Growth Rate |
| FTR | |
| CTL | |
| WIN | |
Source: Nasdaq.com
Secure Dividend Payments
FTR is consistently sharing success with its investors by returning cash through dividend payments. The company's attractive dividend yield of 7% is backed by its free cash flow yield of approximately 15%. Also, in 2Q14, the company's payout ratio remained at a healthy level of 46%. I believe that in the coming quarters, the Connecticut acquisition will further uplift FTR's cash flow base, ensuring the long term sustainability of its dividend payments. The following chart shows over-the-quarters FCF base support to the company's dividend payments.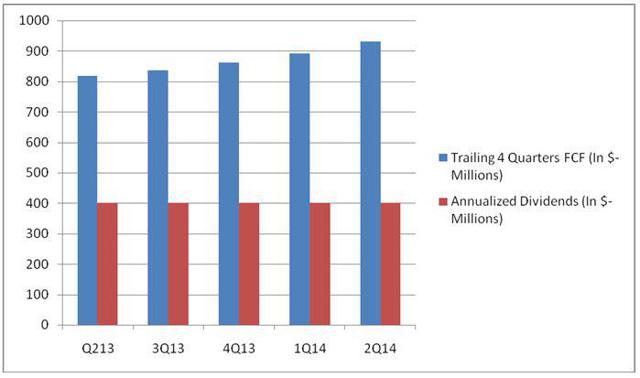 Source: Company's Quarterly Presentation
Furthermore, the long term of FTR's free cash flow base is supported by its secure balance sheet. The company currently has a debt-to-equity of 2.0x and it has been consistently repaying debt to strengthen its balance sheet. In 1H2014, the company repaid $230 million worth of debt.
Conclusion
The company's strong commitment towards consistently investing in network enhancement and up-gradation has the potential of growing its top-line in coming quarters. Also, with its consistent additions of broadband subscribers, ahead of its peers, the company is well placed in the industry. Moreover, the acquisition of T's assets will strengthen FTR's cash flows and top-line growth. FTR's sustainable dividend yield of 7% makes it a good investment for dividend investors. Due to the aforementioned factors, I am bullish on FTR.
Disclosure: The author has no positions in any stocks mentioned, and no plans to initiate any positions within the next 72 hours.
The author wrote this article themselves, and it expresses their own opinions. The author is not receiving compensation for it (other than from Seeking Alpha). The author has no business relationship with any company whose stock is mentioned in this article.