"In business, I look for economic castles protected by unbreachable 'moats'." Warren Buffett
In all likelihood, Mr. Buffett would also describe Tractor Supply Company (NASDAQ:TSCO) as being protected by an unbreachable moat that has stood the test of time. From its beginning, in 1938, Charles E. Schmidt Sr. of Chicago established a mail order tractor supply business that has now blossomed to approximately 1,000 stores in 44 states. Although tractor supply parts are still found inside of the facilities, the largest retail farm and ranch store (in the US) now stocks "a variety of unique products from welders and generators to animal care products and men and women's workwear. You can also find pet supplies, animal feed, power tools, riding mowers, lawn and garden products and more."
As of September 25, 2010, TSCO operated 976 stores in 44 states. In review of the company's latest quarter (3Q2010), the farm and ranch supply store grew by 7% (stores count was 912 in 3Q2009). In addition, the 3Q2010 sales of $ 2.605 B grew by 11.1% (from $2.334 B in 3Q2009). Same store sales were up 4.8% in 3Q2010 vs. (1.7%) in 3Q2009. TSCO plans to release the 4th quarter 2010 results after the market closes on January 26, 2011. As noted in a recent company press release, Jim Wright (Chairman and CEO) stated, "We are delighted with our fourth quarter performance to date and we believe we are well positioned to deliver on our plan in the final selling weeks…we are increasingly confident about our financial expectations for this year and our ability to deliver continued profitable growth." Most recent guidance projects annual sales for 2010 to be around $ 3.57 to $ 3.59 Billion. Sales in 2009 and 2008 were $ 3.206 B and $ 3.007 B, respectively.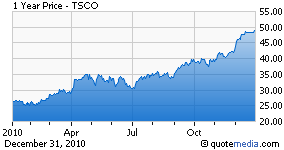 Based upon a recently published article by Wedbush Morgan Securities (December 8, 2010), TSCO has projected its domestic store count to reach 1,800 stores. The company's unique niche retailing strategy should allow it to continue to focus its growth strategy with very limited and fragmented competition. In addition, many of the stores are located in smaller, rural markets that serve a desirable lifestyle demographic. In 2000, TSCO operated 305 stores and the company should surpass 1,000 units in 2010 (4th qtr. to be released on January 26, 2011). Here is a summary of the company's domestic store expansion strategy (source: Wedbush Morgan Conference):
Tractor Supply - Domestic Store Opportunities
As noted above, many of the domestic growth opportunities will be on the west coast and, although West Coast development is more costly and time consuming, the typical sites are in rural markets where there is no direct competition with other farm and ranch supply stores and there is typically no direct competition from the specialty retailers like Wal-Mart (NYSE:WMT), PetSmart (NASDAQ:PETM), or Lowes (NYSE:LOW). TSCO has a "freckle" of long term debt ($1.4 M) and I have been most impressed with the company's proven ability to perform in a challenging retail environment. TSCO continues to provide above average Return on Equity (20.3%) compared with other peer retailers like Home Depot (15.9%), Lowe's (10.1%), PetSmart (17%), and the industry average of 10%.
In summary, Tractor Supply Company (TSCO) continues to build a very successful "moat" strategy for delivering enduring competitive advantages combined with its ability to deliver sustainable growth and value in a highly fragmented marketplace.


Disclosure: I have no positions in any stocks mentioned, and no plans to initiate any positions within the next 72 hours.