Carl Icahn is the majority shareholder of Icahn Enterprises (NYSE:IEP), a diversified holding partnership known for taking large stakes in publicly traded companies and often with the intention of instigating change through shareholder activism. The is a review of Icahn's most recently filed 13F filing, showing the position changes it made during the second quarter of 2014.
POSITION REDUCTIONS & LIQUIDATIONS
Forest Labs (NYSE:FRX)
Icahn liquidated the position in Forest Labs, which was about 8.5 percent of the public US equity holdings listed on the prior 13F. This position was highly profitable for Icahn, who first acquired Forest Labs about three years earlier and had increased the stake in subsequent quarters. Icahn was an activist against Forest Labs and the entities reached a deal in mid-2013, including adding an Icahn representative to the company's board of directors. Subsequently, the former CEO stepped down in October of 2013, and the company announced an accelerated $1 billion share repurchase program and a cost cutting initiative in December of 2013. In February of this year, Actavis (ACT) offered to acquire Forest Labs for $25 billion, and that transaction closed at the end of the second quarter.
Netflix (NASDAQ:NFLX)
Icahn reduced the position in Netflix, which Icahn acquired in the third and fourth quarters of 2012. Around half of the position was sold in the fourth quarter of 2013, but at prices roughly 5-7 times higher than Icahn paid just a year earlier. Icahn further reduced the position in the first quarter of 2014, and again in the second quarter. At the end of the second quarter, Icahn owned 1,764,907 shares of NFLX, now worth about $850 million.
POSITION INCREASES & INITIATIONS
eBay (NASDAQ:EBAY)
Icahn initiated a position in eBay during the first quarter of 2014 of about 27.8 million shares, and increased the position by three million shares in the second quarter, shortly after shares declined in response to the announcement of a data breach. Icahn had proposed spinning PayPal off and that two Icahn representatives be added to eBay's board of directors. In April, after Icahn and eBay's leadership reached an agreement that alleviated concerns of a proxy battle. Shares performed poorly during Q2, after the data breach, but have rebounded thus far in Q3. See a recent performance chart for eBay (click to enlarge):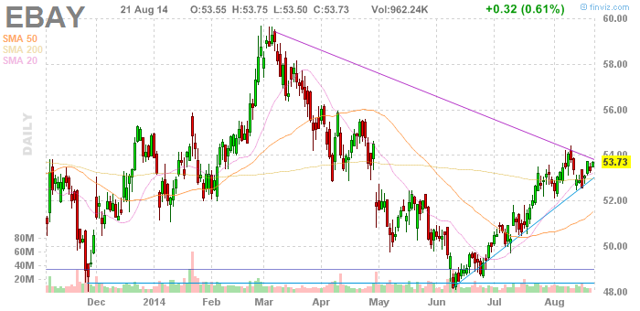 Family Dollar (NYSE: FDO)
Icahn took a 9.4 percent stake in Family Dollar in June, and encouraged Family Dollar to sell itself to Dollar General. In July, Icahn filed a 13D indicating the position was reduced to 3.6 percent from 9.4 percent, or by about 60 percent. Icahn's selling appears to be due to both a spike up in pricing and FDO resistance to merging with Dollar General, and instead attempting to merge with Dollar Tree. Much of the basis for FDO's preference for a Dollar Tree deal appears to be based upon the desire of FDO's CEO, Howard Levine, to remain in control of the business, though the company has argued that it is concerned with antitrust scrutiny.
Gannett (NYSE:GCI)
Icahn just initiated a position in Gannett, and has been accumulating it into this present quarter. The 13F indicated Icahn held about 2.7 million shares at the end of the second quarter, but a subsequent 13D filing shows that Icahn's position subsequently increased to 14,967,373 shares, though the majority of the more recent exposure is in the form of options. This continued accumulation and the usage of options indicates Icahn is likely to acquire more shares and/or push for changes that will unlock value. Shares have performed well since Icahn began acquiring them. See a recent performance chart for GCI (click to enlarge):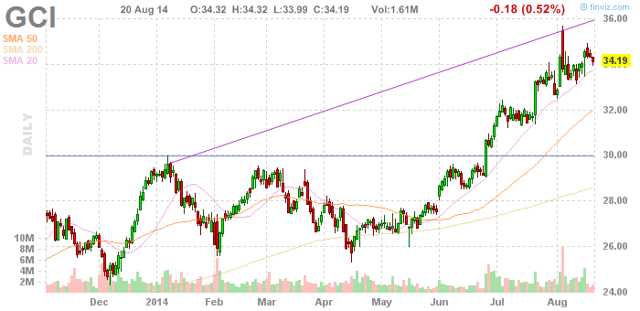 Icahn Enterprises
Icahn is the majority holder in IEP, and often further consolidates its stake in the partnership. Icahn added around three million shares during the second quarter, to increase the position to around 105.8 million shares, worth about $11 billion. Shares of IEP traded in a tight range for most of the second quarter, and appear to be breaking out to the upside in August. See a recent performance chart for IEP (click to enlarge):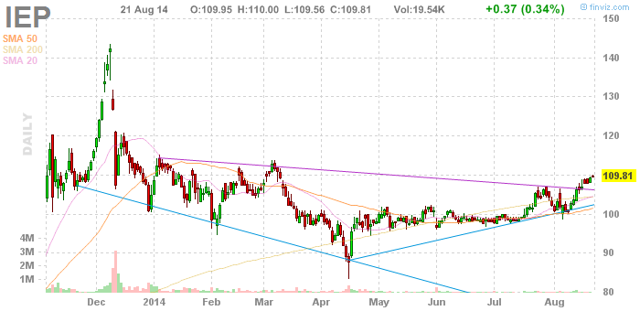 Navistar International (NYSE:NAV)
Icahn's stake in Navistar was increased by roughly eight percent during the second quarter of 2014. Icahn has been acquiring Navistar every few quarters, and currently holds nearly 20 percent of the company. Much like IEP shares, shares of the truck manufacturer remained range-bound throughout the second quarter and appear to be breaching that range to the upside in August. See a recent performance chart for NAV (click to enlarge):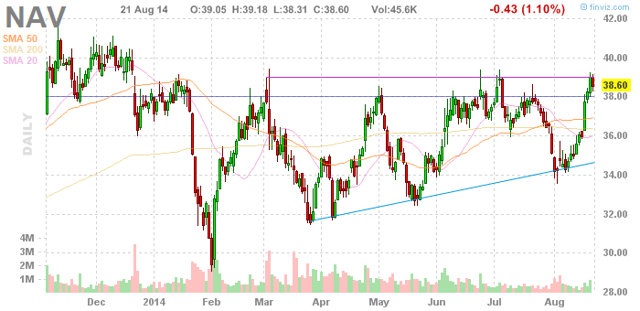 Seventy Seven Energy (NYSEMKT:SSE)
Though not included on the 13F, Icahn also has a new position in Seventy Seven that it acquired through the split-off of the business from Chesapeake (NYSE:CHK). As a result, this is not a new purchase, but related to Icahn's 9.98 percent stake in Chesapeake, which remained unchanged during the second quarter.
The other existing positions were unchanged Those positions include many large and mid-cap entities, such as American Railcar Industries (NASDAQ:ARII), Apple Inc. (NASDAQ:AAPL), CVR Energy Inc. (NYSE:CVI), CVR Refining LP (NYSE:CVRR), Chesapeake Energy, Federal Mogul (NASDAQ:FDML), Herbalife (NYSE:HLF), Hologic Incorporated (NASDAQ:HOLX), Nuance Communications (NASDAQ:NUAN), Talisman Energy (NYSE:TLM) and Transocean Ltd. (NYSE:RIG) remained unchanged. Most of Icahn's largest holdings, other than IEP itself, are within this unchanged category, including Apple ($5 billion), CVR ($3.4 billion), Federated Mogul ($2.5 billion), Herbalife ($1 billion), Nuance ($1 billion) and Transocean ($1 billion).
ACTIVITY THIS WEEK
Hertz Global Holdings (NYSE:HTZ)
Though not included on the 13F or occurring during the second quarter, this week Icahn disclosed a 38.8 million-share position in Hertz via a 13D filing. Icahn has held shares in Hertz before, and appeared interested in reorganizing the company. This week, Hertz shares declined in reaction to the company's withdrawal of its previous guidance. Icahn took advantage of the drop to reinstate his position. Most of the exposure is via options, as the 13D filing indicated Icahn "purchased, in the over the counter market, American-style call options referencing an aggregate of 35,978,553 Shares, which expire on June 17, 2016," and "sold, in the over the counter market, European-style put options referencing an aggregate of 35,978,553 Shares," which expire on the same date.
Disclosure: The author is long RIG.
The author wrote this article themselves, and it expresses their own opinions. The author is not receiving compensation for it (other than from Seeking Alpha). The author has no business relationship with any company whose stock is mentioned in this article.