Callon Petroleum (NYSE:CPE) is a small capitalization explorer and producer of oil & gas in the Permian Basin of West Texas. At year-end 2013, its estimated net proved reserves totaled 14.9 million barrels of oil equivalent, including 11.9 million barrels of oil and 17.8 billion cubic feet of natural gas. Callon has been in business since the 1950s.
While the company is not large enough to be sorted by the Victory Formation system, I have been doing plenty of research regarding the On Balance Volume [OBV] indicator during 2014. On Balance Volume is used to compare volume trends on up days in a stock price vs. down days basically. By itself, the indicator has a so-so track record in "predicting" future price movements. But OBV can be a constructive tool when used with other research to confirm a buying trend and momentum expectations. Plenty of Victory Formation picks the last several years have seen strong OBV trends near their price bottoms and into the first wave or two of buying thereafter.
I have been tracking and reviewing a subset of smaller energy companies with positive rates of On Balance Volume for some time, and they seem to be outperforming the larger cap favorites in this sector of the market. Callon has perhaps the best looking OBV chart of this group during 2014. Both the daily and weekly readings, as shown on the charts below, have been in solid uptrends and appear to be confirming the long-term price breakout above the $3 to $8 trading range of 2010-13. The length of time Callon has been under heavy accumulation is a little amazing, 12 months from my research.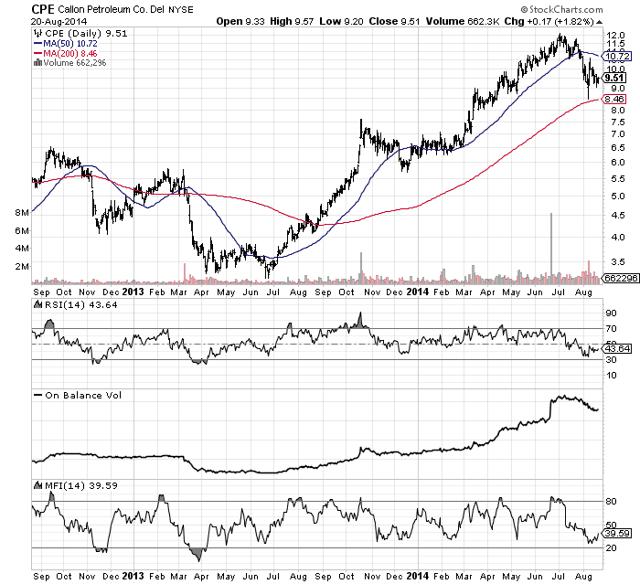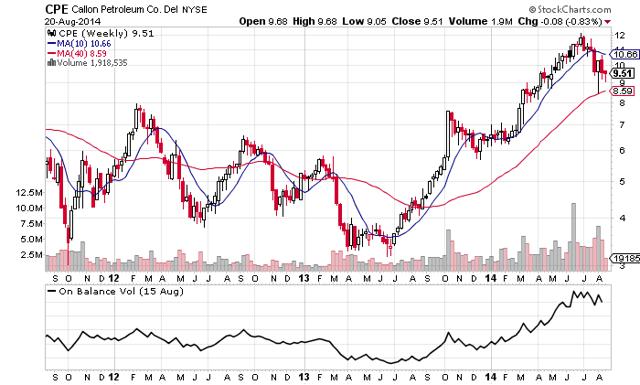 Charts courtesy of StockCharts.com
The good news for investors bullish on crude oil specifically (crude oil production being the main source of operating revenue at 90% presently) is Callon's stock quote has not risen much above the October 2013 high of $7.60 a share, despite outsized buying momentum trends, a strong oil & gas group this year, a rising stock market generally, and robust expansion of the company's oil production taking place during 2014-15.
Current Wall Street consensus estimates are calling for a 50% rise in revenues for 2014 vs. 2013 and another 40% for 2015 over 2014. The projected 110% 2-year rise in revenues is pushing operating income results from breakeven last year to as high as $1.00 a share in 2015, given $100US crude oil prices. The catalyst for such a sharp jump in results began with Callon's shuffling of oil assets to higher quality, more sustainable reserves. Between 2009 and 2013 the company made a strategic business decision to change its focus from offshore oil & gas assets in the Gulf of Mexico to onshore reserves in Texas. The fruits of this smart reorganization started appearing in 2013 for shareholders.
Michael Fitzsimmons wrote an excellent Seeking Alpha article in May outlining how the drilling results this year and next may dramatically expand proved oil & gas reserves.
The company has done a terrific job of increasing production without issuing new dilutive equity interests or borrowing excessive amounts for capital expenditures. The June 2014 totals of $280 million in equity vs. $260 million in total liabilities is not out of line with similar businesses. Interest "expense" is projected to be about 6% of $220 million in FY 2015 sales, with a 16% net profit margin, after taxes.
The real upside for current investors in Callon is its leverage to crude oil going forward. With geopolitical risks mushrooming all over the world, the potential for a supply shock and climbing oil quotes from the mid-$90s a barrel today is an issue serious investors need to prepare for and/or hedge against. If we get $150 crude oil in 2015 from a supply shock generated by a U.S./Israel-centered conflict with Iran (hoping to stop Iran's push for nuclear weapons) or a serious confrontation with Russia over Ukraine's civil war (that requires western democracies to shun Russian energy imports), Callon could be generating $300+ million in annual revenues and $2.00+ in EPS! The stock quote would likely rise materially from today's $9 level under such a scenario, assuming other stock price discounting variables remain the same. With a 10-year average price to operating earnings multiple closer to 15 for Callon (excluding special charges and gains), $2.00 in EPS for 2015-16 would encourage heavy stock buying to continue for some time.
Using the Wall Street consensus numbers for cash flow in 2015, Callon is a cheap oil/gas play, owning safe domestic onshore reserves and production, free from the political turmoil overseas. The $100-$110 million cash flow range for 2015 expected by professional analysts translates to an owner multiple under 4 to as low as 3x annual cash generation, based on the current $380 million stock market value for Callon shares. In comparison, the independent majors in the oil & gas industry are now trading at multiples of 4.5-6x estimated 2015 cash flows. Keep in mind Callon's ultra-low valuation assumes $100US crude oil. A jump in crude oil prices, and to a lesser degree natural gas, would increase the underlying worth of Callon's oil/gas assets considerably.
Conclusion
I would consider Callon a higher-risk "call option" like investment on crude oil prices, without the hassle or stress of an expiration date. I have less than 2% of my portfolio invested in Callon, and would recommend owners have a 20%-30% stop-loss order on their purchases under $10 a share. Wild gyrations in business operations and Wall Street expectations for Callon in the past have created above normal volatility in the stock quote. A 50% slide in the stock price is possible, if crude oil falls considerably or Callon's production growth rates don't materialize as planned or on budget. I strongly suggest investors own a diversified list of energy equities, with Callon near the bottom of the list. Major integrated oil & gas producers, larger independents, and some sector ETFs should be the mainstay of your energy exposure. I have written articles the last year on my larger capitalization energy favorites on Seeking Alpha. Please do your own due diligence and consult a financial adviser before investing, especially if you are new to high-risk, small cap investing.
Disclosure: The author is long CPE.
The author wrote this article themselves, and it expresses their own opinions. The author is not receiving compensation for it (other than from Seeking Alpha). The author has no business relationship with any company whose stock is mentioned in this article.