When you get two long-term secular trends working their slow grinding magic over time, like the falling cost of solar and the falling cost of energy storage, sooner or later you end up with something significant, as we tried to argue in a previous article.
There is little doubt that as a result of epic price falls, the demand for solar panels has ratcheted upwards in a near parabolic fashion: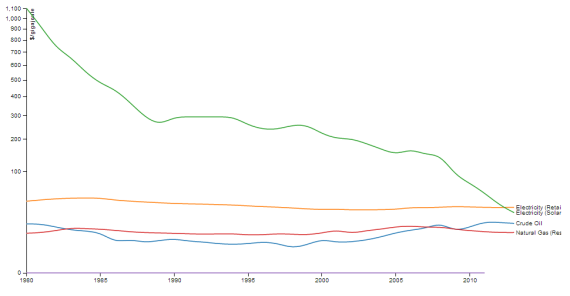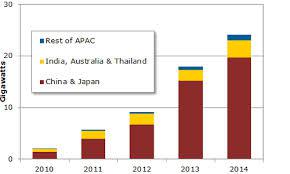 Special geographical situations
Falling prices is not the only factor driving solar demand, it is also benefiting from a number of special situations in major, in fact, the major solar markets, China, Japan and the European Union ((NYSEARCA:EU)). These special situation spurs demand in the more immediate future and could very well lead to another round of economies of scale and price declines, reinforcing the virtuous cycle.
In China, cities are choking on pollution from coal fired plants, industry and traffic. One way to deal with this is to shift electricity production to natural gas and alternatives like solar, and China is embarking on this with considerable gusto.
Added benefit is that it spurred demand for their domestic solar panel producers just at a time when these were experiencing a slump due to overcapacity and a resulting price crash. The prospects for China are pretty good as well, here is Suntech CEO Eric Luo:
We are sure that by 2016 - or at the latest 2017 - the levellised cost of solar PV will be the same as coal-fired generation. It is going to completely transform the energy market in China.
In Japan it has been the nuclear disaster and subsequent shut down of nuclear power plants that has boosted demand for alternatives in general and solar energy in particular. The Japanese market has taken off and is now the second biggest in the world, and growth here is likely to continue for quite some time even if some nuclear plants come back online.
In Europe, tensions with Russia has brought home the dependence of the continent upon Russian energy (natural gas in particular), and alternative energy is one way to reduce this dependence. According to David Spencer-Percival, chief executive of international energy recruitment firm Spencer Ogden:
Given the West's reliance on the Russian energy industry, it is vital governments across Europe reassess their self-sufficiency. This is likely to prompt greater investment in renewable and alternative sources. [BBC]
Panel shortage?
The growth of solar energy isn't a linear process but goes in leaps and bounds. Because panels are a near commodity, their pricing is liable to some unfavorable economic swings which are the result of relative supply and demand balances.
Demand growth, while there is undoubtedly a strong secular trend upwards, is unsteady because of changes in policy. Supply growth is more stable but has a habit of getting ahead of itself, creating a glut.
We just went through such a glut, caused by the Chinese building massive capacity, basically on the back of their own cheap financing and very generous (mostly German) subsidies for the installation of panels.
Gluts lead to steep price falls, a rationalization of the industry and a slowdown of building new production capacity to save capital costs (and companies).
The price cuts also lead to an acceleration of demand, and together with the sharp decline of new production capacity this sooner or later stabilizes the supply-demand unbalance and a panel glut can actually turn into a panel shortage.
We're at that point, according to a Bloomberg article:
With installations expected to swell as much as 29 percent this year, executives are bracing for the first shortfall since 2006... The looming shortage shows the rapid expansion of solar energy. The industry may install as much as 52 gigawatts this year and 61 gigawatts in 2015. That's up from 40 gigawatts in 2013, and more than seven times what developers demanded five years ago, according to Bloomberg New Energy Finance.
One has to understand that there are no definite figures and even in case of nominal excess capacity, this isn't necessarily determining:
Supply shortages for input materials like polysilicon can limit effective capacity levels, as was the case in 2010. Nameplate capacity is not always fully available due to downtime or labor shortages. Companies often over-report capacity figures (sometimes by orders of magnitude) to boost their profile. And during prolonged periods of overcapacity or price troughs, manufacturing lines can be idled and plants can be mothballed, as was the case for much of the past two years.

Our estimates show about 14.1 gigawatts of ramped module capacity were not active in 2013 -- much of it not competitive in an environment of $0.60 per watt average selling price. This explains why module pricing over the course of 2013 was stable-to-up for the most part despite module capacity exceeding demand by 67 percent.
Basic economics argues that such a situation could turn a buyers' market into a sellers' market, and prices could actually rise, at least temporarily until new capacity comes online. Even if they do rise (not many market observers seem to expect this at present), prices are unlikely to rise much, or for long, so the risk that this will derail demand isn't very likely.
For cell and panel makers, this is actually something of a mixed blessing:
Stable or even mildly rising prices is good for margins, as costs are still moving downwards
However, the need for capital expenditures to meet the growing demand requires significant capex
The latter poses a familiar collective action problem. Individually, companies would benefit from strong capacity expansion to be able to capture as much of the growing demand as possible. However, what's rational for each individual company isn't rational for the industry as a whole, as this is likely to produce overcapacity and another round of price cuts and bankruptcies.
We do think this time around such an outcome is less likely though:
Companies might have learned something from the last shake-out, which is still fresh in memories
More importantly, many companies are still digesting the financial fall-out from the previous glut period, and balance sheets are generally weak
Investment implications
Now, these trends provide a couple of workable investment thesis, amongst which:
Look for solar companies that are well capitalized, have access to cheap financing and are using all present production capacity already
Look for capital goods suppliers selling to the solar companies
Let's start with the first one, here is a little table with some relevant metrics (sources: own calculations from Yahoo and FinFiz).

There is little doubt that First Solar (NASDAQ:FSLR) seems to be the best placed to expand capacity and Yingli Green (NYSE:YGE) the worst, due to their whopping debt burden. One note of caution as to drawing too firm conclusions from this as the Chinese companies might be much less capital constrained due to what one could describe as a different institutional environment.
We like SunPower (NASDAQ:SPWR) also in this respect, due to its competitive advantage and inroads into Japan and even China itself (which we described here). Jinko Solar (NYSE:JKS), despite its substantial debt, is probably best positioned (as the market leader) to profit from fast Chinese solar market growth.
What's also quite likely is that since the crash is still fresh, the bigger, better capitalized producers are producers are likely to take market share away from the smaller, less capitalized ones. The latter are simply still generally burdened by weak balance sheets, which complicates capex spending quite a bit.
This will place additional burden on the bigger companies though, to keep up with rising market demand, they will have to expand rather briskly. Maybe not all of them can or will, so we can't actually rule out rising panel prices if the shortage becomes more acute. We could have roughly stable or even mildly rising panel prices for some time to come. See for instance the following figure: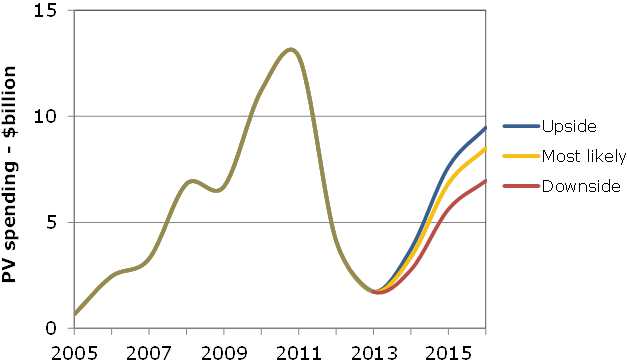 Source: Solarbuzz
in the most rosy (upside) scenario, capex isn't expected to reach the height of the previous boom, whilst the solar market is much bigger already. It's only indicative, but we're somewhat surprised nobody is even contemplating the possibility of rising panel prices (at least not to our knowledge). Capacity takes time to build, if the market is tight already..
Here is a table with planned increases in capacity of some solar companies: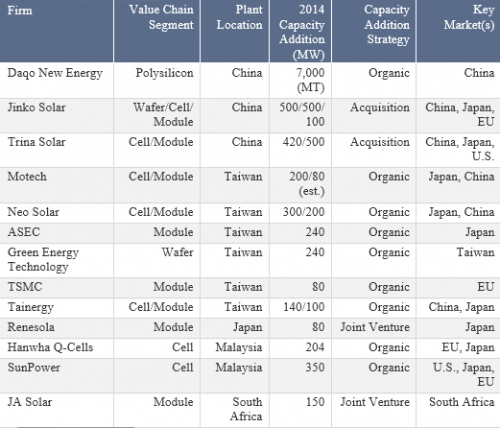 Capex upturn
After years of "drought", there will be a substantial increase in capex from the solar companies (see graph above). They'll have to, simply in order to keep up with growing demand. No doubt this will be a boon for the suppliers to the industry. Just to give you an idea of the amounts involved, here is Solarbuzz:
For 2013, PV equipment spending-covering tool revenues from crystalline silicon (c-Si) makers of ingots, wafers, cells, modules, and thin-film panels-declined to an eight-year low of $1.73 billion. This drop contrasts sharply with the previous cyclical peak of approximately $13 billion in 2011. With capital expenditures largely frozen in 2013, PV equipment suppliers recorded less than $1 billion of net bookings last year, keeping the PV book-to-bill ratio well below parity. In the absence of new PV orders, many equipment suppliers were forced to restructure internal PV business units and focus on other technology sectors... Over the next six months, however, end-market solar PV demand will catch up with the 45 gigawatts (GW) of effective capacity within the industry, and this will mark the official end of the two-year downturn in capital expenditure.
Which companies can benefit? Here are a few possibilities, although none is a solar equipment pure play:
Applied Materials (NASDAQ:AMAT)
GT Advanced Technologies (GTAT)
Amtech (NASDAQ:ASYS)
Coherent (NASDAQ:COHR)
Spire Corporation (OTCQB:SPIR)
Of these four, Applied Materials is the biggest and best known. It's far from a solar pure play, as it also supplies to the chip industry. Supplying capital goods to several cyclical industries should help to mitigate the impact of both. The shares have been on a tear lately due to the chips boom, which could actually produce a bit of a drag on the solar capex uptick for the company, as not everybody (like Goldman Sachs) thinks the chip boom continue, although Applied Material's own guidance is bullish.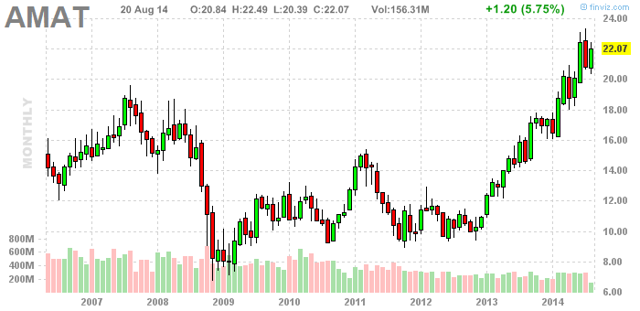 GT Advanced Technologies isn't entirely a pure play either (they have a sapphire crystallization furnace systems business as well). The shares have seen a whopper of an upturn already, in the spring of last year the shares went briefly below $3 but have come back swinging, due to a turn-around to profitability and an Apple (NASDAQ:AAPL) deal: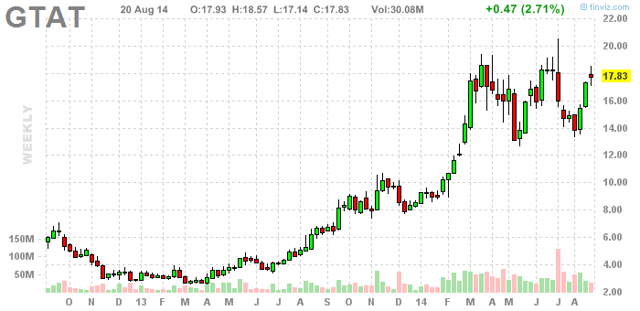 There could easily be a second leg up when material Apple revenue coincides with a substantial uptick in solar capex next year.
Amtech is another company that can profit from increased capex spending in the solar industry, and the shares are also up strongly, even though the company is still in the red and expected to be so next year as well: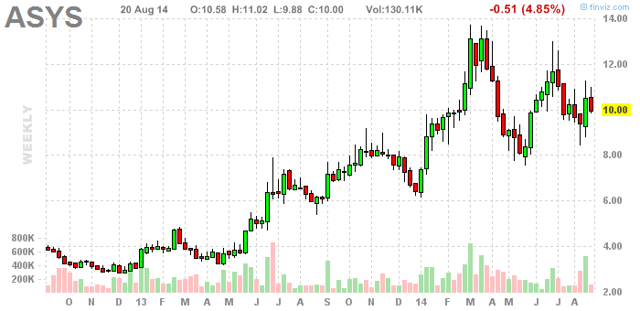 A much smaller player is Spire Corporation, basically a penny stock with a minute market cap (less than $5M). The shares peaked in March above $1 but they're off substantially, hovering at half that level (or below that, falling another 11% as we write).
The balance sheet shows $5M+ in debt and losses, so this one really isn't for the faint of heart. One should invest only after doing substantial amounts of DD.
Disclosure: The author is long JKS, SPWR.
The author wrote this article themselves, and it expresses their own opinions. The author is not receiving compensation for it (other than from Seeking Alpha). The author has no business relationship with any company whose stock is mentioned in this article.
Editor's Note: This article covers one or more stocks trading at less than $1 per share and/or with less than a $100 million market cap. Please be aware of the risks associated with these stocks.