I reiterate my bullish thesis on CenturyLink (NYSE:CTL); the company recently delivered healthy results for Q2'14, outpacing analyst estimates. The major driver behind CTL's top-line growth was its consistent efforts to enhance broadband capacity and roll out Prism TV, which is positively affecting its subscriber base. Also, the company's commitment to cutting down expenses is well on track, which will portend well for its EBITDA margin in coming quarters. Furthermore, CTL's policy of sharing wealth with investors through share buybacks and dividend payments makes it's a good investment option for dividend investors.
Subscriber Momentum = Prism TV + Broadband Success
Competition remains intense in the mature U.S. Telecom Industry. Companies in the industry are enhancing and expanding their network coverage to attractive subscribers. CTL, like all its competitors, has ramped up its efforts to improve its network quality and also expand its network coverage. As the company has been increasing its efforts to roll out Prism TV to new areas, CTL continued to add Prism TV customers, which are fueling its growing subscriber base. In Q2'14, the company's Prism TV reached 2.1 million homes, resulting in net Prism TV subscriber additions of 16,000. Owing to its success in the current markets, CTL will keep on expanding its Prism TV to newer areas, which will benefit its subscriber base in coming months.
Moreover, with the emerging demand of high-speed internet services, the company has been consistently looking for options to improve its broadband speed and stay competitive among its peers. The company's efforts to modernize its broadband network by putting back the traditional ATM technology and to replace it with modern IP technology increased CTL's broadband speed to a level of 18Tbps. The company's efforts to improve its network services positively affected its broadband subscriber base in Q2'14. In Q2'14, the company experienced a broadband subscriber loss of only 2,100 as compared to 8,400 in the same quarter the previous year.
Furthermore, the company recently announced to expand its gigabit services to 16 cities. Initially, these gigabits services will deliver a broadband speed of 1Gbps. The expansion of the services will improve CTL's competitive position against cable service providers and positively impact its overall subscriber base.
The following map shows the 16 cities to be covered by the company with the expansion of its gigabits services.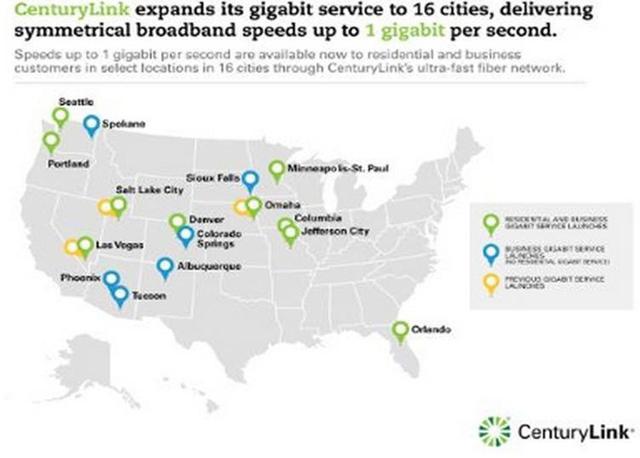 Click to enlarge
Source: CTL Newsroom
Revenue Growth
Over the past few quarters, positive subscriber momentum has been portending well for CTL's top-line numbers. The company's Prism TV and broadband services positively affected the company's revenues in Q2'14. CTL registered total revenue growth of 0.4% year-on-year in Q2'14, driven by business and data hosting revenue growth of 2.6% and 3.2%, respectively. The company expects its total revenues to be $4.47 billion-$4.52 billion for Q3'14. The following graph shows the improving revenue growth trend for CTL over the past six quarters.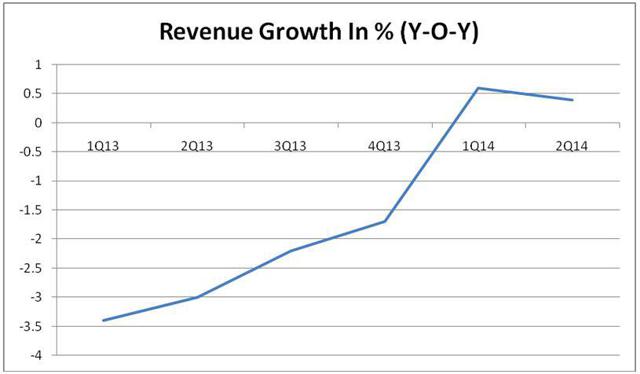 Click to enlarge
Source: Company's Quarterly Earnings Report
EBITDA Margin
In the recent past, higher Prism TV operational costs due to the expansion of services, high USF factor and increased cost from CPE sales have increased the total operating expenses of the company, which has pressurized its EBITDA margin. In Q2'14, the company's operating expense increased to $3.82 billion as compared to $3.79 billion in the same quarter the previous year. Due to the increase in operational costs, the company's EBITDA margin dropped to 39.6%, as compared to 41.1% in the same quarter the previous year. The company has been making efforts to improve its cost structure and lower expenses, which will portend well for its margins and EPS growth. The company is likely to improve its operational efficiencies and lower operational costs in cost saving efforts.
Cash Return Policy
The company has maintained a rich shareholder return policy. The company has been sharing its success with shareholders through dividends and share repurchases. CTL's rock-solid cash flow base has been supporting its rich cash return policy. The company has been consistently repurchasing shares in the recent past. In Q2'14, the company completed its $2 billion share repurchase plan and started another $1 billion share repurchase plan. The company has repurchased 9.6% of its outstanding common stocks since Q1'13. CTL CFO Stewart Ewing, during the Q2'14 conference call, said:
We expect to continue our opportunistic approach to repurchasing shares under the current $1 billion authorization.
Other than attractive share repurchases, the company offers a high dividend yield of 5.90%, which is backed by its healthy free cash flow yield of 9%. The high dividend yield offered by the company makes it a good investment for dividend investors.
Conclusion
The ongoing broadband expansion and Prism TV penetration will strengthen the company's subscriber base in the future. Moreover, improvements in network service quality will improve the company's competitive position in the industry. Also, improvements in CTL's subscriber base will portend well for its future top-line and bottom-line growth. The company has also been undertaking aggressive share repurchases and offers a high dividend yield of 5.9%, which makes it a good investment for dividend investors. Due to the aforementioned factors, I am bullish on CTL.
Disclosure: The author has no positions in any stocks mentioned, and no plans to initiate any positions within the next 72 hours.
The author wrote this article themselves, and it expresses their own opinions. The author is not receiving compensation for it (other than from Seeking Alpha). The author has no business relationship with any company whose stock is mentioned in this article.