I believe Yelp, Inc. (NYSE:YELP) is a strong buy because it's a growth star, has a great business, and has huge potential to grow. And it has taken off to help monetize its valuable "basic life service" platform. Yelp was trading at $80.32 with a market cap of $5.79 billion as of Aug. 21, 2014. I believe the chance that the company grows to be a $100 billion company is quite good.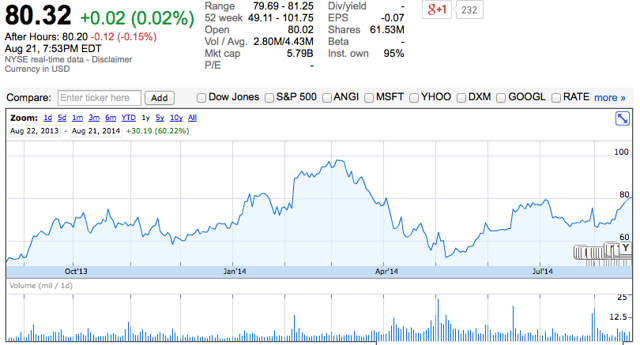 Source: Google Finance.
To support my conclusion, I want to examine the following facts and reasons:
Awesome Business
Basic life services are the most important and necessary things for everyone, so a platform of such services will enjoy an enormous sustainable business. Yelp is such a platform. Yelp's main business is providing listings of local merchants with users' reviews of them. Yelp is most known for restaurant reviews, but its database also covers other basic life services -- including hair salons, spa and beauty salons, plumbing, clinics, events, etc. According to its Q2 2014 report (Form 10-Q), it is present in 63 big cities in the U.S. and 26 international countries. It has been rapidly expanding internationally. Yelp is essentially a bridge between users and businesses.
Based on user reviews, consumers can choose the most desirable products or services. Businesses can advertise themselves, as well as learn about users' tastes, interests, purchasing habits from previous online behavior, and -- perhaps most importantly -- their location. About 68% of consumers go to social networking sites to read reviews. Based on the reviews, people make purchase decisions. About 35% of Yelp users visit a searched business within 24 hours of searching Yelp. People who review a business on Yelp are very likely to make a purchase within a week. Yelp's social networking function can further facilitate the review and transaction.
Yelp is looking to take things a step further. It has been trying to become a one-stop-shop life service platform, on which users can search, place orders, reserve appointments, and make transactions. Yelp wants to close the loop to create the easiest consumption experience. It launched Yelp Platform to introduce a food ordering and delivery service. Yelp also allows some partner businesses to make deals on its Yelp pages, a move that can eventually transform the company from an informational service into an e-commerce powerhouse.
I believe Yelp has a very good chance to develop into one of the most important life platforms for the whole world.
Solid Moat
1. Yelp is growing quickly; it has built a huge database. According to the Q2 2014 report, Yelp has approximately 137.8 million unique visitors who use its website on a monthly average basis, of which 67.9 million are mobile unique visitors. Its users have contributed a total of approximately 61.3 million cumulative reviews. There are 1.75 million claimed local business locations and 80,000 active local business accounts.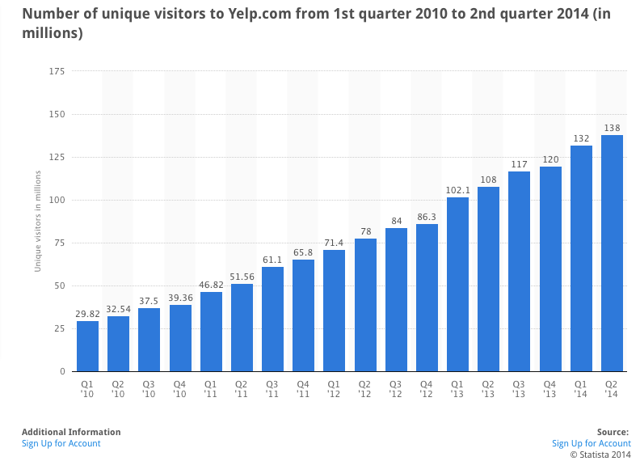 Source: Statista.com.
2. Yelp is global. According to the Q2 2014 report, Yelp is active in 61 cities in the United States and 63 cities in 26 countries internationally, encompassing 15 languages. For the three months ended June 30, 2014, revenue generated internationally accounts for 3% of the company's total revenue, which implies huge potential for international expansion.
3. Yelp is big on mobile, which is an advantageous differentiator compared to other web-based services. According to an article on LocalVox.com, during the third quarter of 2013 the Yelp app was used by 11.2M unique devices -- and 62% of the searches came from mobile devices. The app generated 27M clicks for directions and 19M calls to businesses. Many competitors, like Google Plus, do not know how to manage platforms and they are slow in the mobile segment. Yelp has launched a revamped "Nearby" feature that shows recommendations based on time of day, the social graph, and newly opened businesses, which can help increase location-based business opportunities.
4. Yelp has high-quality reviews. Yelp works hard to maintain a high quality of reviews. According to Yelp management, it filters out most fake reviews, which is roughly 20% of all reviews.
5. Yelp has taken off to monetize its database. It broke even in the second quarter of this year, which is a milestone for a growing technology company. The company accelerated with respect to monetizing its database with its new booking and deal sales services, while it keeps working hard to sell more advertisements to businesses.
6. The company has strong management. Management is very capable and are doing the right thing. Most executive managers -- like Chairman Max R. Levchin, a co-founder of PayPal, and CEO Jeremy Stoppleman -- are very devoted and experienced entrepreneurs. They are passionate about changing the world through Yelp. They have been working very hard to improve the business.
Surprise Financials and Forecast
According to the Q2 2014 report, the company has broken even for the first time in history with a net income of $2,743,000 and EPS of $0.04 in the second quarter, compared to a loss of $878,000 last year. The adjusted EBITDA is $17,244,000, which 122% higher than last year. Q2 2014 revenue surged 61% to reach $88.8 million.
Currently, most of its income comes from local advertising (85%) while brand advertising makes up only 10%. I believe Yelp can make significant commissions if the direct transactions ramp up. The major costs and expenses are sales and marketing, which make up around 55% of the total costs. That means the company works hard to improve sales. With the reservation, deal sales, and revenue sharing businesses picking up, revenue resources will be diversified and the top line can grow more rapidly.
Management expects revenue for Q3 2014 to be $98 to $99 million, which exceeds analyst estimates of $95.4 million. We predict that annual revenue will be around $370 million, which translates into a P/S ratio of 13 as of July 31, 2014. The P/S ratio is higher than the industry average of 1.46, but significantly lower than the sector average of 288. Yelp has very high current ratio of around 15 with no long-term debt, which makes it easy for the company to expand, develop products, and acquire more companies.
New Developments and Potential
1. Booking: Yelp launched its restaurant booking services by cooperating with OpenTable in 2013. Yelp Reservations is a tool that allows businesses in the restaurant and nightlife categories to take online reservations, and added the ability for consumers to message business owners directly through Yelp. Yelp might stop its partnership with OpenTable as OpenTable has been acquired by Priceline.com. The acquisition of SeatMe, Inc. in 2014 will help boost booking business. SeatMe, Inc. is a cloud restaurant booking and floor management system. It has table management, online reservations, wait list, guestbook, and other advanced functions. Yelp also tested food ordering and delivery services through partnerships with Eat24 and Delivery.com, which can expand quickly as more people are willing to order food at home and have it delivered.
2. Transactions: The Yelp platform allows consumers to make transactions directly on Yelp through partnerships with third parties. This function will definitely help Yelp to become an e-commerce platform, which is one of the most lucrative businesses. Yelp can take food delivery transactions and book spa appointments, and it will expand to scheduling yoga sessions and making dentist appointments in the rest of 2014.
3. Revenue sharing: Yelp has started sharing revenue with some local businesses. Yelp Deals allow merchants to promote themselves and offer discounted goods and services on a real-time basis to consumers directly on its website and mobile app. It earns a fee on Yelp Deals for acting as an agent in these transactions, which it records on a net basis and include in revenue upon a consumer's purchase of the deal.
4. Alliance and M&A: Yelp has started building alliances with other platforms like Yahoo, a move that can help Yelp to grow its user base faster. Yelp also strives to acquire more companies, especially internationally.
Risks
1. Its relationship with business owners is a mixed bag. While many business clients see the value in paying to have ads for their establishments pop up during consumer searches, disgruntled parties have helped foster the notion that those businesses that don't advertise with Yelp will see negative reviews rise in prominence over positive reviews. As a consequence, Yelp is sued by many businesses with less favorable reviews. Yelp needs to properly handle the litigation and improve communications with those business clients.
2. Competition from Google, Facebook and Foursquare. Google, Facebook, Foursquare, and a bevy of smaller startups are taking on Yelp with their own search features, which poses a big threat to Yelp. However, CEO Stoppelman said that he is not concerned by Google and Facebook's threats. Google and Facebook are not focused exclusively on local businesses, which gives Yelp an advantage, and smaller companies don't have what he says is the same breadth and depth of content.
3. Competition against Opentable. I believe Opentable can be a big concern for the burgeoning reservation service of Yelp. Yelp launched the restaurant reservations function with the cooperation of OpenTable, which is a leader is restaurant booking. Yelp has to count on its own reservation system SeatMe after OpenTable was acquired by Priceline.com. As a new startup, SeatMe only has limited restaurant clients. With the support of Priceline.com, OpenTable might extend its business from restaurant reservation to reviews and other life services that Yelp is doing. Fortunately, OpenTable is known for being expensive and clunky, so it has certainly left an opportunity for SeatMe to catch up. Yelp has started attacking OpenTable by launching SeatMe reservation and table management services at very competitive prices.
Compared to competitor OpenTable, SeatMe only charges $99 a month and waives things such as the setup fee, cover fee, web access fee, etc. SeatMe does not charge reservation or per-diner fees to restaurants like some other restaurant reservation services. Businesses are simply required to pay a low monthly flat rate, which is much cheaper than OpenTable. The service does charge initiation and licensing fees, plus a per-reservation fee to restaurants.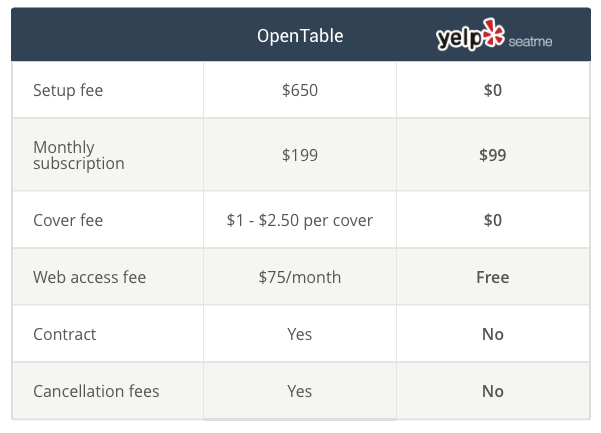 Source: SeatMe.Yelp.com.
SeatMe excels in some unique features like greater flexibility for owners, thanks to its apps compatibility with smartphones and tablets, and guestbooks that keep track of customers' tastes and schedules. Another key feature of SeatMe is its iPad software portal for special occasion event ticketing, as well as regular restaurant reservations, wait lists, and floor management. OpenTable also has a manager for iPad software that is helpful, as well as in-depth restaurant reviews, menus, and holiday promotions.
In short, I believe Yelp has a great opportunity to grab business from OpenTable as SeatMe's technology is good, its price is very competitive, and it can develop new clients quickly through Yelp's huge established restaurant clients. However, Yelp has to work very hard and invest a lot to achieve that goal.
4. Low profit margin. According to the Q2 2014 report, Yelp's gross margin is as high as 93.4%, but its net income margin is only 3%. 68.76% of its revenue is spent on selling, general and administration. I understand that Yelp needs to spend a lot in generating new business clients, but management definitely needs to improve its efficiency and boost more profitable businesses, like booking.
5. Buyout Rumors. People suspect Yelp might be a buyout target for giant IT companies. I think the likelihood of acquisition is very low. Yelp rejected a $500 million acquisition offer from Google in 2009. Yelp has become more confident as a standalone company as it has great assets and huge potential to become a giant platform. I think Yelp is going to acquire more companies or build alliances.
Institutional Investors
According to Nasdaq, institutions own 95.8% of the company as of Aug. 21, 2014. The largest institutional shareholders include Invesco Ltd., Vanguard Group, Inc., and Allianz Asset Management AZ. Soros Fund Management LLC bought 50,000 shares on March 31, 2014, at a cost of $82.85.
Price Movement and Valuation
Yelp's stock has a YTD gain of 60.22% as of Aug. 21, 2014, after it came down from a historical high of $97.8 on March 6, 2014. It has broken through its 200-SMA, which is around $73. Most of the 15 research institution analysts who follow Yelp give it a strong buy rating with a consensus target price of $89. My target price is $100 in the first half of 2015, based on the forecast of its rapid growth and accommodating U.S. monetary environments. In conclusion, I think Yelp is a strong buy.
Disclosure: The author is long YELP.
The author wrote this article themselves, and it expresses their own opinions. The author is not receiving compensation for it (other than from Seeking Alpha). The author has no business relationship with any company whose stock is mentioned in this article.