Since I first wrote about Apple's iPad sales decline back in May, virtually the whole world has awakened to the fact as of Apple's (NASDAQ:AAPL) latest earnings report. What I haven't seen is a recognition of the source of the problem for Apple in the tech media and blogosphere. Instead, Apple fan/bloggers have danced around the issue.
The Heart of the Matter
Most prominent among them has been, as always, Philip Elmer-Dewitt, whose "What's Wrong With Apple's iPad" did at least capture the puzzlement among the fan base. Instead of insight, PED offered some self-evident observations from Gene Munster: tablet growth is now mostly at price points below iPad, iPad may have saturated the higher end market, and the refresh cycle for iPad is longer due to lack of telco subsidies.
This is all true, but it doesn't really get to the heart of the matter. For instance, IDC's tablet market data confirms that while global tablet shipments grew by 4% y/y in calendar Q1 and 11% in Q2, all the growth was in white box sales. If we look at the top five vendors, global shipments for the top five have been virtually unchanged (in terms of y/y change) since the beginning of the year.
But shipments haven't declined either, even as Apple's share of top five shipments has. As I have done in the past with iPhone shipments, in the chart below I plot Apple's share of the top five tablet vendors, based on IDC's data. I do this to exclude whitebox shipments and non-major brands.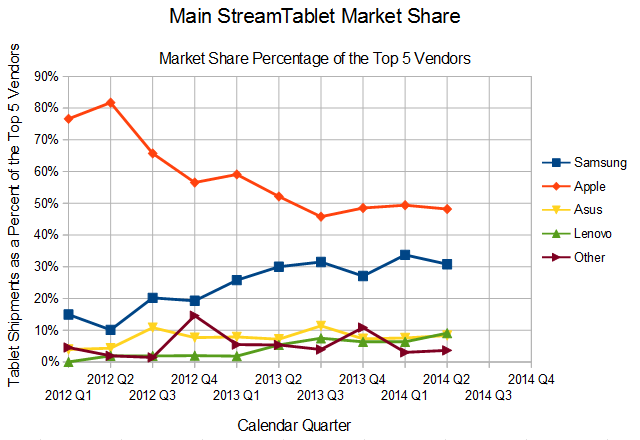 "Other" is either Amazon (NASDAQ:AMZN) or Acer, which tended to alternate their presence in the top five.
One of the takeaways from this chart is the importance of market share as a leading indicator. Prior to suffering its y/y sales declines in 2014, iPad had been on a long downhill slide in terms of top-five market share. Those who discount market share in favor of sales growth are taking a very myopic view, though not unusual, especially among young, inexperienced investors.
Another important takeaway from the chart is that Lenovo (OTCPK:LNVGF) has been the big winner in 2014, as IDC's report makes clear. Lenovo's unit sales grew 224% y/y to 2.1 million in Q1 and grew 65% y/y to 2.4 million. Lenovo's share of the top five grew from 5.4% to 9% in Q2.
In the past, I've pointed to Intel's (NASDAQ:INTC) Bay Trail tablet processor giveaway (otherwise known as "contra revenue") as the principal source of Apple's declining sales. In Q2, Intel sold 10 million Bay Trail tablets at a loss for a bargain basement ASP of about $15. This was bound to have an impact on Apple iPad sales, but it was difficult to put a face on the Bay Trail tablet threat, since it wasn't clear where the processors were going.
Lenovo's growth spurt and product line now afford some better identification of the threat. It's Lenovo's ThinkPad 10, a Windows 8.1 x64 system based on the Atom Z3795. At a starting price of $599, it's priced significantly under Microsoft's (NASDAQ:MSFT) Surface Pro 3 (SP3), which runs Intel mobile Core (Haswell) processors. Although not as capable as the SP3, Lenovo running with the subsidized Bay Trail processor in the ThinkPad has probably put a damper on SP3 sales as well as iPad. A recent article in Computerworld estimated the cumulative loss on Surface to be about $1.7 billion, although most of that is probably in the ARM variant of Surface.
By virtue of running Windows 8.1, ThinkPad can take full advantage of Bay Trail's 64 bit processing capability, as well as provide a compelling value proposition to corporate IT managers who tend to prefer Microsoft platforms.
Prospects for the Next Generation iPad
Much has been written in SA recently about the prospects of the next generation iPad, notably Alex Cho's and Bob Ciura's articles, both good reads that offer encouragement that the next iPad will be able to reverse the sales trend. The IBM partnership will certainly help iPad penetration in enterprise, and the hardware refresh is always good for at least a short-term boost.
That being said, I think the going for iPad is likely to get very rough. Intel is playing hard ball, and they're not overly fastidious about margins. Intel has demonstrated that they're willing to lose buckets of money on Bay Trail (about $1 billion last quarter) in order to achieve their business objective of establishing themselves in the tablet market.
Things only get worse when Google rolls out Android L, which will be 64 bit capable, and therefore be better able to take advantage of Bay Trail and other 64 bit ARM processors to come. Apple fans love to bash Android, but Android L will represent a significant milestone. It will be the first version of Android that achieves performance parity with iOS.
In the past, Android was always hobbled by its Java-based app architecture and always underperformed compared to iOS on a hardware normalized basis. Android L will solve this problem with an "ahead of time" compiler resident on the Android device. Android will become the performance equal of iOS, although not the equal in other areas.
Android still suffers from marked fragmentation, but this fragmentation mainly is a problem of legacy hardware that can't be upgraded to the latest Android version. New Android devices running the latest version will be able to upgrade to Android L, and those running 64 bit processors will be able to take better advantage of their processor capabilities.
So iPad is going to be squeezed from both the Windows and Android camps, and has already lost its advantage as a 64 bit capable ARM tablet. Does Apple have an "October Surprise" in store that could alter the iPad competitive landscape? I wouldn't discount the prospect at all. Apple surprised the world last year with its 64 bit A7 and could again this year. Innovations that could better position Apple's iPad to compete include faster quad core processors, a larger screen, or a change in process node. I'm hoping for all three developments.
Even with all that, Apple still has a tough bare knuckle fight with Intel on its hands. Apple will need to search its soul to decide whether to fight or let iPad become a niche product with miniscule market share. I hope they fight. Apple could bury Intel if it wanted to, easily outlasting Intel in a war of margin attrition. Intel's not playing nice, so they don't deserve a break.
Disclosure: The author has no positions in any stocks mentioned, and no plans to initiate any positions within the next 72 hours.
The author wrote this article themselves, and it expresses their own opinions. The author is not receiving compensation for it (other than from Seeking Alpha). The author has no business relationship with any company whose stock is mentioned in this article.
Editor's Note: This article discusses one or more securities that do not trade on a major U.S. exchange. Please be aware of the risks associated with these stocks.