All of the football this weekend afforded me a lot of time to look at all sorts of stats and explore various portfolio concepts. One idea was about simple -- very simple -- diversification. The chart below captures the iShares MSCI Emerging Market ETF (NYSEARCA:EEM), iShares Russell 2000 ETF (NYSEARCA:IWM) and the S&P 500 SPDR (NYSEARCA:SPY) since EEM's inception ... and it reveals a lot of things.

It shows that since EEM's inception, that fund is up 330%. In the same time IWM is up 111%, and SPY is up 44%. An investment of $100,000 into SPY on April 17, 2003 is now worth $144,000 (simplified number). That same $100,000 -- allocated with $70,000 into SPY, $20,000 into IWM and $10,000 into EEM -- would now be worth $186,000, assuming no rebalancing. The difference is meaningful, and while the allocation may not be what you'd do it is far from an unrealistic mix.
[Click chart to enlarge]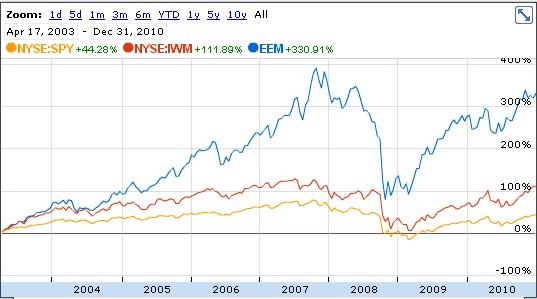 Also revealed is that IWM and EEM both got hit pretty hard. From their respective peaks to their troughs, SPY fell 56%, IWM fell 58% and EEM fell 63%. While those numbers don't seem much worse than that of SPY, the drop would have felt worse given the previous growth and considering the imperfect example of no rebalancing.
The same mix would have lagged the market during the single year of 2008, as EEM went down a lot more than the broad market -- but this makes an argument for the importance of thinking long-term. The outperformance over the seven-plus years is far more important than any short period of time -- note that the numbers above assume buying and holding on, no matter what. At least I believe that to be the case in pursuit of having enough money when you need it. The SPY, IWM, EEM portfolio is easy to come up with and only requires moderate stock market knowledge ... assuming that someone could have seen the flaws in the MSCI EAFE ETF (NYSEARCA:EFA). That may be too much of an assumption on my part.

From that starting point, things like country selection and avoidance can come into play for people willing/able to spend more time. Many years ago I made the decision to avoid EEM wherever possible because of its large (even larger than it is today) weight to South Korea. Longtime readers may recall my preference for Brazil from before joining this site. Since EEM's inception, iShares South Korea (NYSEARCA:EWY) is up 267% while iShares Brazil (NYSEARCA:EWZ) is up 772% versus, again, 330% for EEM. The decision back then was simplistic; Brazil has a lot of stuff in the ground that the world must have, while South Korea had problems with consumer credit and banks.

The above example obviously goes down the road of making narrow decisions in the portfolio; in addition to country selection, things like sector weightings, a higher dividend yield, avoidance, rebalancing and a defensive strategy can also be ways to add value. But even if you don't want to do any of that, a simple asset allocation along with keeping your emotions in check and a proper savings rate can get the job done.