By Scott Tzu, OPI
After closing 2% in the red today, GameStop (NYSE:GME) shares took off after-hours after the company reported a genuinely unexpected earnings beat. By posting $0.22 EPS and revenue of $1.73 billion, the company beat on both lines handily. Analyst consensus heading into earnings was for $0.18 EPS and revenue of $1.64 billion.
Revenue was up 25% YOY, and same-store comps blew away estimates at 21.9% YOY. As a result of the new consoles, it's no surprise that new hardware helped lead the charge, representing 19.2% of total net sales.
As you can see, although it's been a good five years for the company, it's been a rocky road YTD for the retailer. Aside from being a retailer, where times are tough in general, the company is dealing with an onslaught of bears and the potential idea that they're getting too old and too slow for a video game industry that is skyrocketing in terms of available technology.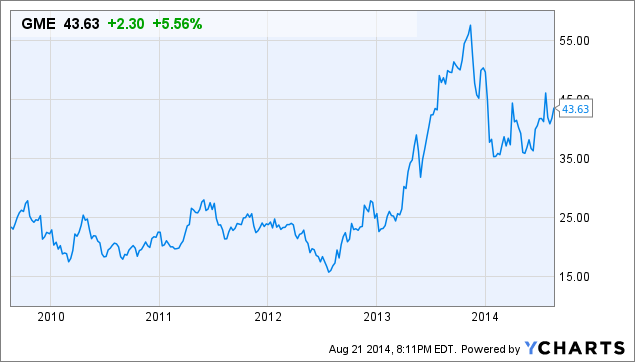 The facts are, this is a true battleground stock.
And, that we can't yet make up our mind.
We agree with the bulls because:
You can't ignore these fantastic numbers that the company just posted.
There is no format that allows players to readily stream games or purchase games via the web that is actively taking a bit out of physical hardware sales, it would seem.
The company's loyalty program continues to grow, and the company has bought itself some time to make necessary adjustments as to how to adapt with the coming future for the video game industry.
We agree with the bears because:
At some point, this industry is going to shift akin to the way Netflix (NASDAQ:NFLX) has changed the television industry.
In addition to that, general retail is making a shift to online ordering and purchasing. If GameStop fails to evolve to meet these needs, the company could be in serious jeopardy.
We're not sure the equity markets are going to hold steady over the coming couple of quarters.
We look forward to seeing the moves the company makes in coming quarters.

The Peel's Feel:
The really tough thing here to ignore is the multiple.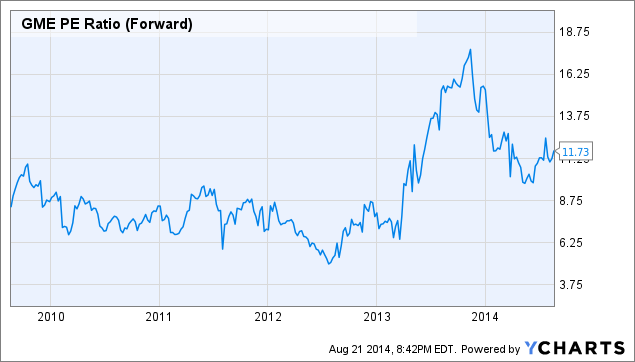 GME PE Ratio (Forward) data by YCharts
The company is currently trading near 11x forward P/E, and if it continues the blistering pace it posted this quarter, we could easily see the name somewhere near $70/share if the economy holds up.
Of course, the risk here comes from the bear case discussed above, and we're not convinced beyond a reasonable doubt that GameStop's growth is going to continue sequentially yet. We'd be much happier, especially given our take on the economy right now, to wait this one out just a bit longer and see if we can't get either more data from the company or a slightly better entry point to buy.
In no means do we think GME is a bad investment opportunity, but as we await our certainty, we place a RIPE (HOLD) rating on the equity for the time being with a PT of $44.
Disclosure: The author has no positions in any stocks mentioned, and no plans to initiate any positions within the next 72 hours.
The author wrote this article themselves, and it expresses their own opinions. The author is not receiving compensation for it (other than from Seeking Alpha). The author has no business relationship with any company whose stock is mentioned in this article.