There has been a lot of talk around the VIX ever since the "fear index" closed up 6.6% right before the markets closed for Christmas Eve (on the 23rd of December, last Thursday). Couple this move higher with the broader market closing down (albeit small) for the first time in a while, and we get talking heads directing their attention to the VIX.
VIX Daily Chart
To recap, the VIX index was up 6.6% on Thursday the 23rd and up 7.3% on Monday. Two consecutive days of strength is not a frequent occurrence. For instance, the VIX has closed up more than 6.5% two days in a row 37 times since January 2000, or in other words, about 1.3% of the time since then. Below displays what is likely to occur in the S&P in the subsequent 5, 10, and 20 days when the VIX closes up over 6.5% for two consecutive sessions:
Spike in the VIX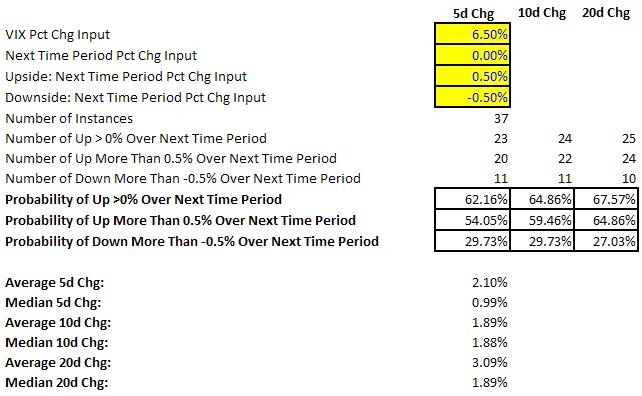 The so called "fear index" appears to not have such a worrisome effect on the broader market after all. The odds slightly favor the market moving higher in the next 5, 10, and 20 days. The odds of the market closing down more than just 50bps are no more than 30% for any of the three time frames. The average and median returns point to the upside as well, although averages are not all that valuable to look at for these types of studies as they may be skewed and paint an inaccurate picture.
I would like to expand on this study to incorporate other market factors. This preliminary analysis does not yield any actionable trading strategies so I will be looking to see if I can include another factor into the model presented here.
Disclosure: I have no positions in any stocks mentioned, and no plans to initiate any positions within the next 72 hours.