Facebook (NASDAQ:FB) has designed a new back-end user interface for marketers to track the performance of Instagram pictures, such as impressions, reach, number of posts, number of followers, etc. The analytics are expected to become more detailed when it comes to sponsored posts versus normal ones. However, broad geographic data will also be included, which will give advertisers information on demographics, such as gender, location, age, etc.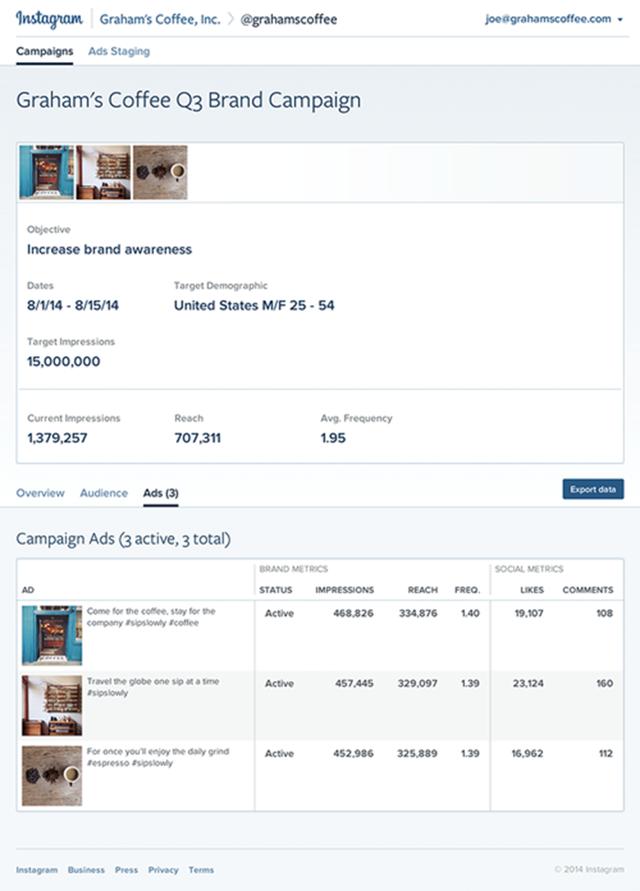 Source: Instagram
With this information, marketers can determine the ROI from being active on Instagram. However, the added analytics may also help marketers benchmark their performance in relation to other brands. However, it's not clear whether data that specific will be shared between the various creative teams at the respective companies. For now, Totem offers a ranking based on the total number of followers, and posts using the brand as a hashtag. It's pretty useful for determining trending brands, and if you look at follower stats, Nike, Starbucks and Adidas rank at the very top.
The back-end interface was changed so that it would result in more of an ad-submission process. This keeps the ads native, according to Ad Age:
The Ad Staging tool creates a place for marketers to preview campaigns before submitting them to Instagram's team for review. Best described as a creative sandbox, a brand's team and its agency can upload photos, add captions and location information, see a mock-up of the post, and solicit feedback from each of its members. Once that's all been hashed out, they can send the post over to Instagram's internal team, who will review it and approve it to run on the service.
Native advertising seems to apply in Instagram's case, whereas Facebook is a little more programmatic, with an ad-exchange like format. Ad exchanges do better at determining fair pricing for ad space, and are more efficient. However, ad-exchanges do poorly at targeting placement, so you'll see an ad that's extremely jarring in relation to the web page.
Instagram doesn't want to lose active users, so making ads as native as possible will help to address the user experience. Assuming, a combination of better ad engagement, paired with user retention, and the fundamental growth prospects of Instagram remain solid.
When Instagram first launched ads it received a lot of backlash, but over time, the advertisements became far more native, and in my opinion the creativity in some of these ads makes them worth looking at. I think some ads are cooler than pictures of my friend hiking a mountain, or a picture of my friend's cat/dog.
The pricing on these ads can improve significantly as the added analytics, paired with efficiency to the ad-submission process, builds scalability to the platform. While the brand message isn't going to carry the CPMs (cost per thousand impressions) that non-targeted video ads do ($9 per thousand impressions), they may fetch a much higher price than the CPMs of banner ads, and e-mail ads.
Also, I want to mention that pictures are a much better medium than simple banner ads, or text based ads. And unlike other ad-mediums, that are more desktop oriented, Instagram is purely mobile. Meaning, that if advertisers want to tap into where the users are going to be, Instagram can be that sweet spot for winning the mindshare of mobile users.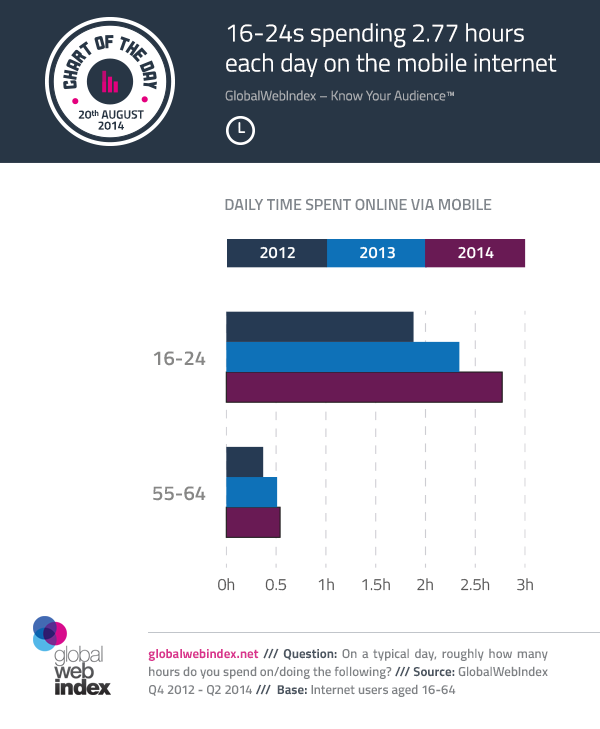 Source: Global web index
The younger demographic also spend much more time on mobile devices than the older demographic. Therefore, for advertisers to gain mindshare among younger users, it has to reach them on mobile devices. Winning the younger demographic is a huge priority before they reach their peak career earning years.
Ad Age reports on Instagram's ad-pricing:
One executive briefed on the ad product said a month-long buy could end up costing $500,000, while another quoted pricing just south of $1 million for that period of time. A third put the lower end of monthly pricing at around $350,000 to $450,000 with the higher end south of $1 million, while noting that no range has been set in stone.
Assuming Instagram is running a hundred campaigns at the same time, the monthly revenue figure could range $35 to $100 million. Over the course of 12 months, Instagram may earn in the range of $420 million to $1.2 billion in annual revenue. Of course, running a hundred campaigns on Instagram is very aggressive, as there is a limited amount of ad space. But assuming 100 brands can be supported, the economics look extremely compelling.
Remember, Instagram was bought out for $1 billion, and there's a really high likelihood of revenues surpassing the valuation that it was bought out for over the next two or three years.
Facebook has a great track record when acquiring companies. And as long as this trend continues, Facebook should remain an outperforming investment going forward.
Disclosure: The author has no positions in any stocks mentioned, and no plans to initiate any positions within the next 72 hours.
The author wrote this article themselves, and it expresses their own opinions. The author is not receiving compensation for it (other than from Seeking Alpha). The author has no business relationship with any company whose stock is mentioned in this article.