Asian markets were up overnight as they followed the lead of US markets higher. European markets are lower on reports that Russia sent in a convoy of 70 trucks which were not under the watch of the Red Cross and did not have red crosses on the vehicles. We will have to wait to see what this all means, but markets did not like the news early this morning.
Looking at earnings, we have to say that we have been pleasantly surprised by the strength this quarter. We were more bullish than many heading into this earnings season, but have seen our views become more mainstream as results were announced. If there was one question many had going into this quarter, it was how the retailers would perform...and the answer to that is not what many retail investors were hoping for.
Chart of the Day:
The treasury market is not taking its cues from Europe, but instead focusing on what the Federal Reserve Chairman and others with the Federal Reserve have to say at Jackson Hole.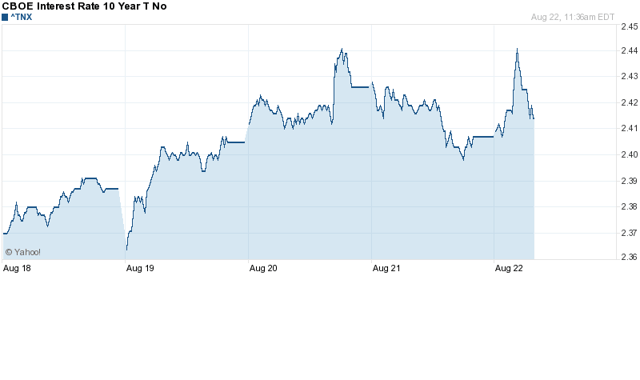 Source: Yahoo Finance
We have no economic news today, but will kick next week off with New Home Sales.
The Asian markets are higher today:
All Ordinaries - up 0.12%
Shanghai Composite - up 0.46%
Nikkei 225 - down 0.30%
NZSE 50 - up 0.27%
Seoul Composite - up 0.61%
In Europe, the markets are lower this morning:
CAC 40 - down 0.86%
DAX - down 0.54%
FTSE 100 - down 0.02%
OSE - down 0.29%
Retail Remains An Enigma
There are not a lot of positive trends in the retail space right now, and those few that exist have begun to face headwinds in recent quarters. The retailers which are doing well all have certain traits; with the most important being that their management teams are excellent operators. Also of importance is that many have exposure to discount brands and are attracting consumers to drive sales through these stores.
This is the case at Gap (NYSE:GPS) which has been riding momentum at its Old Navy stores for over a year. The namesake Gap brand has had some success in this economy but the upscale Banana Republic has generally been a disappointment. In the company's most recent quarter for instance, sales at Banana Republic were flat, Gap sales were down 5% and Old Navy saw a rise of 4%. Although the Gap stores underperformed the Banana Republic stores this quarter, the results were still ahead of teen retail competitors Aeropostale (NYSE:ARO) and American Eagle Outfitters (NYSE:AEO).
With the $0.01 EPS beat on the quarter and the company embarking on low cost growth initiatives, the company raised its full-year EPS guidance from $2.90-2.95/share to $2.95-3.00/share. Investors will have to see how it plays out, but Gap's franchising deal in India does appear interesting and could provide growth in future quarters.
Investors who took profits earlier in the year really have not missed out on much as the stock has continued to trade sideways for the most part. Today's move might bring some investors back, especially as it appears that Gap still has the fashions and prices to bring in shoppers.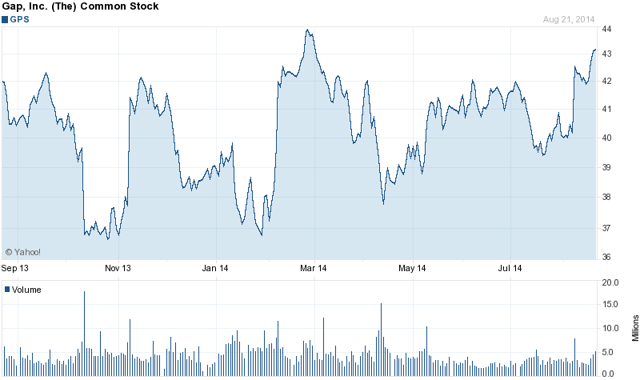 Source: Yahoo Finance
Speaking of Aeropostale, the company not only reported disappointing sales numbers, down 13%, but also lowered its Q3 guidance after missing analysts' consensus EPS estimates by $0.03/share in the current quarter. The upcoming quarter could be quite difficult as the company is forecasting a loss between $0.44-0.48/share which is much higher than the analyst consensus for a loss of $0.33.
New CEO at Home Depot
Home Depot (NYSE:HD) is ushering in a new era as Craig Menear will succeed Frank Blake as CEO on November 1st. Mr. Blake will remain with the company, serving in the capacity of Chairman but will retire from a successful career at the home improvement warehouse chain.
Mr. Menear was seen as an heir apparent after being named the head of US operations for Home Depot earlier this year, so Wall Street was prepared for such a move. Mr. Blake will be a tough act to follow, having increased revenues from the trough of the recession back to pre-recession levels and being at the helm as the company's shares more than doubled in value.
eBay Spinning PayPal?
Carl Icahn may have another win to put on his resume if the reports from The Information are in fact true. Yesterday, the tech news site reported that eBay (NASDAQ:EBAY) had indicated to prospective candidates for the top spot at PayPal that the company could be a standalone business as soon as 2015. Investors may remember that Mr. Icahn called for the company to split itself into two; one unit focusing on online sales while the other focused on payment processing.
The market liked the initial proposal from Carl Icahn, and if the reports are true then investors could have reason to cheer moving forward. For those trying to get a handle on which way the management team is leaning, look for discussion on the conference call about better defining each business unit's goals and moves that appear to strengthen the management team at PayPal. Long-term both businesses can still work together, with PayPal following eBay into new markets...even if they are separate companies.
Disclosure: The author has no positions in any stocks mentioned, and no plans to initiate any positions within the next 72 hours.
The author wrote this article themselves, and it expresses their own opinions. The author is not receiving compensation for it (other than from Seeking Alpha). The author has no business relationship with any company whose stock is mentioned in this article.