Ocwen Financial Corp (NYSE:OCN) has the same chairman as Home Loan Servicing Solutions (NASDAQ:HLSS). That is not a coincidence; I wanted to do a piece on OCN because I was researching HLSS and thought it would give me a deeper look at the chairman's performance. Again, he has a separate CEO there to run the operations. There could be conflicts of interest for the chairman since he serves in that role for multiple companies, but the controls look good enough. I used the 10-K and the proxy statements to do this research.
Update: I prepared most of this article prior to initiation of a class action lawsuit. Because the allegations of the lawsuit materially impact the conclusions, I am amending the article to include all relevant information to date. For the sake of transparency, that information will all be presented under the heading "Update: Class action implications" near the end of the article. Until that line, I will be resuming with the original report.
Resuming the original report
The parachutes are bigger here than in HLSS, but again they are small compared to the industry. It appears one of the most severe parachute payments could be to the chairman of the board, if there was a change in control. That's an ethical conflict, but still very small relative to our normal findings.
Below, you'll see the table we use to analyze these companies, followed by an explanation of how to read it: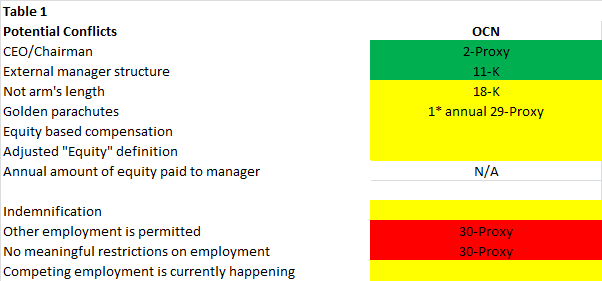 Your chart has numbers and letters and colors. What does it all mean?
Green means I found strong evidence that the potential conflicts were not present or effectively mitigated.
Yellow means the evidence was insufficient for me to declare that there was no potential problem there.
Red means I found strong evidence that the potential for conflicts of interest was present.
Numbers indicate the page number on which I found evidence. There may be evidence on multiple pages. If the evidence on a single page is sufficient to make a decision, I only list that page. Sometimes it takes multiple pages viewed as a whole to reach the required level of evidence.
The letter K or the word Proxy is listed to let you know if I was looking at the 10-K or the Proxy statement when I found the conflict and recorded the page number.
With that cleared up, I'll move on to the individual findings.
CEO/Chairman
Mr. Erbey is the chairman, but he isn't the CEO. That's great for shareholders. Mr. Erbey has done well protecting shareholders when serving as the chairman in other companies.
External manager structures
External managers are both common and bad for shareholder protection. OCN kept the operations in house, and they are rewarded with a green bar.
Not arm's length
It's common to find companies allowing their CEO to sign transactions between the firm he is managing and another company he owns. It doesn't look like anyone being permitted to behave in that manner, but the evidence wasn't strong enough for me to feel entirely comfortable that it could not happen. If the company disclosed a little more explicitly, I think it would be clear which way this should go. The most relevant comments are on page 18 of the 10-K. I would mark this green, but I'm a cynic. The wording not being air tight bothers me.
Golden parachutes
The payout for executives is one times salary. The parachute is there, but it is dramatically lower than the industry. I couldn't give a green bar when the payout exists and is meaningful, but I also couldn't give a red when it is about one third of the industry norm.
Equity based compensation
Given the structure in place, it is unlikely that this is a problem. I'd like more clear disclosure to that effect though.
Adjusted "Equity" definition
This doesn't appear to be happening, but for the sake of clarity I will explain it. If you're only concerned with the conflicts that are happening, you can skip to the next line in bold.
The explanation is a few paragraphs, so I'm reproducing it from another article I wrote:
Many REITs that create external manager structures provide themselves a payment based on the book value of the equity. At first, that might seem okay. The executives would have an incentive to grow the equity so they could be paid more in later years, and they wouldn't get paid for taking on excessive leverage. Sounds good, right? Most REITs redefine the term "Equity". They don't all use the exact same definition, but most definitions include that Equity will not include adjustments for changes in AOCI (Accumulated Other Comprehensive Income) or Retained Earnings or Loss.

In practice, that means the best way to increase their compensation is to continue issuing shares. To give an extreme example:

Company Imagination earns 0 dollars in net income. They pay out 1 million dollars in dividends. They issue stock for 1 million dollars. Under the 'Adjusted Equity' definition, their value of equity has increased by 1 million dollars and they will proceed to pay themselves a percentage of those one million dollars every year."
That is an example of how it is done in the most simplistic form. Normally management will try to disguise it.
Indemnification
I couldn't find the indemnification agreements or a clear reference to them. That's very unusual. The industry standard is to include a small section that states, "Our managers have been indemnified…" The lack of that statement might mean that there are no indemnifications in place, or it might mean the company did not feel it was necessary to disclose them. While I couldn't find any reference in the financial statements, I did a very old filing that indicates an indemnification agreement from 1999. With no access to the original documents or references in the current filings, I don't feel comfortable assigning a red bar, but I do think it is more likely than not that indemnifications are in effect.
Other employment / No meaningful restrictions / Competing employment
This is where OCN gets the red bars. Looking at their latest proxy statements, you can search for the words "Restrictive Covenants" which will appear in bold near the bottom of page 29. The executives are subject to an intellectual property and non-disclosure agreement, but in their words:
"Other than these restrictive covenants, we generally do not have employment, non-competition, or non-solicitation agreements with our executive officers."
Allow me to break that down. They have the executives sign an agreement that they won't go blabbing all the company's internal information. So what can they do? The executives can accept jobs at competing firms, or create competing firms. The executives in that dual role can then solicit the profitable clients of the firm and encourage them to move their business to the second company. They could spend their time researching underpriced securities, and then buy the security for a firm they personally own rather than for OCN. I'm not certain that the competing employment is currently happening, but it is permitted.
Initial Conclusion
OCN scores better than average, which is a sad statement given the potential for competing employment. The firm performed worse than I would have hoped given that the chairman has done a great job protecting shareholders in his role at HLSS. Still, they deserve some respect for being better than average. I'd love to see an activist shareholder get a proxy vote on restricting competing employment. I expect management would oppose it and that it would get defeated by large investment firms voting for whatever management wants. However, it would give shareholders an easy way to tell if management deserved their trust or not. I'm a little disappointed the Chairman, Mr. Erbey, did not force a more restrictive employment agreement onto management.
Update: Class action implications
My initial analysis found that the controls disclosed in the financial statement were solid in the first two categories, but something felt off about the wording they used to disclose their provisions against dealings that were less than arm's length. The company has faced allegations for how they treated home owners, but now a class action lawsuit has been filed on behalf of the investors.
According to Yahoo's piece on the lawsuit:
The complaint further alleges that Ocwen made false and/or misleading statements and failed to disclose that: (I) Altisource was charging exorbitant fees to Ocwen to aid in funneling as much as $65 million in questionable fees; (ii) defendant Erbey was involved in approving transactions with which he had a conflict of interest; (III) the company failed to comply with laws and regulations designed to protect homeowners; (iv) the company lacked adequate internal and financial controls; and (vi) the company's financial statements were artificially inflated and did not present a fair representation of the company's finances or operations."
Further research in the New York Times goes on to say that a conflict was created by the same executive being employed as a "Chief Risk Officer" at both Altisource and OCN.
This case reinforces my position that shareholders should look at the controls on management. The focal two problems were non-arm's length transactions and competing employment, both of which were brought up as concerns. I will be interested to see how this plays out. Will the company find more wiggle room because the language they used was not air-tight? I don't know, but I'm curious to see how this plays out. This is also a lesson for investors that even information in the financial documents can be wrong. I cited the job Mr. Erbey did protecting shareholders based off the disclosures of company policy on how conflicts were to be handled. If those guidelines were not followed, it does little to help investors.
I'm going to go bearish on the stock. I'm concerned that regulators are rolling strong after the Bank of America case and have set precedents for being able to come down hard.
Disclosure: The author has no positions in any stocks mentioned, and no plans to initiate any positions within the next 72 hours.
The author wrote this article themselves, and it expresses their own opinions. The author is not receiving compensation for it (other than from Seeking Alpha). The author has no business relationship with any company whose stock is mentioned in this article.
Additional disclosure: Information in this article represents the opinion of the analyst. All statements are represented as opinions, rather than facts, and should not be construed as advice to buy or sell a security. Ratings of "outperform" and "underperform" reflect the analyst's estimation of a divergence between the market value for a security and the price that would be appropriate given the potential for risks and returns relative to other securities. The analyst does not know your particular objectives for returns or constraints upon investing. All investors are encouraged to do their own research before making any investment decision. Information is regularly obtained from either Yahoo Finance or the SEC database. If either of these sources contained faulty information, it could be incorporated in our analysis. The analyst holds a diversified portfolio including mutual funds or index funds which may include a small long exposure to the stock.