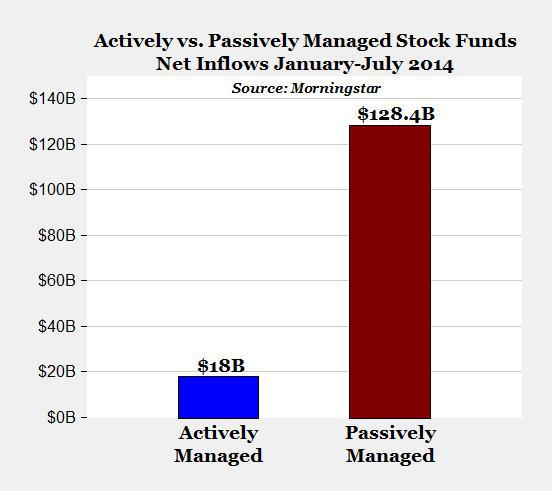 Thanks in part to some investment advice from Warren Buffett in March, the tide has turned this year in favor of passively managed index funds as investors are increasingly shunning high-cost actively managed stock and bond funds in favor of low-cost index funds, according to a front-page article in today's Wall Street Journal. So far this year through July, Morningstar data reveal that passively managed, indexed funds have captured an impressive 88% of the net inflow into stock mutual funds this year. In dollar terms, passively managed stock funds have seen a net inflow of $128.4 billion this year, more than seven times the net inflow of only $18 billion for traditional, actively managed funds (see chart above). As I have reported before, 70% of U.S. investors didn't own a single index fund last year, making this unprecedented shift towards index funds especially noteworthy.
Here's an excerpt from the WSJ article "Investors Pile Into Vanguard, Eschewing Stock Pickers":
Investors are pouring money into Vanguard Group, the epitome of the hands-off approach to investing, flocking to funds that track market indexes and aren't run by stock pickers or star managers. The inflow has pushed the mutual-fund giant to almost $3 trillion in assets under management for the first time. The surge is part of a sea change in the fund business in which investors are increasingly opting for products that track the market rather than relying on managers to pick winners.
Vanguard got a huge boost when Warren Buffett gave it a public stamp of approval in March. The billionaire wrote in his closely watched letter to shareholders of his company, Berkshire Hathaway, that he believed most people would be well-served by following the investing instructions in his will. Mr. Buffett advised his trustee to "put 10% of the cash in short-term government bonds and 90% in a very low-cost S&P 500 index fund. (I suggest Vanguard's.)."
In the five months that followed, investors poured $5.5 billion into the Vanguard fund, or about three times more than during the same period the previous year. Vanguard, based in Malvern, Pa., credits Mr. Buffett with the surge of money.
His recommendation wasn't the only recent milestone for Vanguard. Its Total Stock Market Index fund is now the biggest mutual fund in the world with almost $300 billion in net assets. Vanguard's ascent is notable because its plain-vanilla index funds are often derided by more adventurous investors who believe in trying to do better than the overall market.
The company is a pioneer in the accelerating shift toward so-called passively managed products like index funds and exchange-traded funds that track baskets of stocks or other assets. These funds typically promise diversification and are relatively inexpensive compared with traditional mutual funds.
The disproportionate flow into index funds this year may reflect the fact that many investors are starting to realize that in addition to typically generating higher returns over long periods than actively-managed funds, the 0.10% average expense ratio of index equity funds at firms like Vanguard, the industry leader in index investing, is 13 times lower than the 1.3% expense ratio for the average actively managed stock fund. For a $100,000 investment, that's the difference between $1,300 in annual expenses and fees for an active stock funds versus only $100 annually for a Vanguard index fund. The combination of higher returns and lower fees on average, especially over long holding periods, is an attractive combination that makes investing in index funds a "no-brainer" for most investors. And it sure doesn't hurt when investment guru Warren Buffett endorses the superiority of index investing, and confirms to the masses what should be a pretty obvious and self-evident investment strategy.