This article will provide a quick update on Keck Seng's (OTCPK:KCKSF) half-year results, as well as the recently announced acquisition. There have not been many significant changes since my previous article, and I recommend starting with that one if you have not already read it.
Review of First-Half 2014 Results
The first half of 2014 was solid for the company as they continued to pay down debt and build up cash. Income across the general asset base was higher, and on a segmented basis the results were as follows: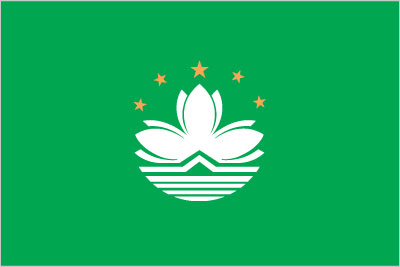 Macau: Increased rent, no sales of properties. I do not expect to see any sales until the light rail track is completed in 2015.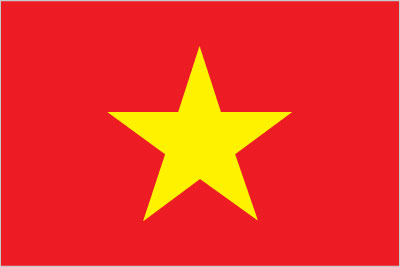 Vietnam: Recovered significantly, hotel occupancy rates were up as were room prices per night. Further recovery can be expected for the second half of the year.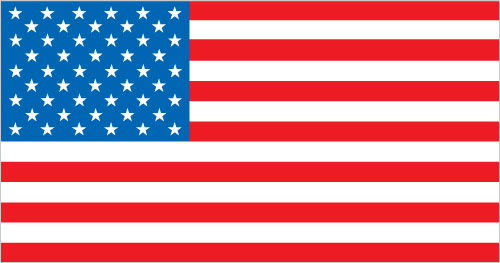 America: Occupancy rates were in line, but room prices were up 9%. The San Francisco housing market remained high.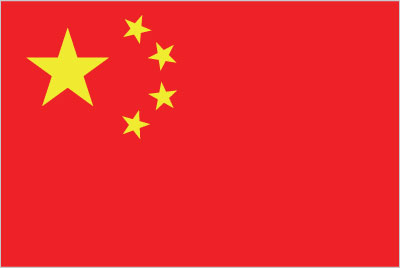 China: Occupancy rates were up 7% and room rates were down 5%. China GDP grew by 7.5% and should stay in line for the remainder of the year.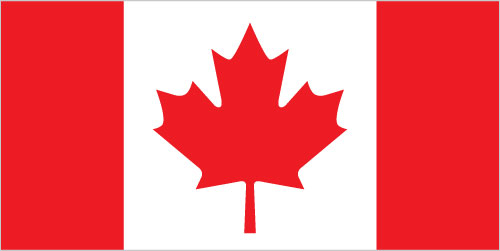 Canada: The Sheraton improved on both metrics, but the DoubleTree declined on both metrics. Canada continues to be a struggling market for the company.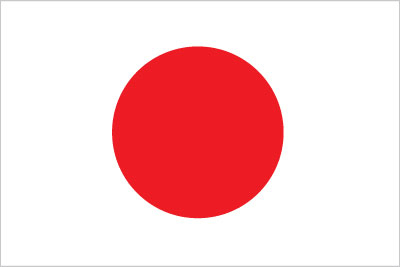 Japan: Both occupancy and room rates were up.
Source: Flag images found here.
Overall solid results and higher occupancies and room rates drove revenues all the way down to the bottom line. Profit was up 12% YOY. Considering profits were up 12% and guidance indicated a strong second half of 2014, shares were only up 1% overnight. The company will continue to be under-loved and undervalued, and will continue to react lazily to news. Increased profits did not increase management's desire to pay back a higher dividend, which remained at HK$0.03. In light of the recently announced hotel transaction, it makes sense to leave the dividend at present levels. Remember that the company typically pays out a much larger dividend at year-end.
New Hotel Acquisition
In mid-August, the company announced its acquisition for 100% of the 4.5-star Sofitel Hotel in New York for US$273M. The deal is still subject to due diligence, but there is no reason to think it will not be completed.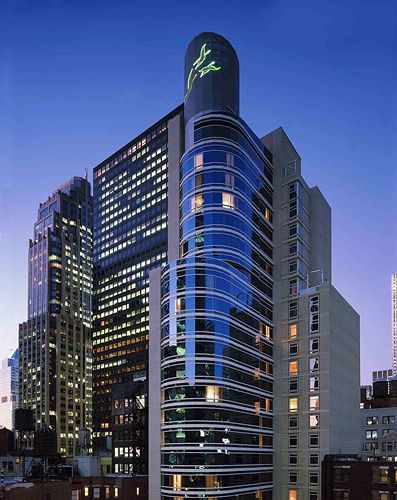 Source: Expedia.
The property has 30 floors and 398 rooms, which implies an acquisition cost of US$690,000 per key. Basic rooms in the hotel cost about US$300/night while the nicest suites command a price of over US$1,000/night. Based on 2013 income history, the property will earn a return of about 5%. Depending on financing, this is better than holding cash and probably about equal to their current cost of debt on the property. A full report and valuation will be provided by the company by Sept. 30; until then, it is mostly conjecture.
This acquisition pales in comparison to the company's prescient purchase of the W hotel in San Francisco. The company certainly has the ability to operate a hotel of this nature and it fits nicely in their global portfolio. However, it appears to be a case of buy high and hold, rather than buy low and hold. It also cements management's hotelier intentions; they will not be selling the W hotel in San Francisco anytime soon, despite the large run-up in price. The large discount to book that is on the financials for that hotel will not be recognized anytime soon. This hotel purchase appears to be a play on a continued recovery in the U.S. The acquisition adds about US$12M to net income and an estimated US$16M to EBITDA.
The most impressive aspect of this acquisition is that it emphasizes the leverage shareholders get by owning this company. The company's market cap is about US$290M and they nearly have enough cash on hand to fully purchase the hotel without debt. In other words, the company's value is equal to this one hotel; all of the other assets are 100% discounted.
Valuation From Another Perspective
The financial position of the company did not change significantly, so instead of reiterating my previous valuation, I wanted to look at the company from a slightly different perspective -- that of a 1% shareholder. If you purchased 1% of the company today, it would cost you US$2.9M. Below is a list I created of what that would get you: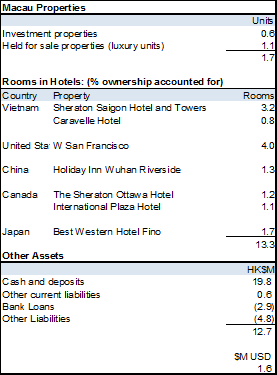 Depending on where you are from, US$2.9M can typically buy a couple of very nice houses. But if you purchase 1% of this company for US$2.9M, they will promptly (but hypothetically) hand you back US$1.6M in cash (after liabilities have been removed). Additionally, for the remaining US$1.3M you get 13 hotel rooms in 4-star+ hotels around the world and an entire Macau property valued at US$1-$2M, as well as half a commercial investment property. Also, you get 1% ownership of a profitable "club" in Macau and 1% of a casino in Vietnam. It's easy to see how much return this investment offers.
Conclusion
KCKSF offers an easy 150% return to a patient investor. The company continues to churn out money on the back of higher rental rates and an improving economy. A pending acquisition will put the company's cash to work and will be reflected in a much higher net income, which can be used to either pay down the acquisition debt or be returned to shareholders in the form of a dividend. The story remains the same: KCKSF is undervalued, under-appreciated and set to return long-term shareholders above-average returns in the upcoming years. Divestiture of Macau properties starting in 2015 will act as a catalyst to share value, and the dividend pays you to wait.
Disclosure: The author is long KCKSF.
The author wrote this article themselves, and it expresses their own opinions. The author is not receiving compensation for it (other than from Seeking Alpha). The author has no business relationship with any company whose stock is mentioned in this article.