Like most of the energy sector, the shares of energy services producer Halliburton (NYSE:HAL) has been under pressure lately on the back of the recent pullback in oil and natural gas prices. The shares have sold off some 10% from recent highs. With the S&P 500 at all-time highs, Halliburton offers solid value at its current price, and should be accumulated here by long-term value and growth investors for myriad reasons.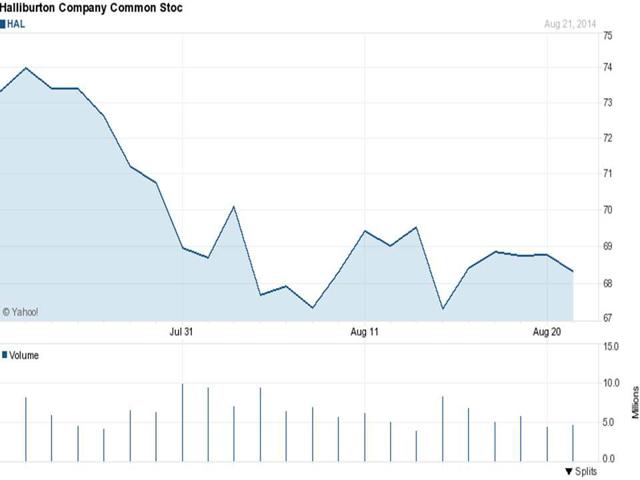 Click to enlarge
Growth & Valuation:
Halliburton continues to churn out low-double digit revenue growth, as it is a primary beneficiary of the continued domestic energy boom and the associated demand for the company's various "fracking services". This revenue growth is translating to an even steeper projected earnings trajectory.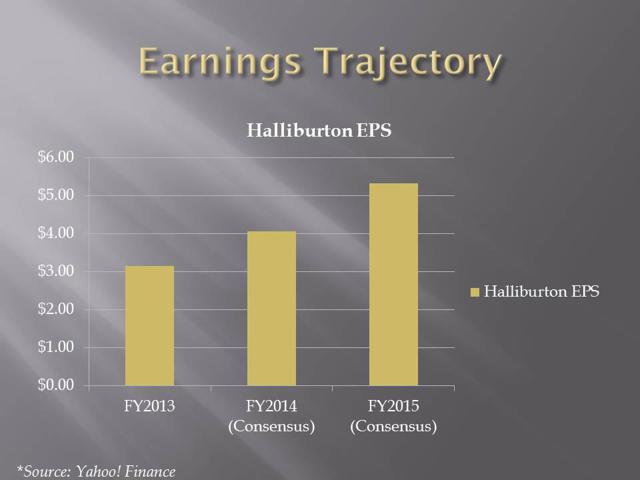 Click to enlarge
The S&P 500 is currently tracking to an 8% to 10% year-over-year earnings gain in 2014, on the back of a 3% to 4% sales increase. Halliburton's projected growth rate for earnings and revenue is roughly triple that of the S&P 500 currently. Despite this, Halliburton is going for 13 times next year's projected earnings, a discount to the overall market multiple of 10% to 15%.
Positive Analyst Commentary:
No fewer than five analyst firms raised their price targets and/or ratings on Halliburton, after the company posted strong second-quarter results in late July. These included Cowen, who raised their price target on Halliburton to $89 a share from $76 a share previously, and UBS moved their price target from $80 a share to $87.
Other Factors:
Halliburton gets just over 50% of its overall revenue from geopolitically stable North America, leaving it less vulnerable to troubles overseas than its larger brethren like Schlumberger (NYSE:SLB). In addition, the company, along with other large oil services concerns, should benefit greatly as Mexico opens up its energy industry to foreign investment for the first time since the 1930s. Halliburton's fracking technology should be much in demand down south. This fracking technology is already starting to make its way into offshore fields for the first time, particularly in the Gulf of Mexico. This is another potential stream of revenue and demand.
Summary:
The recent 10% pullback in Halliburton looks like a solid entry point to add a few shares in this preeminent energy services play. The company has solid growth prospects, and is selling at a discount to the overall market. It is not the screaming buy it was back in 2012, when I was pounding the table on the stock when it was trading in the low $30s. However, it is a good solid pick in what I consider a slightly overvalued market. ACCUMULATE
Disclosure: The author is long HAL.
The author wrote this article themselves, and it expresses their own opinions. The author is not receiving compensation for it (other than from Seeking Alpha). The author has no business relationship with any company whose stock is mentioned in this article.