By Allen Good
Refining stocks are on course to post strong gains for 2010 after suffering declines the previous two years. Much of the share price appreciation took place in the last few months as the recovery in margins showed resilience. After reaching their lows in the fourth quarter of 2009, refining margins remained anemic in the first quarter of this year. However, they soon recovered in the second quarter buoyed by seasonal factors such as low capacity utilization and rising demand that typically result in stronger crack spreads. At the time we believed that the second quarter would mark a high point for the year and that refiners may find the rest of the year more trying. Instead, several key factors that proved beneficial to margins in the second quarter continued through the end of the year. Other trends later emerged that supported higher margins. These outside factors helped lead to the recent run in refining shares. Now many of the refiners in our coverage universe trade above our fair value estimates, leading us to wonder if further gains are possible. Below we examine several of these underlying trends and attempt to determine whether they will persist.
Improved Inventory Levels
In our last look at the refining environment, we highlighted the positive effect that first-quarter reductions in refining capacity had on inventory levels. At the time, refiners successfully reduced capacity utilization levels to allow for excess inventory levels to be consumed, resulting in improved margins. During the second quarter and throughout most of the third, refiners steadily raised utilization rates in anticipation of the summer driving season. However, thanks to maintenance, utilization levels began to fall again as the summer wound down. As a result, inventories did not continue to build and remained manageable. In the past two months, gasoline stocks have remained within their historical average range. Also, distillate stocks are at the top of their average range after spending the first nine months of the year well above. While product stocks moving into their respective historical average ranges are positive, the trend may not continue. In recent weeks refiners have been increasing production to take advantage of higher oil prices, which will create a greater tax deduction due to LIFO accounting. As a result, percent utilization capacity has increased, while inventory levels--particularly for gasoline--are starting to build. After the year's end, refiners could very well curtail some production to keep inventory levels in check, but those types of responses typically lag. Consequently, we could see inventory levels move back over their historical average ranges if not met with higher demand levels.
Improving Demand Levels
Inventory levels also likely benefited from an improving demand picture. While gasoline demand registered slight gains this year, diesel demand showed greater strength. Examining EIA weekly demand data, we estimate gasoline demand increased on average 0.4% per week through Dec. 17 compared to the same period in 2009. Meanwhile, average weekly diesel demand increased 4.5% for the same period. Given that demand for refined product is largely economically driven, it comes as little surprise the gains coincided with similar improvements in other economic indicators such as jobless claims and GDP growth. As a result, continued demand improvements are likely dependent on economic health. Improving employment statistics will likely portend increasing gasoline demand as the bulk of gasoline is consumed by commuters. Diesel demand will likely pick up with a general increase in economic activity as more trucks, planes, and trains are required. Recent trends suggest a strengthening of demand since most of the year-to-date increases mentioned above came in the second half of the year. Beginning in July, weekly gasoline demand averaged an increase of 1.0% over the same week a year ago and weekly diesel demand averaged an almost 9% increase. If forecasts for continued economic growth come to fruition, refined product demand will likely continue to grow as well, benefiting refiners.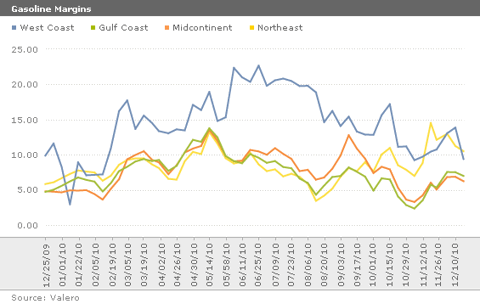 click to enlarge
Robust Export Market
While the aforementioned factors likely contributed to upholding margins since the second quarter, a robust export market made a strong contribution as well. Strong demand that exceeded supply in Brazil and Mexico, in addition to supply issues in Venezuela, offered a lucrative export market into Latin America for Gulf Coast refiners. Additionally, refining disruptions in France combined with demand increases in Germany made Europe an attractive export market as well. During its third-quarter conference call, Valero (NYSE:VLO) revealed its exports averaged about 165,000 barrels per day of diesel and 65,000 barrels per day of gasoline with about 75% of total volume destined for Europe. The availability of an export market absorbed production that would otherwise be distributed throughout the United States. As a result, all U.S. refiners benefited from exports. In addition to refiners with export capability, inland refiners benefited from higher margins thanks to less product availability for distribution inland. As the charts indicate, the stronger diesel margins largely produced the gross margin strength in the second half of the year when gasoline margins moderated.
While some factors that produced the export opportunities may prove to be ephemeral, others could support continued strong international demand. Latin American economies continue to demonstrate healthy economic growth, while it is likely they will continue to run supply shortages due to insufficient capacity. Additionally, the European economy is recovering, which should lead to increased diesel demand. Also, while many French refineries are back on line, future problems could arise as a result of labor disputes or dissatisfaction with government measures to reduce spending. Valero also reported that its exports volumes in the fourth quarter remained at third-quarter levels. EIA data portrayed a similar story with weekly exports of refined product, particularly distillate, increasing steadily since June. Additionally, China recently began importing diesel for power generation as government controls limiting the amount of electricity produced from power plants are causing a supply shortage. Also benefiting U.S. refiners are low operating costs thanks to sustained low natural gas prices. Combined with recent investments to increase diesel production and a weak dollar, U.S. refiners are highly competitive on the global market; this should continue to support export volumes.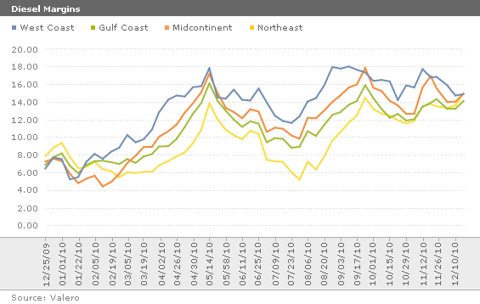 Individual Company Issues
While macroeconomic conditions and industry dynamics combined to boost refining margins, conditions such as asset sales or strategic initiatives specific to individual refiners likely resulted in share price appreciation as well. Sunoco (NYSE:SUN) (54% gain year to date) announced a strategic shift away from refining and toward its marketing and logistics businesses. The company also announced plans to spin off its coke business in 2011 and more recently sold its Toledo refinery. Western Refining (NYSE:WNR) (117%), which realized some of the largest gains this year, reduced a portion of its heavy debt load thanks to improved conditions, which helped to alleviate investor fears of bankruptcy. Holly (HOC) (64%) also saw its shares rise as it capitalized on an improved refining environment with its advantageously positioned asset base. While it lagged peers, Valero, (39%) still made progress in upgrading its portfolio by selling two underperforming refineries and cutting costs. Meanwhile, strong West Coast gasoline margins helped Tesoro (NYSE:TSO) (43%) offset the effects of a refinery accident. Given that its two refineries are located in the midcontinent, Frontier (NYSE:FTO) (55%) saw a benefit from higher distillate margins and wider differentials on Canadian heavy crude. Each of these idiosyncratic issues likely helped drive shares higher in addition to the above factors.
Is There Additional Upside?
Refiners certainly have had an impressive run this year, but it will likely be difficult to register further gains. We have often pointed to the long-term headwinds U.S. independent refiners face that will likely limit profitability and result in industry downsizing. However, some of these factors, including adoption of fuel efficient vehicles, carbon legislation, and increased bio-fuel usage, will likely play out over the long term. Instead, continuation of a robust export market and economic recovery will play a larger part in the near term. As we mentioned earlier, we expect the export market to remain a viable option for those refiners with export capability. Demand from emerging markets will likely remain strong, while supply issues are unlikely to be resolved quickly. Also, with abundant supplies, natural gas prices should remain low, enabling U.S. refiners to remain globally competitive. Demand for refined product should also continue to rise in the U.S. as the economy recovers and unemployment abates. Additionally, as crude oil prices rise, differentials should widen, providing additional margin expansion for those refiners able to produce heavier crudes.
These trends bode well for margins remaining at current levels or advancing further, but risks remain. Recently, China has moved to raise interest rates to combat building inflationary pressure. Other emerging economies could act similarly, which would take a toll on international demand and cut into exports. Also, a U.S. economic recovery could slow or continue without significant reductions in unemployment. This would likely result in slowing domestic demand growth. Another risk is that rising oil prices create higher prices at the pump for consumers, resulting in reduced consumption, or worse, a recession. Additionally, refiners may ramp up capacity to capture higher margins, producing excess inventory while deflating margins. With an improvement in conditions, Valero recently announced it would reopen its Aruba refinery, bringing additional capacity back on line. Other refiners with shuttered facilities could follow suit.
Our fair value estimates typically assume slight improvement in refining margins over our five-year forecast period. Given that we have already witnessed significant margin improvement, we see refiners fairly to slightly overvalued at today's prices. The factors are likely in place to sustain margins at current levels. If that is the case, further share price gains are unlikely. However, given refiners' significant operating leverage, additional margin gains could drive shares higher. This is also a distinct possibility considering that it usually takes time for the market to accurately reflect changes in inventory and demand levels. Conversely, a refiner's operating leverage could result in significant price declines with any margin weakness. Given our long-term outlook for muted refining margins, we believe the downside risk likely outweighs any upside at this point despite the potential for further gains. For an estimate of where stock prices could go if additional margin increases materialize, see our valuation sections on our site for each of the companies we've mentioned, where we offer scenarios that include much higher margin assumptions.
Disclosure: None