Investors will need to keep an eye on this convoy that Russia sent into Ukraine without oversight of the Red Cross or even red cross logos on the side of the vehicles. We figured that Russia would do something to show strength while also testing the West to see what the reaction would be and this might very well be it. Russia has closed certain American restaurants in Moscow and now launched this incursion into Ukraine without permission, so one should not be surprised if the West looks to do some saber rattling in the next few days.
Chart of the Day:
Copper continues to show strength, rising strongly today by about 1%. We are still not at monthly highs for copper, but it appears that momentum continues to build. This is good news for those who continue to believe that copper has a doctorate in economics as it could be pointing to better economic times ahead. We would argue the doctorate in economics, but do think that copper is pointing to stronger economic growth coming from China than many are estimating.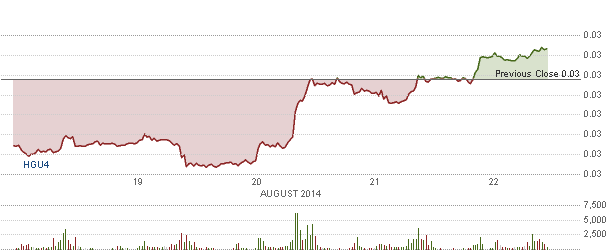 Source: CNBC
Commodity prices are as follows (at time of submission):
Gold: $1,280.90/ounce, up by $5.50/ounce
Silver: $19.435/ounce, up by $0.02/ounce
Oil: $93.38/barrel, down by $0.58/barrel
RBOB Gas: $2.7325/gallon, down by $0.015/gallon
Natural Gas: $3.858/MMbtu, down by $0.031/MMbtu
Copper: $3.208/pound, up by $0.032/pound
Platinum: $1,420.30/ounce, up by $1.00/ounce
Bakken
As we have written many times before, the flaring issue in North Dakota is a big deal and will continue to be a big deal until the industry moves towards gathering more natural gas and not being so wasteful. We are pro-drilling in the US, both onshore and offshore, but recognize and respect the points made by those who oppose more drilling; especially when they point to all of the wasted energy in the Bakken.
While the new laws and regulations passed by North Dakota will go a long way in helping force compliance by drillers in collection efforts, the largest companies in the area need to do more to prevent the environmentalists from gaining traction in the region. EOG Resources (NYSE:EOG), Continental Resources (NYSE:CLR) and Whiting Petroleum (NYSE:WLL) need to lead the push because they have the scale and the resources to fast track this initiative and bring the smaller producers along by having the pipeline companies constructing pipeline projects with sufficient natural gas capacity sooner rather than later.
Power Deal
Dynegy (NYSE:DYN) shares are up strongly today after announcing that it will be purchasing $6.25 billion in Midwest commercial generating assets from Duke Energy (NYSE:DUK) and Energy Capital. Duke Energy will receive $2.8 billion for the assets it is selling and Energy Capital will receive $3.45 billion. Dynegy will nearly double its capacity once the transactions close and expects to realize cost savings in the neighborhood of $40 million annually. The deals are also expected to be accretive to 2015 EBITDA and free cash flow.
Oil Company In Play
This chart is certainly not indicative of a company in play, but with Carl Icahn involved we would expect a deal of some sort sooner rather than later.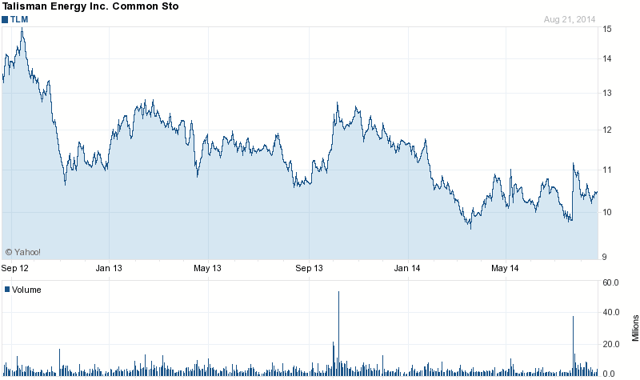 Source: Yahoo Finance
There continues to be talk about a potential deal for Talisman Energy (NYSE:TLM), especially as Carl Icahn remains committed to helping shareholders realize the hidden value. It is a funny situation to be sure, because the company was already selling certain assets in order to pay down debt and operate within cash flows generated by operations and asset sales. The shares remain depressed as the company has been unable to find a buyer for its Eagle Ford assets and the latest property it will put up for bid is in Iraqi Kurdistan. Generally that would be a positive, but with the latest battles being fought between the Kurds and ISIS many in the industry have evacuated staff and view the region as volatile and inoperable right now.
Disclosure: The author has no positions in any stocks mentioned, and no plans to initiate any positions within the next 72 hours.
The author wrote this article themselves, and it expresses their own opinions. The author is not receiving compensation for it (other than from Seeking Alpha). The author has no business relationship with any company whose stock is mentioned in this article.