Approximately a year ago in August 2013 I wrote an article about the veterinary care company then called VCA Antech (NASDAQ:WOOF) outlining the opportunities and risks facing it. Since June 2014 the company is known as VCA Inc. in an effort at rebranding. It operates over 600 veterinary hospitals as well as a network of laboratories in the United States and Canada. In this article today I will refresh that analysis and attempt to re-evaluate the company based on updated information.
Recent Financial Performance
The company released its second quarter financial results last month. It reports its financials in three major segments; Animal Hospital, Laboratory and All Other. It beat consensus estimates on earnings with an EPS growth of over 10% in Q2 2014 versus prior year. Revenue missed analyst expectations but still expanded by 5.2% over the previous year.
The last time I reviewed VCA Inc., I was concerned about the lack of revenue growth in their largest segment, that is, Animal Hospital, which accounts for about 76% of total revenue. For the six months ended June 30th 2014 revenue in this segment expanded by 4.6% year-over-year. In Q2 the same figure was 5.9% out of which 2.2% was organic growth whereas the rest came from acquisitions. While this growth is not impressive, it is a good start to improving the top line. Another positive development was expansion in gross margins both at a total and same store level. Management has indicated that there is still room for margin expansion in the future. The company has also continued with acquisitions, adding 6 new hospitals so far with more in the pipeline for the remainder of the year.
Revenue growth in the Laboratory segment was 3.3% over prior year for the six months ended June 30th, 2014. Separately organic revenue growth in the second quarter over previous year in labs was over 5%. This category reported improved profitability as well with expanded gross margins. While the number of requisitions was down, it was the smallest decline in recent history. Also the company added 2 new labs to its network.
The All Other segment reported an approximate 7% decline in revenue year over year but it was due to a onetime hit from the destruction of the Sound Eklin facility in Carlsbad from wildfire.
Price and Valuation
Since I wrote about WOOF one year ago its price has risen approximately 42% from $27.29 to $38.98. For reference the S&P 500 has risen 21.7% in the same referenced period. The following chart shows the movements in the closing share price of the company along with the highest and lowest closing price in this approximately one year period.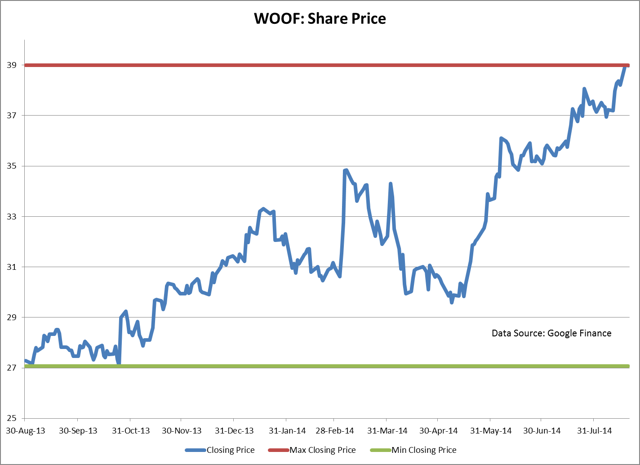 Interestingly when I wrote my last article about VCA Inc., its trailing twelve month (NYSE:TTM) P/E ratio was very high at over 50, even though the forward P/E was expected to be at a much more reasonable level around 16. With improved earnings performance in past quarters the company is trading today at about half of that ttm P/E of about 24 which is closer to historical levels.
Growth Potential
Universal Appeal: As I outlined in my last article, there is a high proportion of pet owning households in the United States. Estimates range between 70-83 million pet dogs and 74-95 million pet cats. I think that the universal appeal of pets to different demographic groups is likely to continue whether the population has a mix of the elderly with companion animals, families with children and family pets, or young, single professionals in apartments with smaller pets.
Pet Care Expenditure: Additionally the general sensibility in the United States of treating pets as members of the household also increases the likelihood that pet owners will continue to spend money on the health and well-being of their animals. In my last article I quoted the American Pet Products Association (APPA) which forecasted total expenditure on pets in the United States would be upwards of $55 billion in 2013, that is an increase of 4% over 2012. Actual figures for 2013 available now on the website show that $55.72 billion was actually spent on pets in the United States. The current forecast for 2014 is $58.51 billion with $15.25 billion being on Vet Care. This implies acceleration in total expenditure growth to 5% in 2013-2014 compared with 4.5% in 2012-2013. In fact expenditure on Vet Care is expected to grow slightly faster at 6.1% between 2013 and 2014.
Pet Insurance: According to statistics provided by the North American Pet Health Insurance Association (NAPHIA) the pet insurance industry has been growing over 13% annually since 2009 and the North American market is estimated to be about $595 million. It estimates that there are over I million insured pets in North America which suggests that there is still room for a lot of expansion in this field which would benefit a company like VCA , Inc.
Overall
VCA Inc. has an expanding network of hospitals and labs that position it to take advantage of these industry trends. Management plans to continue to use capital for a combination of share buybacks as well as acquisitions. Also since I reviewed it last the company has kept up its good margin performance while slowly improving its revenue growth. There has been a focus on increasing overall wellness visits that generate higher priced orders and reducing lower priced orders. The company has also continued to introduce new programs such as CareClub for wellness and Cattitude for care of pet cats. It recently acquired pet daycare and overnight board franchise Camp BowWow. Although there is still more to be desired on that the revenue growth front, but there has been an effort to improve it. Overall, I think that WOOF could be a good addition to a long term investment portfolio.
Disclosure: The author has no positions in any stocks mentioned, and no plans to initiate any positions within the next 72 hours.
The author wrote this article themselves, and it expresses their own opinions. The author is not receiving compensation for it. The author has no business relationship with any company whose stock is mentioned in this article.
Additional disclosure: I am a self-taught individual investor and this article expresses my views based on my own research and is not professional investment advice. I am not being influenced or paid by any organization to write this article.