Way, way back in October of 2011 I wrote an article on Canadian horizontal oil and gas producer Bellatrix Exploration (NYSE:BXE) that suggested that there was 250% upside in the share price.
How have things gone since then? Just terrifically thank you.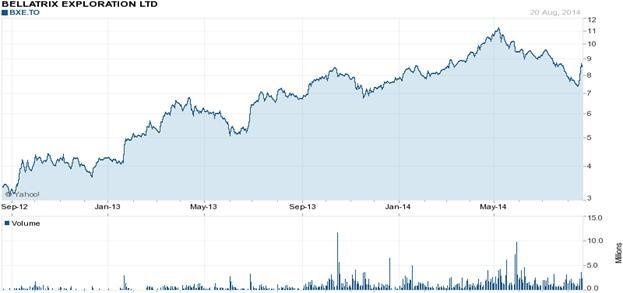 Source: Yahoo Finance
When I wrote the article Bellatrix shares were trading in Canada at $4.43. Today shares are nearly $9 and have been as high as $11 in May of 2014.
As a shareholder of three years I am more than happy with how Bellatrix has performed and how the company has been run. The growth strategy has been quite aggressive and successful.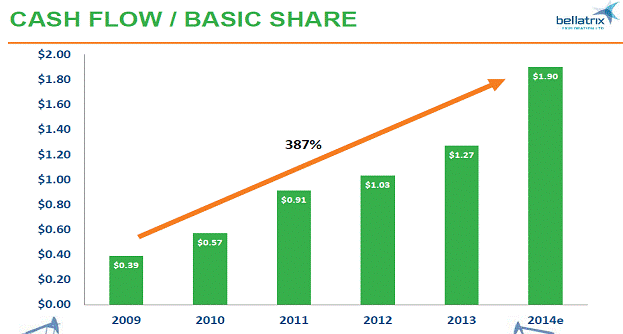 Source of all slide images: Bellatrix Exploration August 2014 Presentation
Cash flow per share has increase by nearly five times since 2009. It is important to note that Bellatrix is a natural gas weighted producer, so this is not a commodity price driven increase. Natural gas prices have been a headwind for Bellatrix and despite that the company has thrived.
It has thrived because it has excellent assets and has executed very well in developing them. All of the type curves for Bellatrix's main property (the Cardium) have half cycle rates of return over 100% and pay out periods of under one year.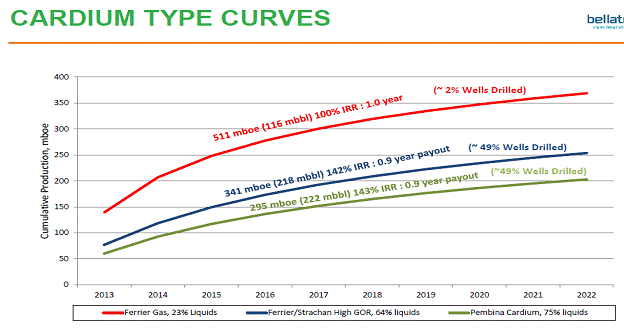 I would also point out that Bellatrix shares have soared while its peer group has seen a fairly difficult Canadian stock market since 2011. The Canadian market hasn't been going straight up like US markets. The Bellatrix share price has thumped its peers.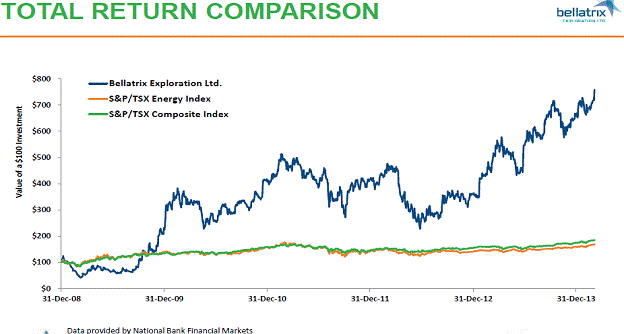 As a happy shareholder, I was therefore quite surprise to learn that Bellatrix had become the target of an activist investor firm called Orange Capital, which announced that it had acquired 5.3% of Bellatrix's shares.
In its 13D Orange Capital stated that it was looking to maximize shareholder value and discuss the following issues:
- hiring an independent financial advisor tasked to provide the Board with recommendations on strategic alternatives, capital allocation and improved investor communications
- the size and composition of the Board
- steps to raise the Issuer's valuation to be in line with its intrinsic value, which current valuation is well below the Issuer's intermediate sized company peers in the Canadian exploration and production sector (based on both price to proved-developed reserves and on enterprise value to debt adjusted cash flow)
- refraining from future dilutive equity issuances and outlining a clear use of proceeds for all newly raised capital
- exploring alternatives to highlight the value of the Issuer's infrastructure assets, including but not limited to improving disclosure on the cost and fair market value of the Issuer's midstream infrastructure and / or exploring a possible joint venture, initial public offering or sale of the Issuer's midstream assets.
To which I say "are you kidding me"? Since taking over True Energy Trust in late 2009 current Bellatrix management has nearly quintupled cash flow, increased proved and probable reserves eight time, and had a stock price that has thrashed its peers and the market.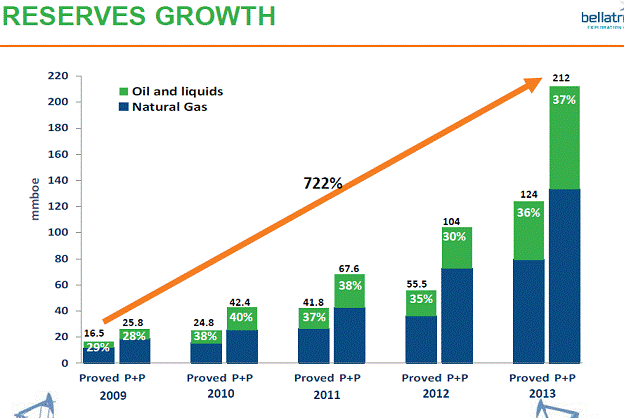 This is not a company whose shareholders need rescuing.
Now, I'm not saying that things at Bellatrix have been smooth sailing every single month. The company has undertaken a very aggressive growth strategy and it did not plan very well for the infrastructure requirements of that growth.
There was also the issue of a strange share issuance earlier this year where the size of the deal had to be downsized and the need for the cash infusion was not well communicated.
But that is business, and life. Things never go exactly as planned.
As a long-term shareholder I say "leave us alone," Orange Capital. Ray Smith and his team have done very well by me and I don't need a short-term focused activist getting in the way of great long-term opportunity.
Yes, I'd agree that Bellatrix shares are not currently fairly valued by the market. The company currently trades at just over 4 times Enterprise Value to full year 2014 Cash Flow and well under $50,000 per flow barrel on 2014's exit rate. Similar companies trade for 7 to 8 times Enterprise Value to cash flow.
But a poor valuation doesn't mean that we need an outsider getting in the middle of a successful operation. We only have to look back to May to see where the share price was almost 40% higher, so perhaps we should just apply a little bit of patience.
Surely there are other companies more in need of an activist intervention than this one.
Disclosure: The author is long BXE.
The author wrote this article themselves, and it expresses their own opinions. The author is not receiving compensation for it (other than from Seeking Alpha). The author has no business relationship with any company whose stock is mentioned in this article.