R.R. Donnelley & Sons Company (NASDAQ:RRD) is a Fortune 500 company headquartered in Chicago, IL that provides print and print-related services. In other words, the company helps organizations communicate more effectively by working to create, manage, produce, and distribute content on behalf of its customers. The company assists customers in developing and implementing communication strategies through various platforms that engage audiences, reduces costs, drive revenues and increase compliance.
Over the past 3 months, the stock has returned nearly 13 percent as shown below, while also returning capital back to its shareholders in the form of a healthy $1.04 dividend, producing a yield of 6.50 percent.

Additionally, the company posted strong financials for the second quarter for 2014. Net sales grew 12.9 percent from the second quarter of 2013, largely due to the acquisitions of Consolidated Graphics and the North American operations of Esselte. However, net earnings attributable to common shareholders came in at $64.7 million, or $0.32 per diluted share, down from $65.4 million, or $0.36 per diluted share, from the same quarter of the prior year. This was mainly a result of the diluted share count increasing by 18.2 million shares between the second quarter of 2014 and 2013, primarily related to the new shares issued in connection with the acquisition of Consolidated Graphics and the North American operations of Esselte. The share dilution resulted in a drop in the stock's price at the beginning of the year, but the F500 Company has since recovered.
In recent news, R.R Donnelley has been praised for its success in its global markets. On August 11th, the printing giant announced that its Global Outsourcing Services had been recognized in Asia's Best Employer Brand Awards for 2014. Not more than a few days later, Donnelley declared they had been awarded a five year, multi-service contract by Allianz Insurance to provide onsite creative design services along with print management and transactional print services. And on August 6th, R.R. Donnelley & Sons Company announced it had been named a 2014 Partner in Transformation by Sears Holding Company. The printing giant supports Sears Holdings' operations and strategic initiatives by supplying newspaper circulars, direct mail, in-store graphics, and logistics services. This award is especially prestigious, as it is given to less than half a percent of Sears' 30,000 suppliers. It is evident that Donnelley excels in the printing industry's current landscape, but as technology becomes more sophisticated, R.R. Donnelley will have to figure out how to adapt in order stay competitive.
Future in Printed Electronics
The company began looking for new lines of business about five years ago, as traditional ink-on-paper printing revenue has been on a downward spiral since 2000, only accounting for 24 percent of total sales in 2013, down from 70 percent in 2010.
CEO Thomas J. Quinlan III believes printed electronics could have the potential to become one of RRD's strongest product lines down the road. The company is currently looking for growth in the market for printed electronic parts, such as thin, bendable RFID antennas, sensors, and batteries. Printed electronics refers to a range of technologies in which printers manufacture electrical devices on various substrates. The market for printed electronics shows promise, but the competition is immense, with companies such as Palo Alto Research Center Inc. and the Xerox Corp. (XRX - NYSE) also developing printable electronics that can easily print on plastics, film and textiles.
R.R. Donnelly is currently constructing prototype antennas and thin, flexible batteries for a range of sensor-embedded labels, which are pieces of clear film with ultra-thin electronics printed on their surface with electronically conductive ink. The sensors can measure shock and tilt, the presence of specific chemicals, humidity, light or the fluctuation in temperature for, say a heat sensitive shipment over a 48-hour period.
Donnelley buys some of the sensors and makes others. In 2011, the corporate titan took an equity position in Solicore, the leader in embedded power solutions. R.R. Donnelley prints the ultra-thin batteries and antennas onto the film and integrates additional electronics using its own process. The result looks something like a clear sticker with an image on the front. Donnelley is also testing printed batteries as a potential power source for credit cards providing security data, which will feature lighted images or a stream of PIN codes.
According to MarketsandMarkets, a global market research firm, the thin film and printed battery market was valued at $181.5 million in 2012 and is projected to reach a net value of $1.21 billion by 2017, translating into a compound annual growth rate of 46.14 percent. One of the biggest growth opportunities for flexible batteries is credit and debit cards, as printable batteries allows the card holder to store more security data and account related data on the card itself, as a tool to prevent theft and fraud. With billions of credit and debit cards currently issued, there is clearly a widely-established market for this technology.
However, this is by no means a niche product. The applications for these printable batteries are only restricted by the imaginations of the design engineers. For example, printed batteries can be used in transdermal delivery patches for cosmetics and pharmaceuticals and wireless micro-sensor products for healthcare and logistics.
Limitations
The disadvantage of these printed batteries is that they have low energy density and are not rechargeable. While the prices for the batteries are competitive, the inability to recharge the battery detracts many potential customers. Donnelley is working to further lower product costs by developing new inks and integration processes and forecasts that revenue will increase as much as 12.7 percent this year from $10.5 Billion to $11.8 Billion. This would be a huge jump compared to the one percent gain in 2013. The printing process for these batteries is extremely scalable and customizable, making them the clear choice for any application where thinness or flexibility is vital.
According to Harry Zervos, principal analyst with IDTechEx, the printed electronics market still faces significant challenges. Regarding printable antennas, the passive RFID tags market will generate sales of $9 billion this year, while only one percent of antennas for those devices are printed. The majority are still made using a process called chemical etching, a procedure that is currently under heavy international investigation due to the use of dangerous chemicals.
If R.R. and Donnelley is able to develop consistent and dependable printable electronics it will have no problem growing its customer base. The giant printing corporation has the brand, resources, and R&D dollars needed to expand the printable electronics market.
Algorithm
I Know First uses an advanced self-learning algorithm based on artificial intelligence, machine learning, and artificial neural networks to predict the flow of money in almost 2000 markets from three days to a year. This algorithm provides traders with a tool they can use to identify new investment opportunities in addition to their own analysis. The algorithmic forecast- when coupled with the necessary due diligence - can be effectively used to determine entry and exit points on individual equities, such as RRD.
This is not the first time R.R. and Donnelley has been on the algorithm's radar. The chart below shows the algorithm's daily forecast for the three day, seven day, 14 day, 30 day, 90 day, and one year time horizon for the past five months. On March 17th 2014, the algorithm indicated a sell for RRD and it dropped nearly 16% in the 10 weeks that followed. On May 14th, the signal line jumped above RRD's price line, indicating a buy, and the stock has been on a tear ever since.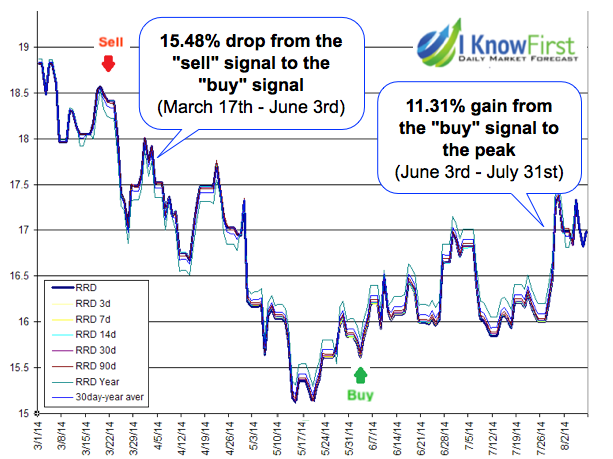 RR Donnelley was also a top stock pick in our aggressive stock forecast issued May 16th, which can be seen in the figure below. This forecast is a component from our Risk Conscious Forecast, and comes with two distinct forecasts. We determine our aggressive stock picks by screening our database daily for higher-volatility stocks that recently moved often strongly up or down. These aggressive stocks present more opportunities, but are also more risky. Our conservative stock picks are determined daily by screening our database for lower-volatility stocks that are subject to less risk.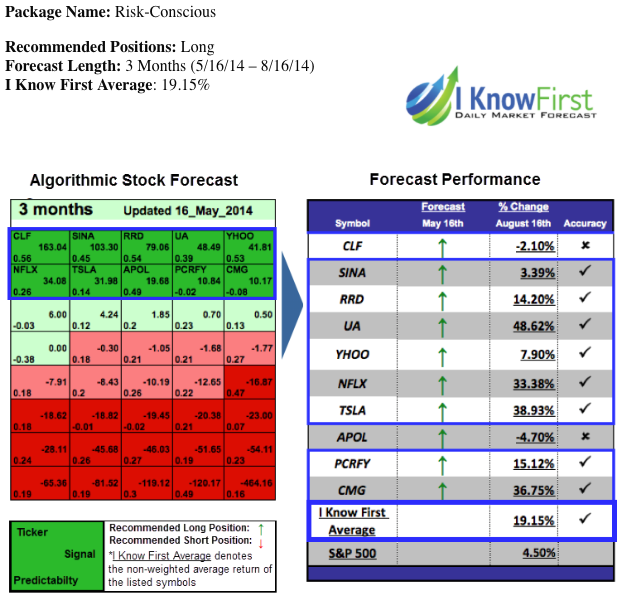 The color-coded forecast is very easy to read, where green indicates a bullish signal and red indicates a bearish signal. Deeper greens signify that the algorithm is very bullish, and vice-versa for deeper reds. The signal is the number flush right in the middle of the box and the predicted direction (not a specific number or target price) for that asset, while the predictability is the historical correlation between the prediction and the actual market movements. In other words, the signal represents the forecasted strength of the prediction, while the predictability represents the level of confidence. These are two independent indicators, but consider both as you make your own analysis. The image below shows the latest algorithmic forecast for RRD in the one month, three month and one year time horizons.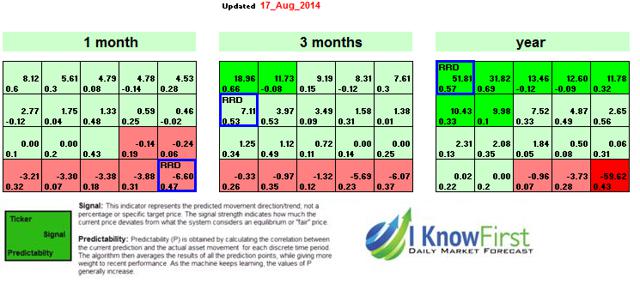 Conclusion
Having been in business for well over 100 years, R.R. Donnelley understands how to stay competitive in a rapidly evolving printing market. The Chicago based company has recognized that the demand for printable electronics is expected to ramp up in the near to long term time horizon and has positioned itself accordingly. Not only has it taken a stake in Solicore, the pioneer in lithium polymer battery strips, but the printing giant has started manufacturing printable electronics via its own printing process. Printable batteries, antennas, and sensors have proven to be effective, and as RRD's supply chain improves and costs are brought down, it will have no trouble penetrating new markets and growing existing ones. The I Know First Algorithmic forecast supports this analysis with an extremely bullish outlook for the one year time horizon. While our technical indicators do point to uncertainty in the next few months, this stock is a clear buy for the long term hold.
Disclosure: The author has no positions in any stocks mentioned, and no plans to initiate any positions within the next 72 hours.
The author wrote this article themselves, and it expresses their own opinions. The author is not receiving compensation for it (other than from Seeking Alpha). The author has no business relationship with any company whose stock is mentioned in this article.