By David Russell
Arch Coal (ACI) is ripping to a new multi-year high today, and some traders are cautiously wading into the name.
optionMONSTER's Depth Charge tracking system detected the purchase of 2,573 January 35 puts for $0.78 and $0.79 against open interest of 1,086 strikes.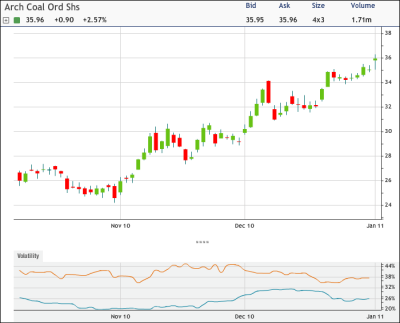 It's noteworthy that traders chose the $35 level because that's where the coal producer hit resistance last month before pulling back and where it bounced in September 2008 as the broader market was imploding.
Traders often use such levels to manage risk. In the case of today's activity, it appears that they wish to remain long ACI, but want protection below $35. They may think that the bullish thesis is invalidated if it falls back below that level.
The stock gapped higher at the open after closing slightly above $35 last week and is now up 3.19 percent to $36.18 in morning trading. Earlier it touched $36.30, its highest price in more than two years.
There is also selling in the January 35 calls, which traded about 700 contracts. Volume was below open interest, suggesting that some traders may be taking profits amid today's pop in the shares.
Overall option volume in ACI is 5 times greater than average today.

Disclosure: No position