By Chris McKhann
Option traders have been active lately in LyondellBasell Industries (NYSE:LYB), and today the plastics and chemical company is seeing more calls changing hands.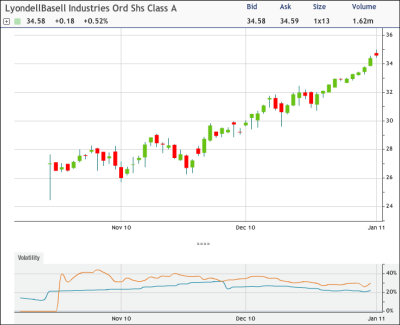 Today's volume is in the January calls, with more than 15,000 each at the 32.50 and 35 strikes. The 32.50 calls were sold for $2.25 against open interest of 18,323 contracts, so this could be a closing transaction. The 35 calls were bought for $0.80 at the same time, with a previous open interest of just 700.
We can't be sure if the action at the lower strike was done to open or to close but, if it was to open, it would be a credit spread that would take its maximum profit with LYB below $32.50 at expiration. If it was a closing position, then this is simply a roll to a higher strike to collect a profit in premium and continue upside exposure.
LYB is trading this morning at $34.63, up 0.67 percent on the day. It hit $34.99 earlier in the session, a new all-time high. Given that price and the strikes used, the latter explanation of a rolle makes much more sense, so it appears that the trader remains bullish while taking some profits off the table.

Disclosure: No position