One quick review of the financials and it's easy to see that Under Armour (NYSE:UA) is lacking in the footwear and International areas and especially when it comes to basketball sneakers. While it might not seem obvious that the high-flying sports apparel firm would need the marketing might of NBA superstar Kevin Durant, the numbers in those categories compared to Nike (NYSE:NKE) suggest otherwise.
Under Armour continues to grow revenue at a near 30% clip so it seems counterintuitive to think the company needs any marketing help. Where it lacks in International markets and basketball footwear, a NBA superstar could quickly help improve brand recognition. If one assumes that 80% YoY International growth is a problem.
According to sources, Under Armour has offered Durant a 10-year contract for between $265 to $285 million that Nike now has to match or risk losing the MVP. The yearly amount of around $27.5 million would easily surpass the roughly $21 million the Oklahoma City Thunder will pay him annually to play the next two seasons. The footwear and apparel deal with Under Armour reportedly includes some other incentives such as stock incentives, a community center built in his mother's name and the close proximity of their headquarters to where Durant grew up.
In reality, investors don't really care why Durant would want to sign with Under Armour. The important details are the benefits of signing him for a hefty sum of money to the brand including the fact his KD brand generated $175 million at retail last season.
Reviewing the last quarterly report, the management team was highly focused on growing the footwear and International segments. These segments trail sportswear by a long shot and when counting only the basketball shoes portion of footwear, the combination counts for less than 10% of revenue.
International Potential
In Q214, international revenue grew 80% YoY to reach $51.6 million. International revenues only accounted for 8% of net revenues at Under Armour. A very small level for a well-established brand expected to reach $3 billion in annual sales in 2014.
This is where the comparison with Nike comes into play. Nike has a vastly different global span that Under Armour aspires to match in the future. Nike obtains over 53% of quarterly revenue from International locations. In fact, the sports apparel leader gets more than 10% of revenue from the Western Europe, Greater China, and Emerging Markets divisions.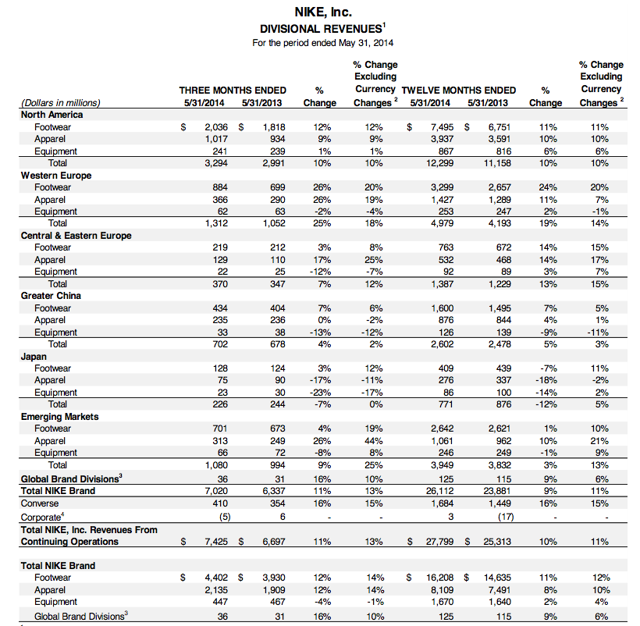 Click to enlarge
The real key take away from the above table of the divisional revenues at Nike is that International and footwear matter the most.
Basketball Shoes
The estimates suggest that only 1% of Under Armour revenue comes from basketball shoes. Clearly Kevin Durant would solve that problem in a heartbeat with Nike producing $175 million in sales last year from the superstar. On top of that, Nike obtains a majority of revenue from footwear and a significantly larger amount than the $109.5 million Under Armour did in Q214.
From the table below, one quickly sees why Under Armour would target a basketball star. Outside of sports apparel that the company already has covered, running and basketball are the higher revenue generators for Nike. On top of that, the table in the above section showcases how the main revenue generator for Nike is footwear with apparel secondary.

Click to enlarge
Conclusion
Sure Under Armour spending around $27.5 million annually on Kevin Durant seems extreme with the amount equaling roughly 10% of the marketing budget, but his addition helps accelerate a couple of weak categories. The global nature of basketball will help raise awareness outside the US, while his basketball shoes would make Under Armour a legitimate threat in that category.
After the recent run, it's a little late to buy the stock trading at nearly 60x forward earnings. A deal with Kevin Durant that ultimately helps grow the brand internationally and within the basketball category makes the stock one to own on dips with years of strong growth ahead in those underserved categories.
Disclosure: The author has no positions in any stocks mentioned, and no plans to initiate any positions within the next 72 hours.
The author wrote this article themselves, and it expresses their own opinions. The author is not receiving compensation for it (other than from Seeking Alpha). The author has no business relationship with any company whose stock is mentioned in this article.