Best Buy - Another Pop After Earnings?
At least one well-known market commentator has recently said to "buy buy buy" Best Buy (NYSE:BBY):
"When I see stock up on bad results, I want you to buy Best Buy."
Well, then, that's pretty definitive. Our motto, though, is trust, but verify. And we find upon further investigation that at least one other respected prognosticator does not agree and thinks that Best Buy is far from being a good buy.
So, let's take a look at Best Buy and decide for ourselves.
Best Buy will report earnings for the second quarter of its fiscal 2015 ahead of the open on Tuesday 26 August 2014. If the market reaction is anything like the one to second quarter earnings in August 2013, the longs will be singing a sweet tune all day long. After its earnings report a year ago, the stock popped 13.2% the following day, 16.5% over the following week, and 18.3% over ten days. Are we in for another strong quarter? Let's take a look.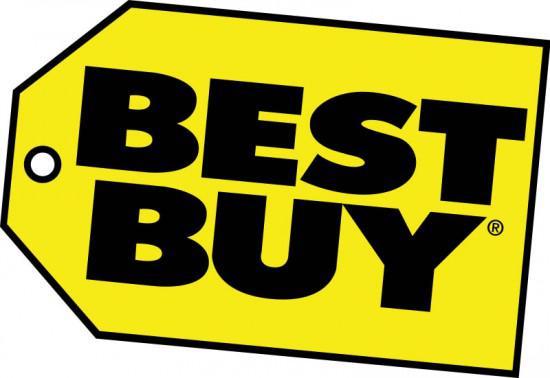 Retailers Have Been Shaky This Earnings Season
Reports from the major retailers this earnings season have been mixed. Home Depot beat expectations with solid numbers that sent the stock price soaring, with same store sales numbers up almost 6% for the quarter. However, other major retailers such as Macy's (NYSE:M), Wal-Mart (NYSE:WMT) and Sears (NASDAQ:SHLD) have reported weak numbers. Macy's had cut its 2014 same-stores sales forecast from a 2.5-3.0 increase to a 1.5-2.0% increase, while Wal-Mart cut its 2014 earnings guidance from $5.10-5.45 per share to $4.90-5.15 per share. Sears Holdings reported that it lost $573 million during the quarter.
Thus, it has been feast or famine in the retailing space. On which side of the divide will Best Buy fall?
The company is aggressively trying to move its merchandise this year. It adopted a fledgling industry trend and held a "Black Friday in July" event during the final week of July that may have helped sales numbers. Fancy new in-store showrooms display the latest ultra High-Definition indulgence, called 4K and supposedly providing pictures that are four times as sharp as regular high definition sets. Naturally these are pricey sets with high margins. Hopes are high that these will catch on better than the fancy 3D sets of yore which gathered cobwebs on shelves a few years ago.
However, despite the sales initiatives, last holiday season was a disaster. Shares fell 28.6% the day the chain announced its holiday revenues on 16 January 2014, and continued falling for the remainder of the month. The reported revenues were not completely catastrophic, but they were slightly lower than the previous year despite an improving economy and the company's comments that accompanied them were not encouraging.
So, just like last August, longs hope that Best Buy once again exceeds analyst sales expectations during the hot summer months. The kids are home from school and anxious to be able to brag to their classmates about having tried out the latest high tech television, so sales may be strong again due to all the promotions. However, the dark cloud of the calamity of January still hangs over the shares.
A Shark in a Shrinking Ocean
There's no getting around that Best Buy's business shows the signs of a long-term decline. It has been getting bad press for years as a chain that "will be gone in five years."
The list of Best Buy's competitors that have largely (but some not completely) disappeared begins with Crazy Eddie, cycles through Circuit City, Sam Goody and (Nobody Beats) The Wiz (somebody did), and most recently added the venerable J&R (though it may be back). Some competitors have given up and now are online only, such as CompUSA Inc., which closed its brick-and-mortar stores in 2007. Others are confined to discrete geographic regions, such as the New York area P.C. Richard & Son, which has been family-owned since its inception in 1909 and happy to stay local. Online competition is only getting fiercer, and technology appears to be passing by brick-and-mortar outlets that rely on sales of DVDs and video games along with fancier electronics.
However, Best Buy has survived, and there's a lot to be said for that. And there may be a way that it could survive indefinitely, which we will get to below. But the short term remains cloudy.
The shares are down 21.5% this year, in large part because of those weak holiday sales. So, a lot of traders have been betting against Best Buy.
Best Buy Compared to its Competitors
Best Buy has competitors squeezing it from two different directions: the big box stores such as Wal-Mart, which are competing both on price and convenience, and the completely or primarily online retailers such as Amazon (NASDAQ:AMZN) and Apple (NASDAQ:AAPL).
Direct comparisons are difficult, because many of Best Buy's top competitors sell electronics as only part of their product lines, such as Wal-Mart and Amazon. However, a look at their respective financials does illustrate Best Buy's strengths and vulnerabilities.
By several metrics, Best Buy is cheap. It has a price/earnings ratio of only 10.17, which compares favorably to Apple at 16.86, Wal-Mart at 15.61, Amazon at 518.66, and the overall S&P 500 over 19. Price per sales also are low at 0.26, compared to Amazon at 1.9, Apple at 3.38 and even Wal-Mart at 0.50.
On the other hand, one metric that leaps off the page is the size of Best Buy's work force compared to its revenues. With 140,000 employees, Best Buy has more employees than both Amazon (117,000) and Apple (80,300), though far fewer than Wal-Mart's 2,000,000.
Let's craft our own metric from those provided to shed some light on the problem. We will divide annual revenue by number of employees.
| | |
| --- | --- |
| Best Buy | $300,714 |
| Amazon | $697,016 |
| Apple | $2,218,430 |
| Wal-Mart | $240,240 |
Source: Yahoo Finance
Best Buy compares favorably with fellow brick-and-mortar competitor Wal-Mart, which is hampered in this metric by its huge distribution network necessary to provide its wide variety of products. Amazon, though, is over twice as efficient despite also having staff to stock and ship a full spectrum of products. Apple shows the extreme efficiency of primarily online operations that simply sell electronics, though of course its premium brand is a major asset.
The implication from these figures is that, for the revenue it generates, Best Buy is over-staffed relative to its competitors. Best Buy has undertaken cost-cutting measures that suggest it realizes that problem.
Some brick-and-mortar operations will always be necessary - walking or driving to do some grocery shopping is probably never going away. However, others are not. In order to survive over the long haul in the face of its rivals' efficient operations, Best Buy needs to show that its electronics stores are not just handy, but necessary - or find another plan entirely.
So, Let's Look at the Financials Then
Looking over a company's balance sheets invariably gives us clues as to its situation and future prospects.
Best Buy's Performance for Each Fiscal Year
Year

Revenue

($millions)

Gross Profit ($millions)
Gross Profit % Revenues

Net Earnings

($millions)

EPS ($)
Div
2007
35,934
8,769
24.4%
1,377
2.79
.36
2008
40,023
9,546
23.9%
1,407
3.12
.46
2009
45,015
10,998
24.4%
1,003
2.39
.54
2010
49,694
12,160
24.5%
1,394
3.10
.56
2011
49,747
12,541
25.2%
1,277
3.14
.58
2012
50,041
12,390
24.8%
(1,323)
(3.57)
.62
2013
43,913
10,365
23.6%
(249)
(0.73)
.66
2014
42,410
9,690
22.8%
532
1.53
.68
Source: Best Buy earnings Reports.
There are several major takeaways from the earnings numbers:
The Gross Profit % of Revenues was steady for a while, but recently has been falling;
Gross Profit itself reached a plateau and then fell off;
Net earnings have fallen off a cliff;
Revenues have been stagnant for the last seven years;
They keep raising the dividend despite all this.
Just at a glance, you can see that Best Buy has a deteriorating balance sheet. However, that rising dividend (they raised it again in June by 12%) points us toward free cash flow as being of significance.
| | | | | |
| --- | --- | --- | --- | --- |
| Year | Cash Flow from Operations (millions) | Capital Expenditures (millions) | Shares Outstanding | Free Cash Flow per Share |
| 2011 | $1,190 | $744 | 416,500 | $1.59 |
| 2012 | $3070 | $747 | 370,600 | $4.11 |
| 2013 | $1422 | $742 | 339,000 | $1.91 |
| 2014 | $1094 | $547 | 347,600 | $1.57 |
Source: Best Buy earnings reports.
Even as the balance sheet has deteriorated in other ways, Best Buy's free cash flow has remained solid. This has enabled it to keep raising the dividend, which in the 2014 fiscal year had only a 43% payout ratio. It also suggests that Best Buy has plenty of cash to do whatever it needs to do to survive - if it can figure out what that is.
So, Does Best Buy Have a Future After All?
Despite all of its troubles, Best Buy did manage to eke out a profit last year. It also has solid and reasonably consistent free cash flow. Those two things suggest that Best Buy is going to be around longer than just the next five years.
However, the retail competition discussed above is very real and it isn't going away. In fact, it will only get worse. With declining or at best stagnant revenues, the company may have to make some major structural changes. It could always discard its brick-and-mortar locations and go solely online like CompUSA, but it may not have to do anything that drastic.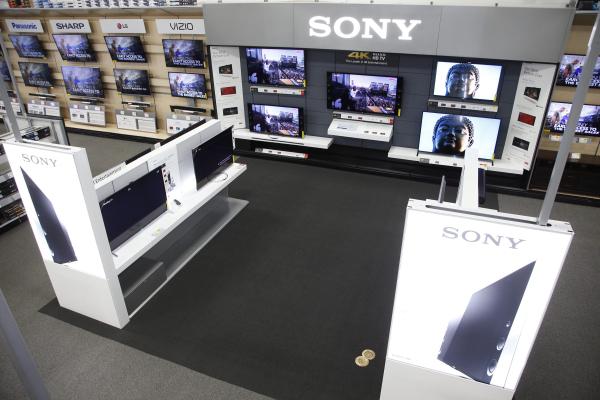 The ultimate answer for Best Buy may lie in the direction in which it already is headed. Best Buy has been partnering with Sony (NYSE:SNE) this year to build stores-within-its-stores to sell the new 4k televisions. They are calling it "The Sony Experience at Best Buy." These boutiques have gone into about 350 Best Buy locations, with each one about 400 square feet.
If it can't sustain itself at its present size, Best Buy could expand upon this idea. It could downsize substantially and still dominate a premium niche market for top-line electronics for people who are willing to pay a little extra to see their expensive new purchases before committing to them.
This re-making of the Best Buy experience would it more like Coach (NYSE:COH) or Tiffany's (NYSE:TIF). Those are retailers who understand that they are serving a well-heeled clientele who will pay premium prices for premium service and fashionable goods. Those goods may not be absolutely necessary, but they are still nice to have if you can afford them. Competing on price like Crazy Eddie or Circuit City has been the graveyard of electronics chains.
Ultra-High-Definition 4k televisions are undeniably pricey. There isn't a lot of content that can make use of that kind of resolution at this time, and won't be for some time. In addition, relatively cheap tablets and smartphones are taking away the allure of elaborate home-theater set-ups for casual viewers and removing the incentive to pay for higher resolution. A recent research report suggests that it will take years for the new televisions to attract a large audience, but even then it will be a "niche" product. But, there will be a niche - and that is Best Buy's opportunity.
The solution could be for Best Buy to get rid of the racks of DVD and appliances and instead concentrate on electronics boutiques that require far less staffing, attract a motivated clientele and generate high margins with fewer expenses.
Short-Term Considerations
In the short term, overall market sentiment remains very negative for Best Buy. Shorts are excited by it, and the days-to-cover figure has risen to 6.3 days as of July 31 2014, with 24.6 million shares short. That is high and indicates a degree of confidence by many that prospects for Best Buy remain dim.
Part of that may be due to the fact that the company itself has not been optimistic in its public pronouncements about how it would fare this year. Back in February, the company's chief financial officer said:
From a revenue perspective, in light of overall economic concerns, we are assuming that the [retail] industry declines in the consumer electronics category that we saw in the fourth quarter will continue. As a result, it is reasonable to expect that total company revenue and comparable store sales will remain slightly negative - similar to Q4 FY14 - in the first half of the year.
The company beat first quarter estimates back in May by earning $0.33 versus the Zacks estimate of $0.19. That was a healthy beat, which may indicate that the company's cost-cutting "Renew Blue transformation program" measures are taking effect. Best Buy declined to provide any earnings guidance beyond saying that it expects comps to grow in the range of negative to low single digits due to persistent weakness in the overall consumer electronics category. That is not very encouraging.
Insider transactions were negative over most of the last year, but more recently have turned positive. That is a bullish signal.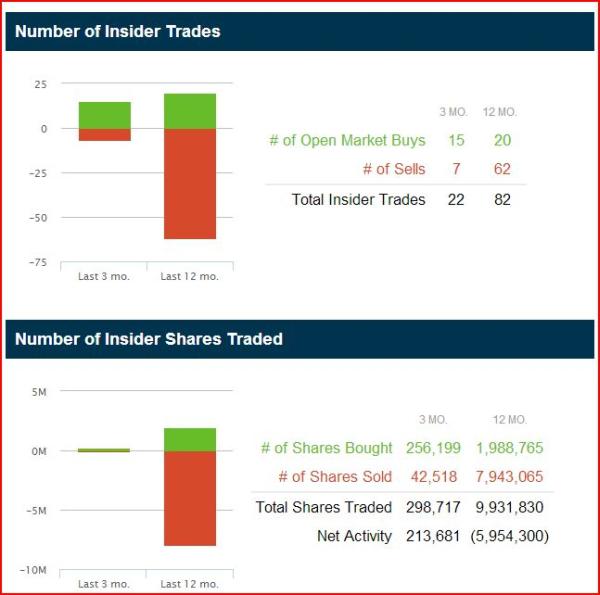 Source: Nasdaq.com
In addition, call activity has been larger than normal, suggesting that some traders are thinking there is a good chance that Best Buy could surprise to the upside again. Those options, though, could be very short-term, a week or a month, so reading anything more into them is dangerous.
Meanwhile, analysts are moderately bullish.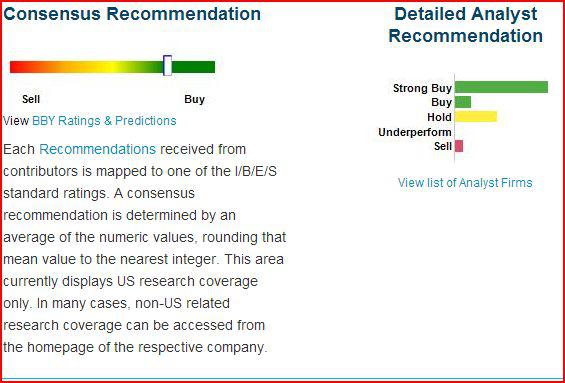 Without better guidance from the company, it is tough to draw firm conclusions on where earnings are headed this year. Analysts expect the company to earn $2.30 for fiscal 2015 versus $2.07 for fiscal 2014, and $2.60 in fiscal 2016. For the second quarter, they expect earnings of $0.31 on revenue of $8.99 billion versus last quarter's earnings of $0.33.
Analysts do not see much revenue growth from Best Buy for some time, with consensus estimated fiscal year 2015 revenue of $41.53 billion and fiscal year 2016 revenue of $41.72 billion. That is less than in any year since George W. Bush was in office. Since revenue is seen as staying flat but earnings increasing, the analysts must be assuming that cost-cutting and/or higher margins will be the cause, neither of which has been demonstrated yet.
The shorts have loaded the boat due to that nasty shock in January, while analysts are leaning the other way. The company itself has cautioned that its problems have not gone away, and there is little evidence to the contrary other than the first quarter earnings beat.
A lot will depend upon how well the July sales went and whether customers were buying the 4k television or simply looking at them as a new curiosity. The company's easy beat of first quarter estimates suggests that expectations are low for it, perhaps too low, and that demand is still there for Best Buy's products. With insiders now buying, Best Buy may be setting up nicely on the long side in the short term, but the stock is a gamble any way you look at it.
In the longer term, Best Buy must prove to a wary market that it can produce a strong holiday season, unlike last year. Rather than run up into the January seasonal revenue report, expect a downdraft this time around. Until Best Buy proves itself capable of outperforming in the winter as well as the summer, it is best for position players to wait on the sidelines unless they are strongly enticed by the growing 2.70% yield.
Conclusion
Best Buy indeed may be a buy in the short term, but it has long-term structural issues that have not gone away that make it a dicey proposition for a long position play.
Disclosure: The author has no positions in any stocks mentioned, and no plans to initiate any positions within the next 72 hours.
The author wrote this article themselves, and it expresses their own opinions. The author is not receiving compensation for it (other than from Seeking Alpha). The author has no business relationship with any company whose stock is mentioned in this article.