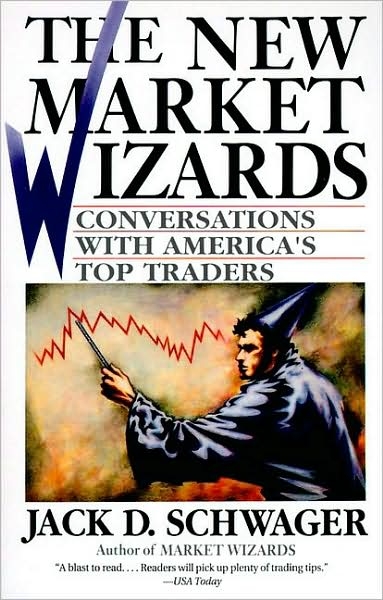 By David Veitch
The New Market Wizards Gives Readers a Glimpse Into the Exciting World of Trading
The New Market Wizards: Conversations with America's Top Traders (1992) is the follow-up book to Jack D. Schwager's classic Market Wizards (1988). Both of these books have enjoyed immense popularity and are part of the necessary 'canon' of literature for those looking to break into the world of trading. Consisting of interviews with individuals who Schwager has identified as 'top traders' (i.e., in terms of consistency of returns and absolute returns), New Market Wizards gives readers a broad perspective of trading, with sections on currencies, futures, fund managers, playing multiple markets, market making, and trading psychology.
The book also includes commentary from Schwager, a man who is well qualified to provide it. Having spent over twenty-two years on Wall Street as a Director of Futures Research for various banks, and having written the classic reference work A Complete Guide to the Futures Market, Schwager is able to provide real-world insight into trading.
In New Market Wizards, Schwager picks the brains of the world's top traders to find out exactly what characteristics make a good trader. This is accomplished through Schwager asking a variety of questions to the traders and then publishing the responses more or less verbatim. At the end of each interview, Schwager provides a summary and some additional commentary on what was said.
Key Takeaways
Throughout the interviews a number of themes emerge in the traders' responses. One clear theme is the importance of emotional discipline in trading. William Eckhardt puts it best when he says, "Many outstandingly intelligent people are horrible traders. Average intelligence is enough. Beyond that, emotional makeup is more important". Along the same lines, Tom Basso stresses that successful traders must be "observers of themselves," and Charles Faulkner comments that traders must possess a natural scientific detachment from what they do.
Another theme which emerges is that long-term trading success happens because of a combination of preservation of capital and hitting 'home-runs.' This style, adopted by Stanley Druckenmiller and George Soros (two men with a combined net worth of $17.7 billion), is made possible by being aggressive during profitable years, instead of sitting back once profits have been made to preserve previous gains.
There are also a number of great nuggets of wisdom throughout New Market Wizards. Perhaps one of the most hilarious is a quote from Monroe Trout regarding what he thinks about finance professors who believe in the efficient market hypothesis; to this he says, "Right, and that's probably why they're professors and why I'm making money doing what I'm doing." Another lesson in New Market Wizards comes from Richard Driehaus who says that trading can be taught as long as a person has an open mind. He compares a young trader's mind to a parachute because "it's only good when it's open."
Another pearl of wisdom is from Jeffery Yass, an extraordinarily successful trader. Yass stresses the importance of remaining humble in the face of the market; generally, if the market is pricing a security a certain way then you yourself should be pricing it the same way. One last practical piece of advice comes from the chapter on mental training. This chapter suggests individuals use 'toward' motivation rather than 'away' motivation. For example, individuals about to interview for a job should think to themselves, "I want to do well in this interview," instead of, "I do not want to screw up this interview."
Evaluation
Overall, New Market Wizards is an excellent book that gives readers a broad view of the world of trading. The interview subjects are top notch, and because of this they come with great insights. Many of the stories they share are exciting and fast paced (e.g., Soros vigorously buying yen from his traders after the Plaza Accord), which keeps readers hooked. New Market Wizards truly is a 'real-world' look into trading, a refreshing contrast from the academic view taught in business schools. The discussion of option pricing in the interview with John Ritchie is especially interesting as it dissects an academic concept (i.e., option pricing) and goes in-depth to how it differs in practice.
How New Market Wizards is organized is also a positive aspect of the book. Questions are in bold, and responses in normal text; this allows for readers to quickly skim through the book and focus on passages which are relevant to their interests. This style also makes it easy to refer back to the book to find a particular passage.
There are a few downsides which should be noted. First, New Market Wizards, despite what the title suggests, is hardly new. Having been published almost twenty years ago, there are points where it feels dated; for example, most traders interviewed worked on the floor in contrast with today where most traders work off the floor. As well, there are a number of passages about esoteric applications of technical analysis and systems trading that appear irrelevant. Finally, in one of the interviews Schwager speaks with a hypnotist; this chapter is better skipped than read.
On the whole, New Market Wizards is a great read for anyone who is looking to pursue a career in trading or is just interested in learning more about finance. The interviews give readers a valuable glimpse into what the world of trading is like, and what makes a successful trader. Schwager's subjects are top notch; unsurprisingly many of those interviewed in 1992 have gone on to be enormously successful traders. Given this, the opportunity to learn from these individuals in New Market Wizards is one which should not be passed up.
Disclosure: None