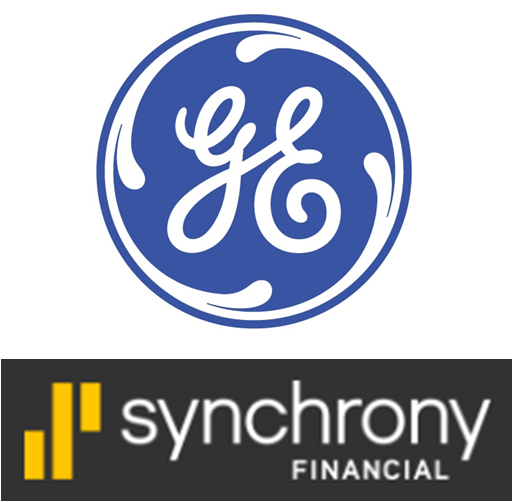 The last two weeks prior to the Synchrony (NYSE:SYF) IPO saw shares of General Electric (NYSE:GE) sink nearly 7% in anticipation of the move which took place on August 1, 2014. Shares of Synchrony initially traded flat in the $23 range, seeming to be a disappointment for those excited by the decision to divest the financial division. However, since the IPO, shares of both companies have started to rally.
The chart below shows how shares of General Electric have since climbed over 5%, buoyed by the additional news that the company has attracted potential buyers for the appliance and lighting division. The two main suitors at this point are Electrolux AB (OTCPK:ELUXY) and Quirky, Inc. The division is being valued in the $2 billion range, and although profitable, it is up for sale, as the company wishes to focus on those industrial segments with higher margins. We should note that in 2008, General Electric hoped to get around $6 billion for the same division, before the economic downturn squashed that plan.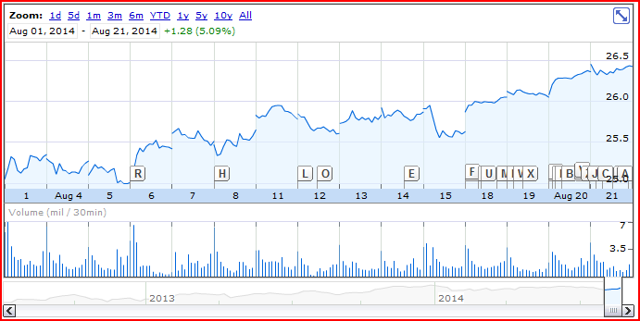 Quirky, Inc. already has an existing partnership with General Electric to develop a smart air conditioner, and thus could seem to be considered the front-runner for the acquisition. However, any anticipated deal with Quirky, Inc. would likely involve financing to obtain a majority stake in the division. Electrolux AB is already an appliance manufacturing giant, and has many more options concerning an acquisition such as this one. General Electric is reportedly in advanced talks with Electrolux at this point.
The next chart shows the performance of Synchrony Financial since the IPO. You can see that the stock traded quite flat around $23 since the IPO, at the lower end of the original anticipated trading range of $23-$26. Since the IPO, the stock has now climbed nearly 10.4%, essentially over the past few trading days.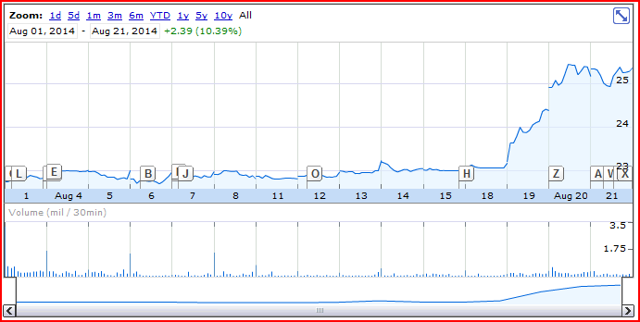 Some investors have argued that it made less sense to divest the financial division at this time, given the fact that it does return acceptable margins. However, General Electric learned a valuable lesson concerning non-core activities when the finance division nearly destroyed the company during the financial crisis.
We also should remember that General Electric has retained approximately 85% of the shares at this point. Using rounded numbers, this means General Electric's stake in Synchrony has increased almost $1.7 billion in three weeks. Morningstar recently noted the IPO may be significantly undervalued -- by perhaps as much as 50%, based on 10.3x 2015 earnings. If we believe some early price estimates around $30, General Electric could see a $7 billion gain on the balance sheet in the coming months.
Conclusion
I'm certainly interested in where things go from here for General Electric and Synchrony Financial. Although I do hold a long position in GE, I am not especially interested in adding to it at this time, based upon my personal strategies. I will hold for now. Synchrony Financial also holds some appeal, especially if it can attain valuations anywhere near other credit card companies like Visa (NYSE:V), MasterCard Inc. (NYSE:MA), or American Express (NYSE:AXP) in the near future. A large factor in this company's success will be a continued turnaround in the retail sector. I suggest investors spend some time to understand the business, and then make an appropriate determination based upon personal goals and risk tolerance.
As always, crunch your own numbers, check them twice, and good luck out there!
Disclosure: The author is long GE.
The author wrote this article themselves, and it expresses their own opinions. The author is not receiving compensation for it (other than from Seeking Alpha). The author has no business relationship with any company whose stock is mentioned in this article.
Additional disclosure: I will continue my analysis of SYF, and may initiate a long position using stock and/or options in the next week.
Editor's Note: This article discusses one or more securities that do not trade on a major U.S. exchange. Please be aware of the risks associated with these stocks.