In the pursuit of returns, investors generally classify and/or invest in stocks based on one of three criteria:
Growth: Stocks of companies with growing revenues in which the underlying equity's price will appreciate over time
Income: Stocks of companies that pay consistent dividends over time, providing a reliable stream of income at a competitive rate vs. alternate options
Value: Stocks of companies that, for some reason, are undervalued by the market
MIND CTI, Ltd. (NASDAQ:MNDO) is a small, relatively undiscovered gem that I believe offers the unique opportunity to meet each of these criteria, providing growth, income, and value opportunities within a single ~$3 issue.
Company Overview
Founded in 1995, MIND CTI Ltd. bills itself as a "a leading provider of convergent real-time end-to-end billing and customer care product based solutions as well as call accounting solutions for organizations and large multinational corporates."
The company is based in Israel, but is global in scope and has offices in the United States, the U.K., as well as Romania. The company is listed on both the NASDAQ (ticker MNDO) as well as the Tel Aviv stock exchanges.
MIND is a solutions provider in somewhat of a niche market, selling offerings to the telecom industry as well as direct to large, global corporations with sizable telecommunications business functions. According to company's recent investor presentation, MIND has 20 years of experience in the space MIND has delivered over 20,000 installations and has technology partnerships with firms like Cisco (NASDAQ:CSCO), Avaya (Pending:AVYA), and Microsoft (NASDAQ:MSFT).
MIND operates within two key verticals: Billing and Customer Care and Call Accounting. As is typical with software providers, MIND's revenue model is driven by a mix of license fees, maintenance, and professional services.
Billing and Customer Care Segment
The target market for MIND's "Billing and Customer Care" segment is regional Tier 2&3 telecom carriers across the globe, including: China Unicom (NYSE:CHU), KDDI (OTCPK:KDDIY), Megacable (OTCPK:MHSDF), among others (as noted in the investor presentation). As these are regional players these clients may not be household names to a casual, or U.S.-based investor; however, in many cases these are multi-billion dollar market cap clients for MIND.
"MIND delivers a complete solution that suits carrier specific needs, across any line of business: voice, data, content, video; fixed, mobile, cable, satellite; prepaid and postpaid. MIND's solutions for service providers enable telecom operators to rapidly deploy services, support automated business processes and sophisticated business models."
While MIND has a full set of offerings for these clients, within this vertical MIND's flagship product is "MINDBill", a self-described"end to end, customer care platform…enabling service providers to quickly and efficiently handle millions of subscribers and transactions."
Net/net, the MIND solution allows for customer driven configuration and easier automation of the billing process to meet changing customer needs (or offerings). The solution drives productivity and reduces errors, is scalable, and has a demonstrated ROI for clients.
Call Accounting
MIND's second vertical is focused on call accounting solutions for large, often multi-national clients. Specifically,"MIND offers advanced call management systems used by organizations for call accounting, traffic analysis and fraud detection. MIND's enterprise solutions enable organizations of any size to monitor and manage their telecom costs, increase employees' productivity and detect misuse and fraud for both traditional voice and IP telephony."
MIND's flagship offering for "Call Accounting" segment is "PhonEx ONE", and is utilized by dozens of clients to manage and control telecommunication expenses: cost center allocations of telecom expense, systems monitoring, bill verification, etc. MIND Customers in this space include a virtual "who's who" of large multinationals: HSBC (NYSE:HSBC), TEVA (NYSE:TEVA), Nissan (OTCPK:NSANY), Caterpillar (NYSE:CAT), etc. (see investor presentation)
For additional information I recommend reviewing the company's website as well as its investor presentation.
Growth Opportunity for Investors
Over the last few years MIND has been a steady earner, generating revenues of $18M-$20M per year with consistency. However, in the Q4 2013 earnings press release (2/25/14), CEO Monica Iancu made the following, foreshadowing comments:
"…in 2013 we signed the largest deal in MIND's history and in total the new deals and follow on orders committed to by our customers exceed yearly prior bookings. ... We expect the significant wins of 2013 to have a positive impact on our 2014 results."
In May of 2014, following a solid Q1 2014 report (detailed below), Mrs. Iancu added:
"We expect that the impact of our previously announced latest large wins will be significant both to our revenues and to our margins in the next few quarters….We started implementation of MIND"s largest win ever..."
Needless to say, MIND has delivered on its guidance, posting exceptional results in the first two quarters of 2014. Pulling from MIND's quarterly reports, I have created a table comparing 2013 revenues and EPS (by quarter) with the Q1 and Q2 2014 comparables: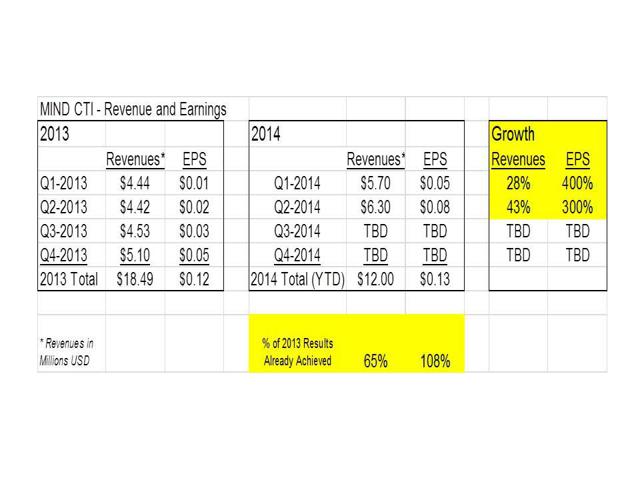 Thus far, MIND experiencing significant growth in both the top and bottom line. As noted, on a year over year basis, in Q1 2014 MIND grew revenues by 28% and EPS 400%. In Q2 2014 (reported on 8/6/14), MIND grew revenues 43% and EPS 300% vs. 2013. In just the first 6 months of 2014 MIND has grown the top line 35% over 2013, it has already achieved 65% of the 2013 total in revenues, and has already exceeded all of 2013's EPS. Noting the bullish comments above regarding the balance of 2014, as well as recent press releases regarding new customer wins and/or existing customer extensions, investors should be confident that the coming quarters will compare favorably to the most recent results.
Income Opportunity for Investors
Similar to revenues, over the last few years MIND has also been a steady income provider. CEO Monica Iancu is the largest single shareholder, owning 3.8M shares, or ~20% of the total shares outstanding. MIND has paid an annual dividend for over 10 years. Included below is a table I created highlighting the last 5 years of dividends paid as well as ~ dividend yield at the time of declaration (utilizing share price at date of declaration):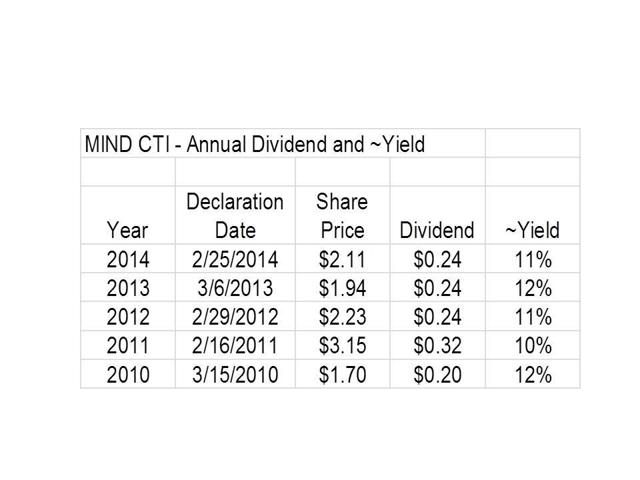 As you can see, MIND has been a consistent source of income, and a reliable source of high yield (something in short supply these days). A focus on cash flows, profitable growth, and sustainability of this dividend is embedded in the company's strategy and business model. MIND has delivered a consistently strong yield over 10 years - and yet, 2014 appears to be on pace to be its best revenue and earnings growth performance in recent memory.
(Note: There are tax implications and oddities related to U.S. holders of Israeli-based dividend paying companies that, depending on circumstances, can dampen the overall income provided to a given investor.)
Value Opportunity for Investors
The never-ending quest of the value investor is to locate mispriced securities. Mispriced securities may exhibit a growth rate, level of income, or other attribute not fully valued (yet) by the market. I believe that in MIND we have the epitome of a mispriced security. While a pure comparable can be difficult to find, below is a "back of the napkin analysis" I created highlighting the MIND equity value proposition.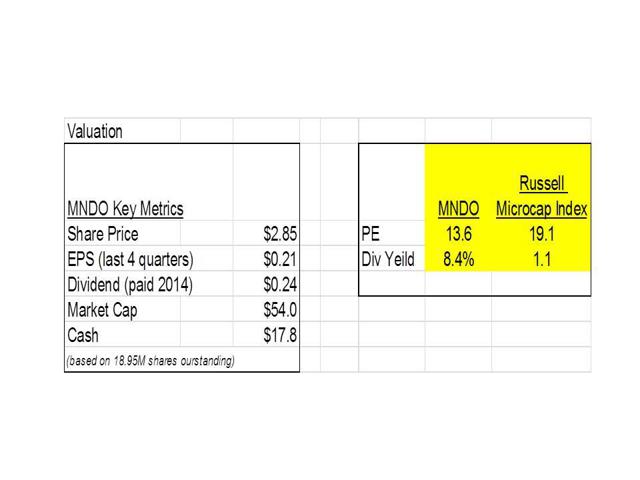 (Source for data: MIND financials and Russell Microcap Index site)
Some observations from the above/regarding valuation:
One a P/E basis, MIND sells at a 40% discount to an approximate comparator (Russell Microcap Index average). Though P/Es vary based on numerous factors (i.e,. not all stocks will trade up to, or down to the mean), if we applied the "market average" P/E of 19 to MIND the result is a $4 valuation. Is MIND worthy of the "average" P/E multiple? I'd argue it actually deserves higher:
MIND pays ~8x the dividend of this approximate comparator. Additionally, one could assume that based on 2014's stellar run rate plus management's history of focusing on income that the 2015 divided will likely increase.
EPS growth: Though management has clearly indicated continued improvement for Q3 and Q4, lets take a conservative approach and say MIND simply meets the 2013 EPS for the Q3 and Q4 of this year. This would result in a 2014 EPS of .21 per share, a 75% increase over 2013 EPS of .12. Configured into a PEG calculation this conservative model yields a PEG of just .19.
Revenue growth: In seeking a valuation one can't ignore the tremendous top-line growth MIND is producing (35% in the first 6 months). The market generally applies higher multiples to firms generating revenues at these accelerated levels. Companies with comparable revenue growth are routinely given P/E multiples in the 20's.
Finally, we can't forget that the company has $17.8M in cash (33% of the market cap) and no debt. These figures are AFTER the company paid the annual dividend earlier this year of $4.5M. Backing out a portion of the cash on the balance sheet, a common valuation practice, only makes the issue more attractive. If, in a valuation exercise we held back $10M of "surplus" cash (i.e., the remaining $7.8M and the strong free cash flow more than cover opex, continuation of the dividend, etc.), we back into a stock currently trading with a <10 P/E.
As you can see, by nearly every conventional measure or comparator MIND appears to be dramatically undervalued. If we place cautious assumptions and use average market multiples, >50% upside in this stock seems obvious. In my estimation, this kind of price appreciation simply gets MIND's share price to a reasonable level in this market, at which point the other virtues of this issue (top and bottom line growth, dividend yield, balance sheet, etc.) could be more accurately accounted for in additional price appreciation.
Risks
Investing in all stocks carries risk, and while I've outlined a bullish thesis, an investment in MIND does carry risk. Aside from the general competitive-related and other risks typically provided by a company in an annual report, I'd like to highlight:
MIND operates globally and generates revenues in all regions. Akin to other multinationals, macro events could disrupt its operations.
As an Israeli-based firm there is potential additional risk given the geo-political disruption somewhat common to the region.
By focusing, at least historically, on income production there could be concern that the company has not fully invested in the innovation needed to continue to compete. While legitimate based on the companies allocation of capital, the recent parade of wins and re-signing of current clients seems to dispel much of this concern.
MIND is an underfollowed and low profile company. I can't identify any analysts that cover the firm. Once more, MIND does not appear to do quarterly conference calls or participate in investor conferences in a meaningful way. The company issues very few press releases -- basically, only quarterly results and the occasional PR on new business awards.
There are limited institutional holdings, with Renaissance Technologies LLC's 1.3M share position (~7% of the shares) as the only institutional holder of note.
MIND is a thinly traded security. The float is only 13M shares. Prior to the Q2 earning release on August 6th it generally traded ~30,000 shares per day. Though it has traded more heavily recently, including several trader driven huge volume days in early August after the earnings release, establishing a position and otherwise moving in or out of a stock like MIND can be challenging.
Conclusion
Following the August 6th release of the Q2 earnings MIND's stock saw an immediate run up on tremendous relative volume. It has since pulled back from its highs, trading in the $2.80-$2.90 range.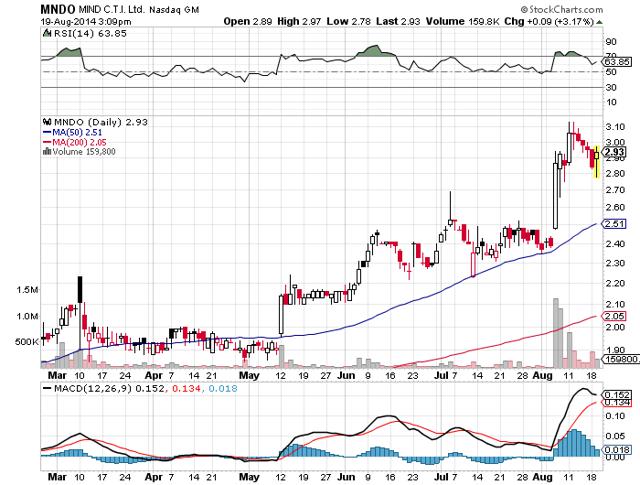 As outlined in this thesis, I believe that MIND offers a tremendous opportunity across three key investment goals: growth, income, and value. As a non-U.S. headquartered company, and one that appears to prefer a low key persona, MIND is largely under the radar of most investors. By generating a 35% increase in its first six months of revenues (year over year) as well as continuing to forecast improving results and publishing new business wins, MIND offers a compelling case for an income investor. With a strategic focus on cash flows, sustainable earnings, and return for shareholders demonstrated by over 10 years of solid dividend payments, income seekers should be drawn to an investment in MIND. Finally, given these attributes and noting the extremely low multiple assigned by the market, MIND appears (to this investor) to be mispriced, and therefore representing an extremely attractive equity for the value investor.
Disclosure: The author is long MNDO.
The author wrote this article themselves, and it expresses their own opinions. The author is not receiving compensation for it (other than from Seeking Alpha). The author has no business relationship with any company whose stock is mentioned in this article.
Editor's Note: This article covers one or more stocks trading at less than $1 per share and/or with less than a $100 million market cap. Please be aware of the risks associated with these stocks.